Compare Cheap Flights from Newcastle to Sydney, Australia
Looking for cheap flights to Sydney from Newcastle? Use Webjet's deal finder to help you compare flights, carriers and seating classes all year round. You'll be sure to find the right flight to match your budget, plans and travel preferences.
*Prices on this page are subject to change without notice, perform a search to view live pricing. Prices are inclusive of taxes and airline surcharges. Webjet flight fees per booking: Webjet Servicing Fee: Domestic $21.95, NZ/Pacific $24.95, International $32.95. Booking Price Guarantee: Domestic $12.95, NZ/Pacific $14.95, International $21.95. Varying payment fees are included in the price breakdown on Webjet's checkout page, once your payment method has been selected.
Route information for flights from Newcastle to Sydney
| | |
| --- | --- |
| Cheapest one-way price for the current month | from $208 |
| Cheapest one-way price over next 6 months | from $88 |
| Cheapest month | March 2021 |
| Most expensive month | May 2021 |
| Average flight time | 1h 35m |
A Guide to Sydney
Know Before You Go
Breakfast is available at most cafes all day. Australians often have a "cheeky brekky" so you won't stand out if you decide to indulge in their favourite mealtime in the afternoon.
Get online for free. If you don't want to buy a data bundle, head to the nearest McDonalds. You can use their WiFi without spending a dime.
Download the Arrivo Sydney app. If you're going to be using public transport, you'll get real-time departure and location information for all trains, ferries and light rail sent straight to your phone.
Stay in hostels outside of the CBD. If you book a dorm room in the King's Cross area, you'll end up paying only AUD 26 instead of AUD 33.
Save on drinks. Backpacker bars like World Bar often have drink specials where you can pick up a beer for AUD 4.
Getting Around Sydney
Sydney is too big to explore on foot, but it's a great way to see individual neighbourhoods. Use one of the public transport options to get you to an area and then hit the pavements when you arrive.
Take the train. You can access many of the city's top attractions by using the City Circle Line. Buy the Opal card if you're going to be using the system a lot to get discounts on fares.
Catch the bus. It's one of the cheapest ways to get around, but you will have to contend with Sydney's traffic. Tickets can be purchased on board or at selected retailers.
Go on a ferry. There is no better way to explore Sydney Harbour than with a boat ride. Fares start at AUD 6.20, and the boats leave every 25 to 40 minutes.
Hire a car. If you want to explore beyond the city, a vehicle is the best way to go sightseeing. It's not advised to use a vehicle for just the CBD as parking is hard to come by and traffic is often gridlocked.
Grab a taxi. Ride-sharing services like Uber and metered taxis are available throughout the city. But expect to pay a surcharge during rush hour and on the weekends. 
When is The Best Time to Visit Sydney?
The best time to visit Sydney is during its spring or autumn months. From March to May and September to November, you'll find fewer crowds in the city, and better deals at hotels while still being able to enjoy good weather.
Sydney's high season runs from December to February. Local and international travellers flock to the city for an end of year break, driving up prices of hotels. If you're planning a trip during these months, book your hotel a couple of months in advance especially if you'll be attending any of the city's big festivals.
For budget travellers, Sydney is at its most affordable during winter. From June to August, the city empties out, and you'll find excellent deals on tours, flights and accommodation.
Airports in Sydney
Sydney Airport
Sydney Airport is the busiest airport in Australia. It's also one of the world's oldest commercial airports and serves 46 domestic and 43 international routes. It's a hub for regional airlines Virgin Australia, Qantas and Jetstar Airways.
Getting To And From Sydney Airport
The fastest way to get between the city and the airport is with the train. It departs every 10 minutes from 5:00 a.m. to midnight and has a total journey time of 13 minutes.
If you're on a tight budget, take the public bus. A one way trip to or from the airport costs only AUD 5.60.
Metered taxis are located outside of the domestic terminals. You can also use the airport's free Wi-Fi to request a ride-sharing service like Uber. Fares start at AUD 45 and trips take about 20 minutes if there is light traffic.
For travellers that want more freedom getting around, you can find several car rental companies on the arrivals level of terminals 2 and 3.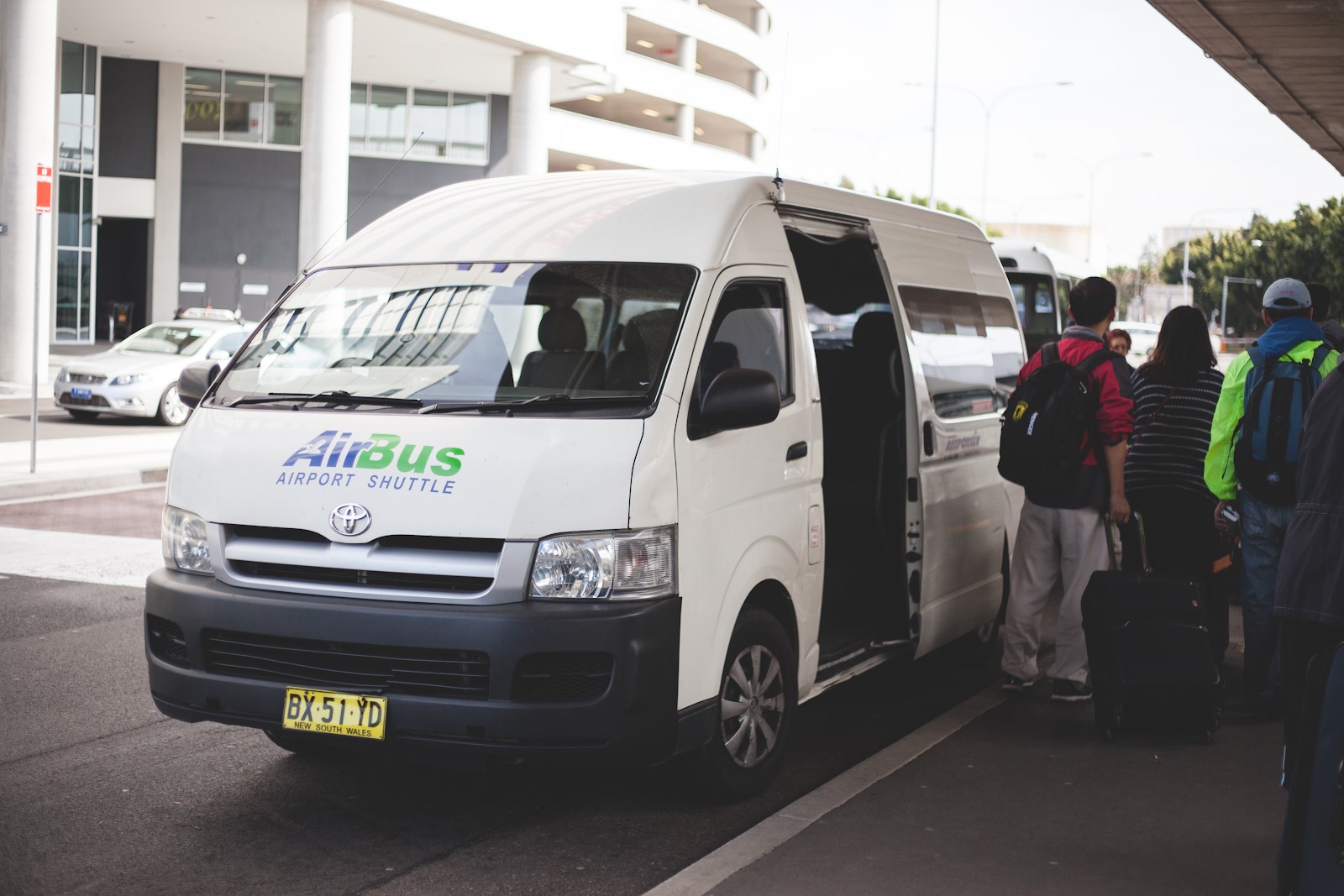 Air Bus Airport Shuttle
Air Bus provides the best transport services for your group in Sydney, offering offer school bus transport, airport shuttle bus transfers, cruise ship port bus transfers, and more. Air Bus guarantees your satisfaction, from minibus charter and bus hire in Sydney. No matter if you need to hire a minibus for your corporate or private event, or require transport from one destination to other; Air Bus makes sure you are served with modern charter fleets. We offer all-sized buses and coaches, available at affordable and reliable rates. Our Air Bus drivers are always ready to transport you to your destination. Air Bus Group Pty Ltd is the biggest dedicated Sydney shuttle bus company, with a wide range of air-conditioned minibuses and coaches. Air Bus has been operating for more than 15 years and consistently provides excellent service transporting passengers for various companies, moving travellers from and to a location of choice in a safe and time-efficient manner. Air Bus have transported almost two million passengers in its 15 years. We guarantee the least expensive prices in Sydney and will beat any transfer price within Sydney and surrounding areas.