Compare Cheap Flights to Sydney, Australia
Visiting Sydney for work or holiday? Check out Webjet's latest deals, browse airfares for your selected dates and find the perfect flight for your budget!
*Prices on this page are subject to change without notice, perform a search to view live pricing. Prices are inclusive of taxes and airline surcharges. Webjet fees per flight booking: Webjet Servicing Fee: Domestic $21.95, NZ/Pacific $24.95, International $32.95. Booking Price Guarantee: Domestic $12.95, NZ/Pacific $14.95, International $21.95. Varying payment fees are included in the price breakdown on Webjet's checkout page, once your payment method has been selected.
Flight prices are indicative, based on passenger numbers and may vary dependent on your individual flight dates. Prices were found by customers on the date in the right hand column labelled "Last Search Update" and may vary. Complete a new search to view live pricing.
Sydney Guide
A Guide to Sydney
Know Before You Go
Breakfast is available at most cafes all day. Australians often have a "cheeky brekky" so you won't stand out if you decide to indulge in their favourite mealtime in the afternoon.
Get online for free. If you don't want to buy a data bundle, head to the nearest McDonalds. You can use their WiFi without spending a dime.
Download the Arrivo Sydney app. If you're going to be using public transport, you'll get real-time departure and location information for all trains, ferries and light rail sent straight to your phone.
Stay in hostels outside of the CBD. If you book a dorm room in the King's Cross area, you'll end up paying only AUD 26 instead of AUD 33.
Save on drinks. Backpacker bars like World Bar often have drink specials where you can pick up a beer for AUD 4.
Getting Around Sydney
Sydney is too big to explore on foot, but it's a great way to see individual neighbourhoods. Use one of the public transport options to get you to an area and then hit the pavements when you arrive.
Take the train. You can access many of the city's top attractions by using the City Circle Line. Buy the Opal card if you're going to be using the system a lot to get discounts on fares.
Catch the bus. It's one of the cheapest ways to get around, but you will have to contend with Sydney's traffic. Tickets can be purchased on board or at selected retailers.
Go on a ferry. There is no better way to explore Sydney Harbour than with a boat ride. Fares start at AUD 6.20, and the boats leave every 25 to 40 minutes.
Hire a car. If you want to explore beyond the city, a vehicle is the best way to go sightseeing. It's not advised to use a vehicle for just the CBD as parking is hard to come by and traffic is often gridlocked.
Grab a taxi. Ride-sharing services like Uber and metered taxis are available throughout the city. But expect to pay a surcharge during rush hour and on the weekends. 
Best time to visit Sydney
When is The Best Time to Visit Sydney?
The best time to visit Sydney is during its spring or autumn months. From March to May and September to November, you'll find fewer crowds in the city, and better deals at hotels while still being able to enjoy good weather.
Sydney's high season runs from December to February. Local and international travellers flock to the city for an end of year break, driving up prices of hotels. If you're planning a trip during these months, book your hotel a couple of months in advance especially if you'll be attending any of the city's big festivals.
For budget travellers, Sydney is at its most affordable during winter. From June to August, the city empties out, and you'll find excellent deals on tours, flights and accommodation.
Airports in Sydney
Airports in Sydney
Sydney Airport
Sydney Airport is the busiest airport in Australia. It's also one of the world's oldest commercial airports and serves 46 domestic and 43 international routes. It's a hub for regional airlines Virgin Australia, Qantas and Jetstar Airways.
Getting To And From Sydney Airport
The fastest way to get between the city and the airport is with the train. It departs every 10 minutes from 5:00 a.m. to midnight and has a total journey time of 13 minutes.
If you're on a tight budget, take the public bus. A one way trip to or from the airport costs only AUD 5.60.
Metered taxis are located outside of the domestic terminals. You can also use the airport's free Wi-Fi to request a ride-sharing service like Uber. Fares start at AUD 45 and trips take about 20 minutes if there is light traffic.
For travellers that want more freedom getting around, you can find several car rental companies on the arrivals level of terminals 2 and 3.
Things to do in Sydney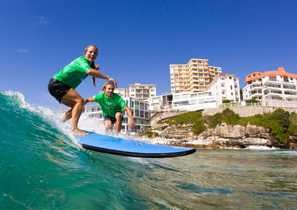 Let's Go Surfing
Changing lives… one wave at a time
Award-winning Let's Go Surfing (est. 1995) deliver authentic surfing lessons, stand up paddle tours and beach walking tours for savvy adventure seekers, families, experiential luxury travellers, groups and incentives and everyone in between.
Showcasing multiple locations on iconic Australian beaches like Bondi Beach and Byron Bay, as well as some local secret spots like Maroubra Beach and La Perouse in Sydney.