Compare Cheap Flights to Sydney, Australia
Visiting Sydney for work or holiday? Check out Webjet's latest deals, browse airfares for your selected dates and find the perfect flight for your budget!
*Prices on this page are subject to change without notice, perform a search to view live pricing. Prices are inclusive of taxes and airline surcharges.
Webjet flight fees per booking:
Webjet Servicing Fee
: Domestic $21.95, NZ/Pacific $24.95, International $32.95.
Booking Price Guarantee
: Domestic $12.95, NZ/Pacific $14.95, International $21.95. Varying
payment fees
are included in the price breakdown on Webjet's checkout page, once your payment method has been selected.
When is the Best Time to Visit Sydney?
If you're looking for deals on airfare to Sydney, plan your trip for travel during the city's two shoulder seasons. From September to November and March to May, you'll miss the crowds and still have comfortable weather. Plus, cheap flights to Sydney are easy to find, and you'll have an easier time booking your first-choice hotel.
December to February is the most expensive time of year to book flights to Sydney. Travellers from across Australia and around the world flock to the city for the end of year holidays. Book your return flights to Sydney and accommodation as soon as possible to try to avoid the skyrocketing prices. On the plus side, the weather is perfect for outdoor activities and lazy days at any one of Sydney's most secluded beaches. 
The winter months of June to August is low season in Sydney. The colder temperatures keep most travellers away, and you'll have the city's top attractions all to yourself. Prices on flights to Sydney also drop, and hotels lower their rates to make up for the seasonal lull.
What is the Best Place to Stay in Sydney?
Surry Hills
If you're a foodie, book your flights to Sydney and stay in the city's Surry Hills neighbourhood. It's known for its delicious food scene and is the city's creative hub. In the evenings, you can head to spots like Play Bar to listen to local musicians and DJs every day of the week. Plus, Surry Hills is only a short 15-minute taxi ride from Sydney Airport.
Newtown
Newtown is where you'll find Sydney's alternative scene. The streets are home to art galleries, street art and the neighbourhood is home to the city's many musicians and artists. Plus, with its fantastic line-up of small bars and quirky watering-holes, it's definitely somewhere to check out at night in Sydney. Once your flights to Sydney lands, you only have to take a short 10-minute drive from Sydney Airport (SYD) to your accommodation in Newtown.
Bondi Beach
Bondi Beach is one of the most popular neighbourhoods in Sydney. Travellers from around the world book flights to Sydney to spend days relaxing on its beautiful sandy beaches. The area also boasts a variety of upmarket restaurants and delicious gelato stores. The only thing to keep in mind is that Bondi Beach is a 22-minute drive from Sydney Airport (SYD) so you'll need to factor in a longer taxi ride into your budget.
Manly Beach
If you're looking for a quiet neighbourhood, book your tickets to Sydney and grab a hotel in Manly Beach. It's a haven for nature lovers and is one of the best places in the city to watch the annual whale migration.
Where are the Best Restaurants and Cafes in Sydney?
Celsius Coffee Co
Celsius Coffee Co has a beautiful view of the Kirribilli Wharf and looks like a picturesque wooden cabin. The coffee shop serves up two house blends and also offers iced coffee and teas by New South Wales's Tea Craft.
Edition Coffee Roasters
Edition Coffee Roasters blends Japanese minimalist design with Nordic influences. It's the perfect spot to grab a cup of coffee if you're looking to catch up on some emails before you start your adventures. The shop serves roasts from Australia and Japan and has a delicious menu that includes Swedish-style smørrebrøds.
Single O
Located in Surry Hills, Single O has been pouring piping cups of coffee since 2003. It sources its coffees from destinations around the world from countries like Kenya, Ethiopia and Brazil. If you're not in the mood for a cappuccino, Single O also serves up chai lattes, teas, juices, craft beers and a few cocktails.
Cho Cho San
Cho Cho San is a coffee shop inspired by the streets and culture of Tokyo. Besides its coffee, you can expect unique menu items like green tea soft serve, pork katsu steam buns and eggplant miso sticks. There's also a cocktail list with an Asian spin on classic drinks.
What are the Best Things to do in Sydney?
Sydney Opera House
The Sydney Opera House is a UNESCO World Heritage Site and one of Australia's iconic tourist attractions. After your flights to Sydney arrive, you can ask your hotel to book you on a harbour cruise that will sail right past the building. Inside the Opera House, you can go on a guided walking tour to learn more about its history or enjoy a meal at one of the nearby restaurants.
Sydney Tower Eye
The Sydney Tower Eye is the tallest building in the city and is a must-visit for any travellers booking flights to Sydney. If you want to see the city's skyline from above, make your way up to the Sky Walk. It's a glass floor platform that boasts a panoramic view of Sydney - if you can handle the vertigo.
Relax at the beach
Sydney is famous around the world for its beautiful beaches. Each year, the hot summer weather sees people booking flights to Sydney for the chance to soak up the sunshine on the city's coastline. Some of the most popular beaches inside Bondi Beach, Coogee, Cronulla and Manly Beach. If you're a surfer, go further north for great waves at Collaroy, Dee Why and Narrabeen beaches.
Queen Victoria Building
The Queen Victoria Building is one of the best spots in Sydney to go shopping. Originally built as a market, the gallery now features more than 200 high-end shops. When booking your flights to Sydney, be sure to make a reservation for The Tea Room and experience an opulent high tea service.
Frequently Asked Questions
What are the warmest months in Sydney?
The summer months in Sydney have the warmest weather. From December to February and even March, the maximum average temperatures hover between 22°C and 30°C.
How big is Sydney?
The Greater Sydney region covers 12,367 square kilometres. The city's urban area is 1,687 square kilometres, and inner city Sydney occupies 25 square kilometres.
Is there a train service to and from Sydney Airport?
Airport Link is the train service that connects Sydney Airport with the CBD and suburbs. The station at the airport is located directly underneath the terminal. The services run approximately every 10 minutes every day, from Sydney Domestic and International Airport to Sydney CBD between 5am and midnight. A one-way journey costs about $20 AUD, and travellers wanting to use this service can either purchase an Opal Card from the station or tap on with Amex, Visa or Mastercard.
Where can you go on a day trip from Sydney?
The most popular day trip destinations from Sydney CBD are the Blue Mountains National Park (1-hour drive), the Hunter Valley (3.5-hour drive) and Manly Beach (30 minutes' drive).
What is the peak hour for travel in Sydney?
During the week, peak hour on the train is between 7am to 9am and 4pm to 6.30pm. Sydney's roads are particularly congested, and peak hour lasts almost all day from 7am to 6pm. The hours between 10am to 1:30pm are generally the quietest peak hour period.
Which airlines typically operate out of each terminal at Sydney Airport?
Sydney Airport has three terminals with specific airlines and flights operating out of each:
Terminal 1 (T1): International – all international flights and certain Qantas Domestic flights (QF001-399).
Terminal 2 (T2): Domestic – domestic and regional airlines including Jetstar, Virgin Australia, Regional Express (Rex), Aeropelican, Air Link, OzJet, Big Sky Express and specific Qantas flights (QF1600 and above).
Terminal 3 (T3): Domestic – specific Qantas flights (QF0400-1599).
Changing lives… one wave at a time
Award-winning Let's Go Surfing (est.1995) deliver authentic surfing lessons, stand up paddle tours and beach walking tours for savvy adventure seekers, families, experiential luxury travellers, groups and incentives and everyone in between.
Showcasing multiple locations on iconic Australian beaches like Bondi Beach and Byron Bay, as well as some local secret spots like Maroubra Beach and La Perouse in Sydney.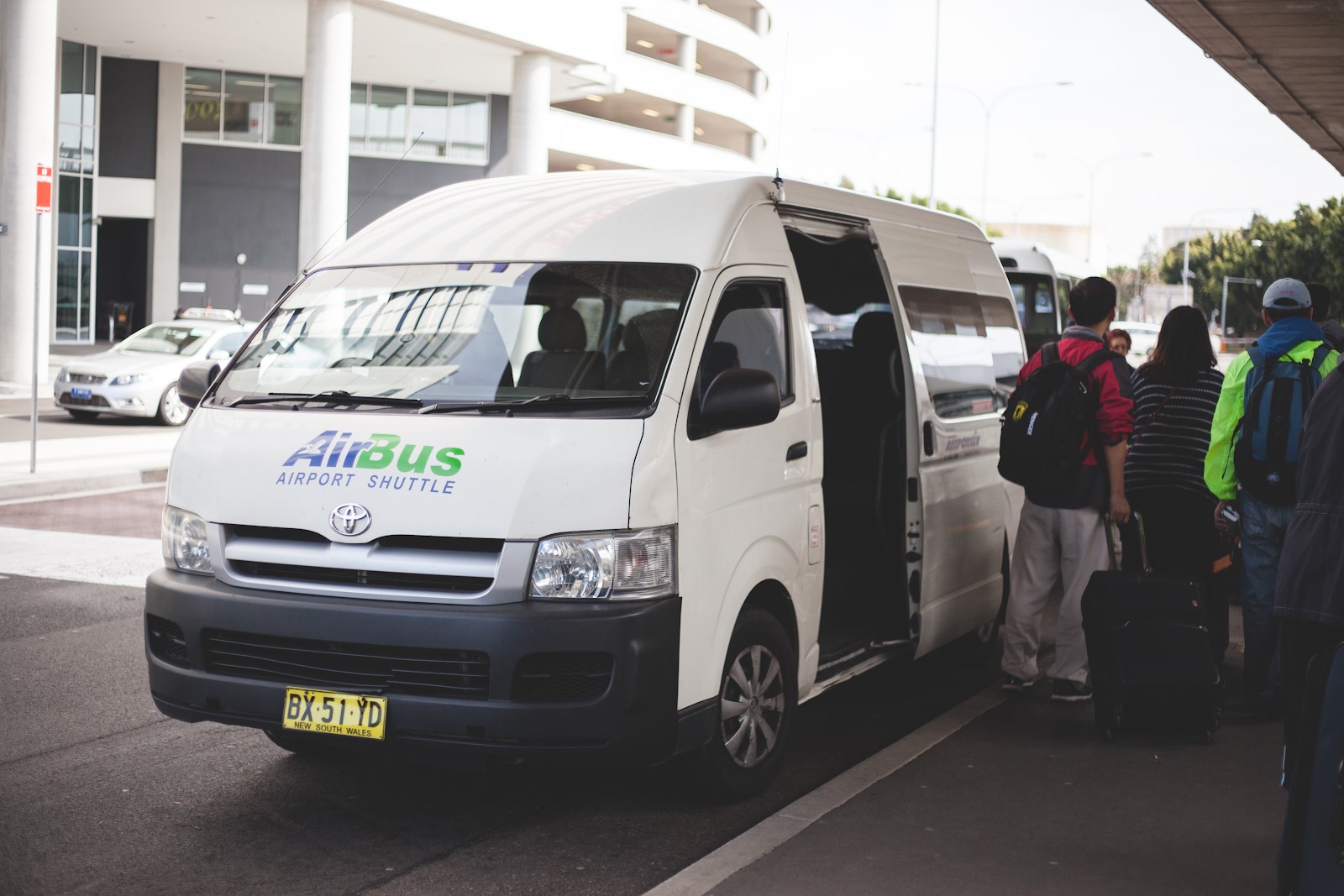 Air Bus Airport Shuttle
Air Bus provides the best transport services for your group in Sydney, offering offer school bus transport, airport shuttle bus transfers, cruise ship port bus transfers, and more. Air Bus guarantees your satisfaction, from minibus charter and bus hire in Sydney. No matter if you need to hire a minibus for your corporate or private event, or require transport from one destination to other; Air Bus makes sure you are served with modern charter fleets. We offer all-sized buses and coaches, available at affordable and reliable rates. Our Air Bus drivers are always ready to transport you to your destination. Air Bus Group Pty Ltd is the biggest dedicated Sydney shuttle bus company, with a wide range of air-conditioned minibuses and coaches. Air Bus has been operating for more than 15 years and consistently provides excellent service transporting passengers for various companies, moving travellers from and to a location of choice in a safe and time-efficient manner. Air Bus have transported almost two million passengers in its 15 years. We guarantee the least expensive prices in Sydney and will beat any transfer price within Sydney and surrounding areas.