Compare Cheap Flights to Sunshine Coast, Australia
Heading to the Sunshine Coast? Check out Webjet's latest deals, browse airfares from leading airlines around the world and find the perfect flight that suits your budget!
*Prices on this page are subject to change without notice, perform a search to view live pricing. Prices are inclusive of taxes and airline surcharges.
Webjet flight fees per booking:
Webjet Servicing Fee
: Domestic $21.95, NZ/Pacific $24.95, International $32.95.
Booking Price Guarantee
: Domestic $12.95, NZ/Pacific $14.95, International $21.95. Varying
payment fees
are included in the price breakdown on Webjet's checkout page, once your payment method has been selected.
Flights to Sunshine Coast
Dec 2021
Jan 2022
Feb 2022
Mar 2022
Apr 2022
May 2022
Cheapest Flight
Departing Melbourne

Best Price

Best Price

Best Price

Travel in December

Departing Sydney

Best Price

Best Price

Best Price

Travel in December
Expand for More Flights
Cheapest time to fly to Sunshine Coast
Best upcoming flight deals
Cheapest Price to Sunshine Coast
Currency used in Sunshine Coast
Average Time to Sunshine Coast
Current Time in Sunshine Coast
Average Temperature in Sunshine Coast
Average Rainfall in Sunshine Coast
See more of Sunshine Coast
Top Things to Do and See
Spend the day at Noosa Beach
Noosa is one of the best places to see on the Sunshine Coast. Besides the gorgeous beach, there are trendy restaurants and fashionable boutiques. Once your flights to Sunshine Coast arrive, aim to spend at least half a day exploring Noosa and its surrounds. You can soak up the sun at Noosa National Park and end your day with a visit to one of the eateries headed up by some of Australia's top chefs.
Plan your trip around the festivals
The Sunshine Coast has a jam-packed events calendar. If you're a surfer, you'll want to book your plane tickets to Sunshine Coast for travel in March. The city plays host to the Festival of Surfing where pros and amateurs take on the waves. For foodies buying return flights to Sunshine Coast, the Noosa Food and Wine festival is a must-visit. The event attracts some of Australia's top culinary heavyweights.
Swim with whales
The best months to see whales migrating along the Sunshine Coast is between July and October. Book your flights to Sunshine Coast around this period and sign up for a whale watching tour. If you want to snorkel above the ocean's gentle giants, most operators will provide wetsuits and snorkelling gear.
Visit the markets
The Sunshine Coast is home to an abundance of markets. No matter when you book your flights to Sunshine Coast, you'll be able to find a market to attend. The Eumundi Market is known as one of Australia's top artisan markets. The Noosa Farmers Market is perfect for stocking up on fresh produce or a brunch date, and the Peregian Beach Markets, Cotton Tree Markets and the Caloundra Street Fair are some of the other excellent markets to attend.
The Best Time to Visit
With a favourable climate throughout the year, there is no bad time to visit the Sunshine Coast. However, if you're buying cheap flights to Sunshine Coast and you want to keep costs down; avoid the school holidays. The region is also the busiest on the weekends. If you can, book your return flights to Sunshine Coast for weekday arrival and departure to increase the likelihood of lower hotel rates.
If you're visiting to attend any of the festivals, you'll need to book your accommodation well in advance. It's also a good idea to book your flights to Sunshine Coast as soon as possible as the influx of people can cause airfare prices to skyrocket. To travel at a time that experiences the least amount of rain, mark the spring months of September to November in your calendar.
It's the perfect time to visit if you're planning a ton of outdoor activities. The top attractions may also have smaller crowds as the December holiday-makers have yet to arrive.
Cafes and Restaurants
Looking for a restaurant that will give you a reason to book those cheap flights to Sunshine Coast? Make a reservation at Sum Yung Guys in Sunshine Beach or fine dining restaurant Spirit House. Both serve excellent food and are staples of the city's foodie scene. If you want to discover your next favourite eatery by chance, head out to Hastings Street or Gympie Terrace in Noosa. There's plenty of restaurant action here, and you're bound to find an unassuming joint that will blow your tastebuds away.
Public Transport and How to Get Around
The Sunshine Coast covers a large area, but there are various transportation options to help you get around.
Car Rental
The easiest way to get around the Sunshine Coast is to hire a car. When booking your flights to Sunshine Coast with Webjet, you can add car hire to your cart for check out at the same time. Once you arrive, you can pick your vehicle up at Sunshine Coast Airport (MCY). If you only want a car for one day trip, there are various car hire providers in the city.
Bus
The main bus service provider on the Sunshine Coast is Sunbus. It's a good budget option for student travellers buying an airfare to Sunshine Coast. If you plan on using this mode of transport, you should buy the Translink GoCard. It works on all the trains and buses operated by the company, and you can top up the card with funds as you go.
Transport from Sunshine Coast Airport (MCY)
There are metered taxis available on the Sunshine Coast, as well as ride-sharing service Uber. Once your flights to Sunshine Coast arrive, you'll find metered taxis waiting outside of the arrivals terminal. Keep in mind that you'll have to pay an airport pick-up service fee of $2.20 AUD on top of your fare. The cheapest way to get from Sunshine Coast Airport (MCY) to your hotel is with the public bus. TransLink operates a daily service that meets all flights to Sunshine Coast and it takes passengers to various nearby destinations.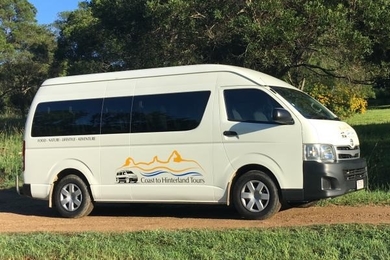 Coast to Hinterland Tours
Coast to Hinterland Tours is a locally-owned tour operator offering day tours and transfers to some of the best destinations the Sunshine Coast and Noosa has to offer, from breathtaking beaches and natural attractions to stunning rural hinterland villages. A foodies' haven, the Sunshine Coast has plenty on offer to make your mouth water, from boutique wineries, cheese producers, produce farmers, food markets and award-winning restaurants. Coast to Hinterland Tours will show you the secret hidden gems that Sunshine Coast locals would rather keep to themselves, as well as the well-known attractions of the stunning local area.
See more of Sunshine Coast