Compare Cheap Flights to Perth, Australia
Heading to Perth for business or a holiday? Check out Webjet's latest deals, browse airfares from leading airlines around the world and find the perfect flight that suits your budget!
*Prices on this page are subject to change without notice, perform a search to view live pricing. Prices are inclusive of taxes and airline surcharges.
Webjet flight fees per booking:
Webjet Servicing Fee
: Domestic $21.95, NZ/Pacific $24.95, International $32.95.
Booking Price Guarantee
: Domestic $12.95, NZ/Pacific $14.95, International $21.95. Varying
payment fees
are included in the price breakdown on Webjet's checkout page, once your payment method has been selected.
Top Experiences For Visitors With Flights to Perth
One of the most amazing sights visitors on return flights to Perth can experience happens along the Sunset Coast. Travellers can hire a car once they have locked in their airfare to Perth, and then make their way along this spectacular stretch of coast upon landing in the Western Australian capital city. The drive begins at Cottesloe Beach, one of WA's most celebrated beaches. Another sandy stretch to tick off on your Perth holiday is Scarborough Beach, or you might catch the ferry to Rottnest Island, one of Australia's iconic tourist destinations, to take a selfie with a quokka. Just north of Perth, you'll find Nambung National Park. Book a stargazing tour at the park along with your cheap flights to Perth, for an unforgettable evening in the Pinnacles Desert. Some tours include a candlelit dinner; perfect for the romantics. If you're hoping to mix a little adventure in with your flights to Perth, check out the sand surfing tours available around Pinnacles Desert area. A Swan River cruise is a great way to take in the sights of the city in a relaxed setting. In peak travel season, it's best to arrange tickets for this scenic cruise when you confirm your airfare to Perth. As you cruise along the river, you'll see main attractions such as the Bell Tower, King's Park, the Swan Brewery building, and the Royal Perth Yacht Club.
Travelling with Children
If you're travelling on flights to Perth with children in tow, consider bringing them to the Caversham Wildlife Park or Heirisson Island. Caversham Wildlife Park offers up close views of a variety of animals. You can snuggle with koalas and wombats or even hand-feed kangaroos! If your little ones love the idea of spending extra time with kangaroos while in WA on return flights to Perth, head to Heirisson Island. This hidden gem is a kangaroo sanctuary nestled along the Swan River which allows you to simply hang out with these magnificent creatures in their natural habitat. Spend a few hours enjoying the serenity, or pack a picnic and utilise the public barbecue facilities on site. Plan cheap flights to Perth then purchase admission tickets to the Scitech. This is Western Australia's leading science education centre and can be enjoyed by visitors of all ages. Test your gumption on a rainy afternoon (or any other day) with an indoor skydiving session. Visitors of almost any age travelling on cheap flights to Perth can soar above the ground and get an adrenaline rush like no other. Get your children excited about your upcoming flights to Perth by making reservations at Penguin Island. Tours to this island usually last a little more than 90 minutes and can include up close encounters with wild dolphins. You'll learn how dolphins use stingrays to catch their dinner or watch the magnificent creatures jump out of the boat's wake. Bring a good camera along in case you see dolphin mothers with their newborn calves.
Top Things to Do and See with Plane Tickets to Perth
Visiting Fremantle is at the top of the list of things to do for travellers booking return flights to Perth. Fremantle Prison is rated among the top sites in Western Australia newcomers with tickets to Perth like to visit. This building was used as a maximum-security prison for more than 130 years and is full of tales from some of the most famous criminals. Pre-arrange a tour before arriving to Perth Airport (PER) if you want to see the inside of this historic site. If you're really feeling brave, book a night tour where many past visitors have reported seeing the ghosts of prisoners. Make time to walk through London Court and the Trinity Arcade once in Western Australia with flights to Perth booked on Webjet. The Tudor-style London Court has all the appearance of the old-world English era, but it was actually built in the 1930s. Again, you'll feel as though you've stepped back in time when you reach Trinity Arcade. The buildings date back to the 19th century and create a striking contrast against Perth's more modern structures. One of the best free things to do in Perth is to get a fix of green space while travelling on flights to Perth with a visit to Kings Park. This large park in the centre of the city features a botanic garden, water garden, and incredible views of Perth at night. You'll find the War Memorial, the Pioneer Women's Memorial, and a host of community events taking place throughout the year.
Frequently Asked Questions
What is Perth known for?
Perth is known for being the most isolated city in the world. The capital of Western Australia is bordered by the Australian Outback on one side and the Indian Ocean on the other. Perth is also a gateway to exploring Margaret River, one of Australia's top food and wine-producing regions.
What are the quarantine regulations when entering Perth?
Australia has strict quarantine regulations, and some items prohibited on being brought into the country by those on international flights to Perth include certain fresh and packaged foods, as well as fruits, eggs, meats, plants, animal skin or feather products.
Do you need to tip in Perth?
Visitors to Perth are not obliged or expected to tip for services. However, it is always welcome to show gratitude and appreciation for excellent services received.
What is the best way to get around Perth?
The best way to get around Perth is by using the public transport network, known as the 'Transperth'. This includes the free CAT bus, regular buses, trains or ferries. The cost of using Transperth varies depending on the traveller's journey, however fares generally range from $2 to $12 AUD.
What is the current population of Perth?
The current population of Perth is approximately 2.1 million people.
How far is Perth Airport from Perth CBD?
Perth Airport is approximately 12 kilometres from Perth CBD. it takes about 20 minutes to drive between the airport and city, however this always varies depending on traffic.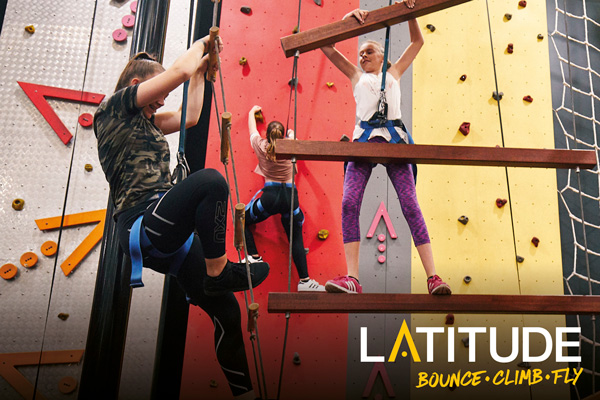 Latitude - Perth's Number 1 Indoor Aerial Park
Latitude offers a world of indoor fun and thrilling aerial entertainment for all ages. From the fully integrated bouncing and climbing activity floor, to the freestyle tumble mat, sky-high obstacle courses and ninja style parkour course The Grid, there is something for everyone. Plus Latitude has a dedicated Kids Zone for children 18 mths to 5 years. Located just a 30 minute drive from the Perth airport, Latitude will be the family day highlight of your Perth visit. Bounce, climb and fly at Latitude today!