Compare Cheap Flights to Melbourne, Australia
Don't spend more than you need to for your trip to Melbourne. Browse Webjet's latest deals and find a flight that won't break your holiday budget.
*Prices on this page are subject to change without notice, perform a search to view live pricing. Prices are inclusive of taxes and airline surcharges.
Webjet flight fees per booking:
Webjet Servicing Fee
: Domestic $21.95, NZ/Pacific $24.95, International $32.95.
Booking Price Guarantee
: Domestic $12.95, NZ/Pacific $14.95, International $21.95. Varying
payment fees
are included in the price breakdown on Webjet's checkout page, once your payment method has been selected.
Cheapest time to fly to Melbourne
Best upcoming flight deals
Cheapest Price to Melbourne
Currency used in Melbourne
Average Time to Melbourne
Current Time in Melbourne
Average Temperature in Melbourne
Average Rainfall in Melbourne
Flights to Melbourne
Ask any Melburnian about why their home city is consistently voted as one of the world's best and it will quickly become apparent why booking flights to Melbourne should be high on your agenda. The Victorian capital ticks the boxes on almost every traveller's holiday wishlist, no matter if you've booked flights to Melbourne in search of spectacular cuisine, high-stakes sporting events, perfectly-brewed flat whites, rooftop bars and a vibrant nightlife, or days spent getting lost in the city's labyrinthine laneways.
What Are the Best Things to do in Melbourne?
So, what to do when you land at Melbourne Airport (MEL) and are fresh off your cheap flights to Melbourne? Make a stop outside the iconic, yellow-hued Flinders Street Station to snap your own postcard-worthy photo of this heritage pile. Check out the best museums in Melbourne, including the Immigration Museum, located in the Old Customs House building. Cruise along the Yarra River, or be your own watery guide by renting a kayak – just make sure not to capsize as water quality is poor. Hop aboard the free City Circle tram to get your bearings and be taken along some of Melbourne's most bustling thoroughfares, including La Trobe, Flinders, Victoria and Nicholson Streets. Wander through the exhibitions at Ian Potter Centre: NGV Australia or appreciate the architecture at the Royal Exhibition Building. Hire a bike and leisurely pedal along the city's network of scenic riding trails or get a bird's-eye view of the city by jumping into a panoramic glass cabin aboard the Melbourne Star Observation Wheel.
What Are the Best Things to do on Weekends in Melbourne?
Melbourne loves to brunch. For many Melburnians in fact, making the pilgrimage to a favourite brunch spot or best cafes for a serving of smashed avocado or eggs Benedict is a weekly institution. Those in the CBD can grab a takeaway coffee to walk through the stalls of the Queen Victoria Market. This open-air market is open Thursdays to Sundays and Tuesdays, but the atmosphere is especially vibrant on the weekends. Other weekends markets worth putting on your radar include the Rose Street Artists' Market, Camberwell Sunday Market and Prahran Market. Just make sure you have booked extra luggage along with return flights to Melbourne so you have space for all those souvenirs. Head to St Kilda on sunny Saturdays or Sundays for lunch at one of the waterfront restaurants, a stroll along the boardwalk or an outing at Luna Park. Pack a picnic to spend an afternoon lazing in the sun or playing ball games in one of Melbourne's beautiful parks and gardens – Princes Park, Fitzroy Gardens and Edinburgh Gardens are all among some of Melbourne's best picnic spots – or set your sights on one of the visiting exhibitions at the National Gallery of Victoria and give your tickets to Melbourne a decidedly arty focus. You can also use cheap flights to Melbourne to explore more of Victoria with a weekend out to the Yarra Valley, Mornington Peninsula or Macedon Ranges.
What are the Top Experiences for Visitors to Melbourne?
Coffee runs through the figurative veins of Melbourne. This is a city obsessed with its caffeine fix. And visitors to the city on flights to Melbourne would be remiss not to partake in a brewed cup or two during their time here. Passionate baristas, artisan roasteries and hole-in-the-wall cafes can be found around almost every corner. Find one of the best hidden cafes near your Melbourne accommodation and sit down with a flat white or long macchiato. Travel out to the Dandenong Ranges for a joy ride on the antique Puffing Billy, a steam railway, or delve into Victoria's Gold Rush history with a trip to Ballarat (about 90 minutes' drive from Melbourne) and Sovereign Hill. Walk up and down the length of Little Bourke Street, Melbourne's Chinatown, on the hunt for dumplings and wontons, and then set out on a meander around some of Melbourne's famous (sometimes graffiti-strewn) alleyways – top options include AC/DC Lane, Hosier Lane, Centre Place, Flinders Lane and Degraves Street. Travelling on an airfare to Melbourne with your family or young kids? There are plenty of family-friendly activities in Melbourne, including heading to Philip Island to see the Penguin Parade or making the trip to Werribee Open Range Zoo.
What's on in Melbourne?
There is always something going on in this city, which is good news for travellers no matter what time of year you've booked return flights to Melbourne. One of the first major events to start the calendar year is the Australian Open, which begins in January. As one of the Grand Slams of the tennis world, the Australian Open is one of the most popular times of year for tennis fans to lock in tickets to Melbourne. As a result, an airfare to Melbourne for January can be slightly more expensive so it is wise to organise your travel in advance. The next major event is the Formula 1 Australian Grand Prix in March; the roars of the cars can often be heard around the city. The Australian Football League season kicks off at the end of March (the Australian Football League Women's begins in January) and culminates in the Grand Final at the end of September (or sometimes the first weekend of October). Keep an eye on the fixture to catch a game at the hallowed MCG (Melbourne Cricket Ground), or use your AFL team's away game in Victoria as an excuse to take an extended mini-break courtesy of cheap flights to Melbourne available on Webjet. Fashionistas will want to strut their stuff for Melbourne Fashion Week or put on their frilliest frock for a day at the Spring Racing Carnival during November. The Royal Melbourne Show runs for a week in late September/early October.
What Should I Pack for Melbourne?
Melbourne has a reputation – for its weather, that is. The city's forecast is notoriously temperamental, and locals have adapted to dressing for all seasons, knowing that any given morning could be sunny, only to give way to a thundery or icy cold afternoon. Prepare for your airfare to Melbourne by packing layers; items that can be added or taken off and aren't too bulky to carry around. Bring comfortable walking shoes on cheap flights to Melbourne as the city's CBD is easy to navigate on foot. Visitors travelling on return flights to Melbourne during summer, or those coming to the city for sporting or outdoor events, will want to double-check their luggage for SPF+, broad sun hats and clothing that covers their shoulders. A classic Melburnian stereotype is the city's unofficial dress code of all black. To blend in, arrive at Melbourne Airport (MEL) wearing your go-to all black ensemble, or simply make the outfit switch once you check in to your accommodation.
Frequently Asked Questions
How do you get around on public transport in Melbourne?
The best way to get around Melbourne on public transport is by tram. Trams operate throughout the day and night, and offer multiple routes throughout the city. To travel on the trams, you need to purchase a Myki card. A full fare myki card costs $6, however this may be less depending on which zones the passenger travels.
Are there free WiFi areas in Melbourne?
Melbourne has free outdoor public WiFi available throughout the CBD in Bourke St Mall, Queen Victoria Market, Melbourne Museum and South Wharf Promenade. Train stations in Melbourne also offer free public WiFi .
When is the best time of year to travel to Melbourne?
Throughout March to May and September to November are the best times to visit Melbourne as these months have pleasant temperatures, moderate tourist crowds and lower airfare rates.
Which airlines typically operate out of each terminal at Melbourne Airport?
Melbourne Airport has four terminals with specific airlines operating out of each:
Terminal 1 (T1): Domestic – Qantas.
Terminal 2 (T2): International – all international airline flights.
Terminal 3 (T3): Domestic – Virgin.
Terminal 4 (T4): Domestic – Jetstar, Tigerair, Rex and Airnorth.
What is the current population of Melbourne?
The current population of Melbourne is approximately 4.8 million people.
What is the weather like in Melbourne?
Melbourne is well known for its changeable weather conditions. Many describe the weather in the city as having four seasons in one day. Winters in Melbourne are fairly cold with the average maximum temperature reaching 15°C. Summers in Melbourne tend to be warm and the average maximum temperature is 26°C, although the mercury can reach up to 40°C during heat waves.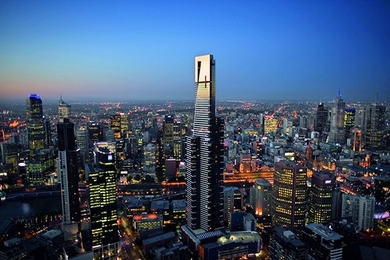 Eureka Skydeck
Eureka Skydeck 88 is the highest public vantage point in the Southern Hemisphere. You will reach level 88 in less than 40 seconds and be amazed by the awesome views of Melbourne, where you will see famous landmarks through the floor-to-ceiling windows. Skydeck 88 is the only observation deck in the world that can thrill you with 'The Edge', a glass cube which projects 3 metres out of the building, 300 metres up — with you in it!