Compare Cheap Flights to Mackay, Australia
Heading to Mackay for a holiday? Check out Webjet's latest deals, browse airfares from leading airlines around the world and find the perfect flight that suits your budget!
*Prices on this page are subject to change without notice, perform a search to view live pricing. Prices are inclusive of taxes and airline surcharges.
Webjet flight fees per booking:
Webjet Servicing Fee
: Domestic $21.95, NZ/Pacific $24.95, International $32.95.
Booking Price Guarantee
: Domestic $12.95, NZ/Pacific $14.95, International $21.95. Varying
payment fees
are included in the price breakdown on Webjet's checkout page, once your payment method has been selected.
A Brief History
Flights to Mackay touch down in an area that was originally inhabited by the Yuibera people. The area is named after European traveller, John Mackay who reached the Pioneer River in 1860. Cattle and horses were brought into the region soon after and the Mackay settlement began to grow. Sugar cane was planted and by 1867 sugar was being exported. Mackay was declared a city in 1918, and by 1939 had the largest sugar terminal in the Southern Hemisphere. Flights to Mackay are a sweet option for sun-seeking holiday-makers as the region produces more than a third of Australia's total sugar. It is aptly referred to as the 'Sugar Capital of Australia'. Soon after the Mackay Harbour sugar terminal opened, various motels attracted more visitors and the Mackay Entertainment Centre opened. The area has been impacted by natural disasters in the past, particularly tropical cyclones and floods.Hop on flights to Mackay and get ready to sink your sweet tooth into the jous that an airfare to Mackay brings. Book your tickets to Mackay through Webjet to kick back at the bustling tropical Australian destination.
Top Things to Do and See With Flights to Mackay
Nature lovers should book tickets to Mackay to get close to local wildlife and be dazzled by the natural beauty of the area. Fly into the Mackay Airport (MKY) and take a drive to the Eungella National Park where you can search for a sighting of a duck billed Platypus. Many visitors are lucky enough to view them off one of the marked out viewing platforms but patience is key as these are elusive animals. Visit the Cape Hillsborough National Park to share a sunrise on the beach with the local kangaroos foraging for food. Located about 50 kilometres away from Mackay, the national park is a great place to breathe fresh ocean air while exploring the diverse terrain that this area offers. Flights to Mackay will land you in a diverse area where, from rainforest to an old volcanic plug and the Coral Sea, visitors can enjoy walks or refreshing ocean dips.
Holiday-makers with flights to Mackay can enjoy the historical buildings in the CBD. Walk a mapped-out two-kilometre route and stop at sites such as the Mackay Town Hall, Mackay Customs House, or the Art Deco-style Pioneer Shire Council Building. Other notable stops are the detailed Masonic Temple, as well as the Harbour Beach and Mackay Marina, a popular area filled with entertainment opportunities and restaurants. Tickets to Mackay will satisfy all ages and interests as the diverse area caters to all.
The Best Time to Visit on Plane Tickets to Mackay
The best time to book your cheap flights to Mackay is for travel in the warmer months, from January to April. At this time you can expect daytime temperatures that sit around 25°C, meaning that travellers will have an even wider range of outdoor activities to choose from. The winter months are colder and dry, although sunny, with temperatures sitting between 10°C and 20°C. Secure return flights to Mackay during the whale migration season, typically between July and September, to view the magnificent humpback and pilot whales that visit Mackay's waters. Tickets to Mackay can get pricey around the July as the city hosts the Mackay Festival of Arts, a popular event that draws in a lot of visitors. Book cheap flights to Mackay through Webjet as soon as possible if you're planning on travelling around this time. The Mackay Airport (MKY) is just a short distance from the city centre and it is easy to travel to and from with many transport options available.
Public Transport and How to Get Around
Getting around Mackay is easy after you have arrived at Mackay Airport (MKY). There are taxi ranks scattered throughout the city, and many services taxis are on-call and can pick you up anywhere. Public transport options are available and you can catch a bus from many spots around the city. If you prefer to make your own way through Mackay, hire a bicycle and enjoy exploring the town on the many bicycle routes or use Webjet to hire a car for flexibility when you travel.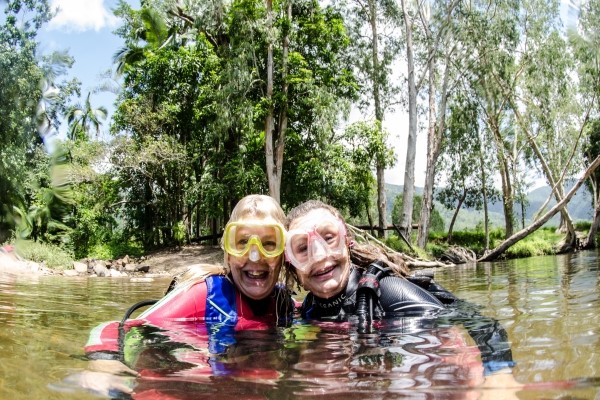 Rainforest Scuba
Rainforest Scuba world 1st who offer dives in clear rainforest waters where platypus live and play. We give you a truly unique Australian adventure ideal for everyone. Learn about the platypus and other aquatic animals while diving with turtles in the billabong knowing this experience is suitable for both divers and non-divers of all ages. Adventure for the whole family that's safe and creates a lasting memory. Voted #1 Queensland #3 Australia Australian bucket list.