Compare Cheap Flights to Cairns, Australia
Heading to Cairns for business or a holiday? Check out Webjet's latest deals, browse airfares from leading airlines around the world and find the perfect flight that suits your budget!
*Prices on this page are subject to change without notice, perform a search to view live pricing. Prices are inclusive of taxes and airline surcharges.
Webjet flight fees per booking:
Webjet Servicing Fee
: Domestic $21.95, NZ/Pacific $24.95, International $32.95.
Booking Price Guarantee
: Domestic $12.95, NZ/Pacific $14.95, International $21.95. Varying
payment fees
are included in the price breakdown on Webjet's checkout page, once your payment method has been selected.
Top Experiences For Visitors Travelling on Cheap Flights to Cairns
Great Barrier Reef
The Great Barrier Reef is why many people buy tickets to Cairns. It's a UNESCO World Heritage Site and is one of the richest ecosystems in the world. No matter how you want to discover one of the best Australian beach holiday destinations, be it dive, snorkel or on a glass-bottom boat tour, there's plenty to see!
Cairns Botanic Gardens
For a relaxed afternoon, pack a picnic and make your way to the Cairns Botanic Gardens. The gardens have been around since 1886, and it boasts more than 4,000 species of plants. Head to the Flecker Garden to see tropical habitats from around the world and explore the many footpaths that lead to the slopes of Mount Whitfield. It's not hard to see why it's a popular attraction with travellers who book return flights to Cairns!
Kuranda
Kuranda is one of the best day trips in Cairns and getting there is half the fun! Once your flights to Cairns land, you can take the Skyrail Rainforest Cableway and see the UNESCO World Heritage Site-listed rainforest from above or you can hop on the Kuranda Scenic Railway. The train winds through the rainforest past ravines and beautiful waterfalls!
Tjapukai Aboriginal Cultural Park
The Tjapukai Aboriginal Cultural Park is a 15-minute drive from the city. If you're booking flights to Cairns to learn about Aboriginal culture, this is one of the best places to visit. You can learn how to play the didgeridoo, find out about the medicinal properties of plants and explore the exhibits that highlight the culture of the Tjapukai tribe.
The Cost of Visiting
Accommodation
For travellers booking flights to Cairns, accommodation will be one of your biggest expenses. However, as Cairns is a great family holiday destination there are ample choices of stays to suit broods of all sizes and budgets. A three-star hotel will cost on average $185 AUD per night.
Food
If you're visiting Cairns on a budget, you can keep your food expenses low by eating meals from take away shops and buying sandwiches from nearby delis. For meals at restaurants, you can expect to pay between $27 to $40 AUD. However, cooking your own food is the cheapest option.
Daily budget guidelines
If you're a backpacker booking cheap flights to Cairns, you can see the city for $70 to $80 AUD per day. You'll need to stay in hostels, cook most of your meals and stick to mostly free activities. A mid-range budget for Cairns is $250 to $255 AUD per day. This will get you a private room at a cheap hotel and enough room in your budget for some adventure activities. For luxury travellers booking their airfare to Cairns, you should budget a minimum of $540 per day. You'll have more than enough to stay in four-star hotels, eat at the best restaurants for all of your meals, hire a car and do some of the more expensive activities.
Packing Tips For Travellers with Cheap Flights to Cairns
As soon as your flights to Cairns land, you'll notice the heat and high humidity. As a result, you'll want to pack clothes that will help you stay cool during the day. For day wear, pack items like t-shirts, shorts, dresses and sandals. If you're planning to go out on the town, bring along a pair of closed shoes as it is a requirement for most venues.
If you're buying tickets to Cairns to explore the city's natural heritage, you'll need to bring along a good backpack. You should also invest in a decent pair of hiking boots, a reusable water bottle and bug spray. For travellers buying flights to Cairns intending to make day trips to Port Douglas to explore the Great Barrier Reef, you do need to bring along some items. While some tour vendors will provide snorkels and masks, you need to check if a wetsuit and towels are included in the price.
Other things to pack include sunglasses, sunscreen, a hat and any waterproof photographic equipment. However, if you forget to pack anything, you can buy some of the items at Cairns Airport (CNS) or from the shops in the city centre.
Public Transport and How to Get Around
Bus
The local bus is one of the cheapest ways to get around Cairns. A single trip will cost $4.80 AUD, and you can find routes that will take you all over the city. You can also take the Airport Connect bus to get from Cairns Airport (CNS) after your flights to Cairns arrive.
Bicycle
If you want more independence when it comes to exploring Cairns, but without the cost of hiring a car, you can rent a bicycle. Once your flights to Cairns land, you can hit the pavements and discover the city's network of cycling paths. Rental prices start at $15 AUD per day.
Taxis
Taxis are not the cheapest transportation option in Cairns, but they are the most convenient. If your flights to Cairns arrive late or you're bringing a lot of luggage, it's much easier to take a cab from Cairns Airport (CNS) to your hotel. For trips around the city, you can expect to pay between $20 to $27 AUD. You can also use the ride-sharing app Uber.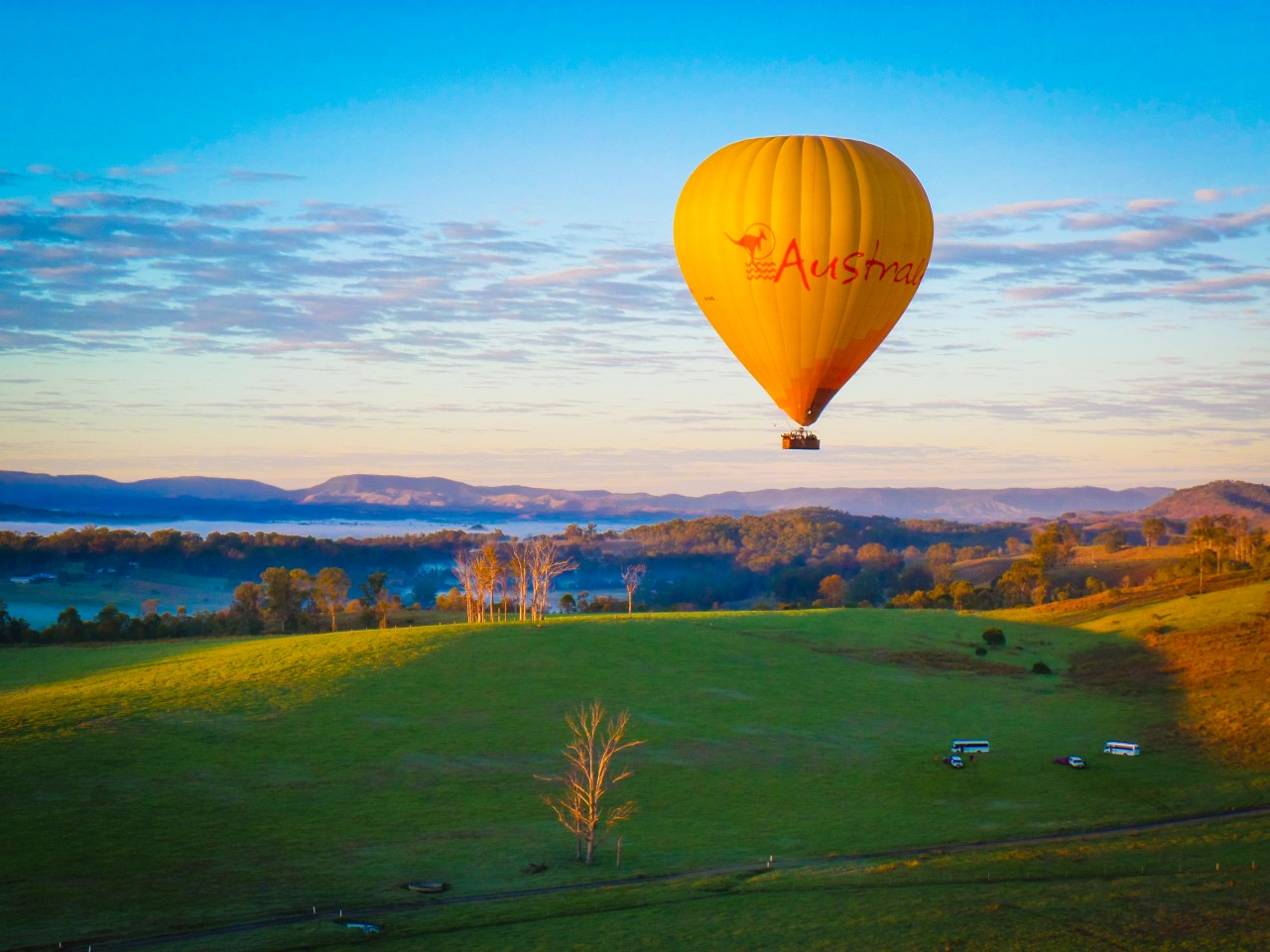 HOT AIR Balloon Cairns
We are Australia's premier operator of hot air balloon rides, with the biggest fleet of aircraft in the country. Our team includes Chief Pilot, Senior Pilots, Flight Support Crew, Coach Drivers, Marketing, Management, Reservations and Accounts. With more than 26 years of operation, Hot Air Ballooning Cairns offers flights every morning in our world-class, uniquely designed aircraft.
Only the Best will do
Enjoy the wonderful scenery and relax as you float serenely across the Atherton Tablelands near Cairns. Our safety systems, equipment and training and development programs are industry leading, so know that you're in good hands. Choose from our available tours and book your ride today!