Compare Cheap Flights from Karratha to Brisbane, Australia
Looking for cheap flights to Brisbane from Karratha? Use Webjet's deal finder to help you compare flights, carriers and seating classes all year round. You'll be sure to find the right flight to match your budget, plans and travel preferences.
*Prices on this page are subject to change without notice, perform a search to view live pricing. Prices are inclusive of taxes and airline surcharges. Webjet fees per flight booking: Webjet Servicing Fee: Domestic $21.95, NZ/Pacific $24.95, International $32.95. Booking Price Guarantee: Domestic $12.95, NZ/Pacific $14.95, International $21.95. Varying payment fees are included in the price breakdown on Webjet's checkout page, once your payment method has been selected.
Flight prices are indicative, based on passenger numbers and may vary dependent on your individual flight dates. Prices were found by customers on the date in the right hand column labelled "Last Search Update" and may vary. Complete a new search to view live pricing.
Brisbane Guide
A Guide to Brisbane
Know Before You Go
Get online for free. If you don't want to fork out money for a data plan, you can use the free WiFi available in public parks and spaces around the city.
Save on transport costs. If you're going to be using trains, buses or ferries to get around, buy a Go Card. You'll get 30% off on ticket prices, and you can get refunded if you don't use all the money on the card.
Use the Brisbane City Loop. It's a free bus service that operates around the CBD and is an ideal way for budget travellers to move around the city.
Support the local music scene. Brisbane is known around the world for its incredible live music venues. Head to the Valley, choose one of the many bars, pubs and clubs and discover your new favourite band.
Pack sunscreen. The sun in Brisbane is harsh, even in the cooler winter months. If you're going to be spending a lot of time outside, make sure you protect your skin and stay hydrated.
Getting Around Brisbane
Take a CityCat ferry. Tickets cost AUD 4.60, and there are 21 routes you can choose from. The boats depart every 15 to 30 minutes and run from 5:15 a.m. to 12:45 a.m. every day.
Save money with the free loop buses. The Spring Hill and City Loop stop at popular attractions around Brisbane and are a convenient way to get around the city. Regular public buses have routes between the CBD and the suburbs with fares starting at AUD 4.60.
Use the light rail service. If you're staying in the outer suburbs, this is one of the best ways to get into the city. Fares costs AUD 4.60 for zone one or AUD 2.56 if you have a Go Card.
Rent a bicycle. With over 400 km of pathways going around the city, cycling is one of the best ways to explore Brisbane. Rentals start at AUD 35 a day, or you can use the CityCycle bike-share program and pay only AUD 5 per hour.
Flag down a cab. Metered taxis and ride-sharing services operate in the city. Fares start at AUD 3 and go up by AUD 4.84 for each kilometre.
Walk around the city. Brisbane is compact and easy to explore on foot. You can wander around the Brisbane Riverwalk that boasts 20km of pathways.
Hire a car. While you don't need a vehicle to get around the city, you'll need one for day trips. Rentals can be picked up at the airport or one of the offices in the CBD. 
Best time to visit Brisbane
When is The Best Time to Visit Brisbane?
The best time to visit Brisbane is during its autumn season. From March to May there is little rainfall, and it's scorching temperatures start to dip. You'll have an easier time finding hotel deals, and the city's calendar is packed with events like the Brisbane Comedy Festival and Bike Week.
June to August is winter in Brisbane, but temperatures hover around 15°C. With mostly sunny days, the city is full of large outdoor events. Plan your trip around the Food and Wine Festival or the Queensland Music Festival. The only downside about visiting during this time is that the crowds will push up hotel rates.
September to November is spring and marks one of Brisbane's biggest events. The annual Brisbane Festival attracts hordes of local and international travellers. If you're planning to visit during this festival, book a few months in advance to lock in prices on airfare and hotel rooms before they skyrocket.
The least popular time of year to visit Brisbane is during its summer months. From December to February, temperatures reach highs of 30°C, and heavy rains and thunderstorms are common. If you can handle the less than perfect weather, you'll have the city's attractions to yourself and save with low hotel rates.
Airports
Brisbane Airport
Brisbane Airport is the third busiest in Australia. It serves 31 airlines and offers routes to 50 domestic and 29 international destinations. The airport is a hub for Virgin Australia, Qantas, Jetstar Airways and Tigerair.
Getting To And From Brisbane Airport
The quickest way to get from the airport is with the Airtrain. It only takes 20 minutes to arrive in the city, and trains leave the airport every 15-minutes between 5:04 a.m. and 10:04 p.m.
TransLink has two buses that run from the airport into the city. Follow the signs to the bus stop outside of the terminals and take either route 569 or 590.
If you don't want to take public transport, you'll find the taxi rank in front of the terminal building. Ride-sharing services like Uber are also available. You can meet your driver in front of the domestic arrivals terminal for immediate pickup.
For car rentals, you'll find the desks located on level 1 of the domestic terminal. 
Things to do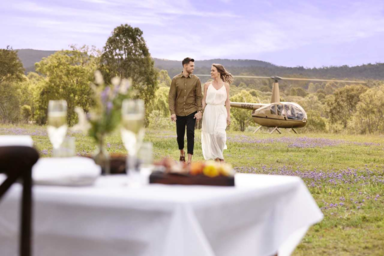 Pterodactyl Helicopters
Pterodactyl Helicopters; we are so much more than just a helicopter company. Are you looking to do something extraordinary? Pterodactyl Helicopters partners with the best local cafes, wineries, restaurants, pubs, breweries and accommodation places in southeast Queensland and Brisbane to put together a selection of once-in-a-lifetime helicopter tours and scenic flights, where getting there is half the fun. Whether it's making a jaw-dropping entrance by helicopter at an event or wedding, getting the adrenalin pumping with a low-level river run joy flight, visiting local wineries in style or taking on an authentic Aussie pub-crawl by chopper, the experienced team at Pterodactyl Helicopters is at your service. We offer a variety of day or overnight tours by helicopter. But the adventure doesn't end there! If you want to create your own flight experience or have a specific tour destination in mind, we can help with that too. If you think it, we can do it. For memories that will last a lifetime, come fly with us.
Cheapest time to fly to Brisbane
Best flight deals in February
Cheapest Price from Karratha to Brisbane
Currency used in Brisbane
Average Temperature in Brisbane
Average Rainfall in Brisbane