Compare Cheap Flights to Brisbane, Australia
Planning a holiday or work trip to Brisbane? Check out the latest airfare deals from airlines around the world and let Webjet help you find the perfect flight for your budget.
*Prices on this page are subject to change without notice, perform a search to view live pricing. Prices are inclusive of taxes and airline surcharges.
Webjet flight fees per booking:
Webjet Servicing Fee
: Domestic $21.95, NZ/Pacific $24.95, International $32.95.
Booking Price Guarantee
: Domestic $12.95, NZ/Pacific $14.95, International $21.95. Varying
payment fees
are included in the price breakdown on Webjet's checkout page, once your payment method has been selected.
Cheapest time to fly to Brisbane
Best upcoming flight deals
Cheapest Price to Brisbane
Currency used in Brisbane
Average Temperature in Brisbane
Average Rainfall in Brisbane
When is the Best Time to Visit Brisbane?
To increase your chance of finding and travelling on cheap flights to Brisbane, avoid the school holidays. Much of March, April, June, July, October and the Christmas holiday period is a popular time for families travelling north on flights to Brisbane. As a result, airfare to Brisbane increases as well as rates at hotels and resorts. The city's attractions are also at their busiest and traffic congestion can make it hard to move around the city.
However, if you book your tickets to Brisbane around the school holidays in April and May, it's one of the best times of year to visit the city. You'll miss the price increase in flights to Brisbane, and the city's weather is at it's best. Temperatures are not too hot or too cold, making it ideal for outdoor activities.
If you are travelling with your family and can't avoid the school or end-of-year holidays, book your return flights to Brisbane well in advance. You'll have better luck at locking in lower airfare prices which will give you more room in your holiday budget for activities around the city.
What's on in Brisbane?
Brisbane Comedy Festival
The Brisbane Comedy Festival is one of Australia's top annual events. Every year, people from all around the world book flights to Brisbane to watch 40 of the best up and coming comedians take the stage.
Paniyiri Greek Festival
Each year, the Paniyiri Greek Festival attracts more than 50,000 attendees. As a result, flights to Brisbane in the third week of May increase, and you'll want to book your tickets to Brisbane well in advance before the seasonal bump. The festival is an excellent choice for the whole family, and you can indulge in a vibrant celebration of Greek food, culture and traditions.
Brisbane Marathon Festival
The Brisbane Marathon Festival is one of the largest marathons in Australia. It's a scenic 42km run and has taken place every year since the 1982 Commonwealth Games. With such a large attendance, an airfare to Brisbane is expensive over the week in August when the marathon takes place.
The Brisbane Festival
The Brisbane Festival is an international arts festival. You'll find performances around dance, theatre, comedy, film, opera and more! If you want to save money, book a Multi-Tix ticket package and see more performances for less.
What's the Best Way to Get Around Brisbane?
If you're planning on using public transport in Brisbane, buy the TransLink Go Card. It costs a $10 AUD deposit, and you can get it at Brisbane Airport (BNE) once your flights to Brisbane land. It is also available to purchase at several shops around the city. The best part? When you're ready to go back home, you can hand the card back to a vendor and request a full refund.
Trains
If you're staying in the suburbs, the train is an excellent way to get to Brisbane's many attractions. There are stations nearby the Queensland Museum, Gallery of Modern Art, South Bank and Fortitude Valley.
Buses
Buses are an affordable way to get around Brisbane. The city has a robust network with stops at top attractions and many of the neighbourhoods. In the city centre, you can also make use of the free City Loop and Spring Hill Loop. These routes have stops by many of Brisbane's downtown hotels and attractions like the Botanic Gardens and King George Square.
Ferries
A unique way to explore Brisbane is with the city's ferry service. The Brisbane River cuts through the city centre, making it a convenient option to some of Brisbane's top attractions. The CityCat ferry stops at the Botanic Gardens and Eat Street Northshore. If you don't have a TransLink Go Card, you can buy a single ticket when you board the boat.
Taxi
Once your flights to Brisbane has arrived, you can take a metered taxi to your accommodation. The metered cabs wait outside Brisbane Airport's arrival terminal and a trip will cost on average $33.
Airtrain
The best way to get from Brisbane Airport (BNE) into the city is with the Airtrain. The service runs every 15 to 30 minutes and takes 20 minutes' to reach Brisbane. You can use your TransLink Go Card or buy a single ticket for $18.50.
What Are the Best Things to Do in Brisbane?
Visit the Lone Pine Koala Sanctuary
The Lone Pine Koala Sanctuary is one of the top reasons people book tickets to Brisbane every year. It's only a 15-minute drive from the city centre and is the world's first koala sanctuary. It's home to more than 130 koalas as well as other critters like kangaroos, snakes, platypuses and a variety of indigenous birds.
Climb the Brisbane Story Bridge
For incredible views of the city, climb to the top of Brisbane Story Bridge. It's the perfect activity for travellers that want a little adventure, scenic views or a romantic thing to do during their trip with flights to Brisbane. You can join a tour that will last around 2.5 hours where you'll get all the gear you need to conquer the bridge safely.
Wander around the South Bank
South Bank is Brisbane's signature district. It's the perfect place to start exploring once your flights to Brisbane land and you've offloaded your bags at your hotel. The area looks out over the Brisbane River and it's where you'll find attractions such as the Wheel of Brisbane, trendy cafes, restaurants and beautiful parks.
Frequently Asked Questions
What time zone is Brisbane in?
The time zone in Brisbane (Queensland) is Australian Eastern Standard Time (AEST). However unlike other AEST cities, Brisbane does not utilise Daylight Saving Time (DST). This means that Brisbane is an hour behind other AEST cities, such as Sydney and Melbourne, during the summer.
Are there free WiFi areas in Brisbane?
Free public WiFi is available across certain public spaces and locations in Brisbane, including the Queen Street and Valley Malls, Victoria Bridge, South Bank, Reddacliff Palace, Mt Coot-tha Summit Lookout and Roma Street Parklands. CityCats in Brisbane also offer free public WiFi .
How long does it take to get from Brisbane Airport to Brisbane CBD?
It takes approximately 20 to 25 minutes to drive from Brisbane Airport to Brisbane CBD (13.5 kilometres). The Brisbane Airport Train is the most economical way to travel and takes approximately 20 minutes to get from Brisbane Airport to the heart of Brisbane's CBD.
Where can you go on a day trip from Brisbane?
The most popular day trip destinations from Brisbane CBD are the Glasshouse Mountains (1 hours' drive), Lamington National Park (2 hours' drive) and North Stradbroke Island (3 hours' drive).
What are the visa and passport requirements when flying to Brisbane?
If you are not an Australian citizen, you will need to apply for a valid Australian visa before leaving your home country and landing on your flight to Brisbane. New Zealand passport holders are an exception, and can apply for a visa upon arrival in Australia.
What is the average price of meals in Brisbane for one day?
Brisbane is a large, cosmopolitan city with many dining options for all preferences and budgets. On average though, a main meal at a middle-range restaurant costs about $38 AUD.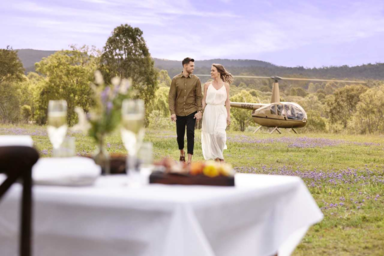 Pterodactyl Helicopters
Pterodactyl Helicopters; we are so much more than just a helicopter company. Are you looking to do something extraordinary? Pterodactyl Helicopters partners with the best local cafes, wineries, restaurants, pubs, breweries and accommodation places in southeast Queensland and Brisbane to put together a selection of once-in-a-lifetime helicopter tours and scenic flights, where getting there is half the fun. Whether it's making a jaw-dropping entrance by helicopter at an event or wedding, getting the adrenalin pumping with a low-level river run joy flight, visiting local wineries in style or taking on an authentic Aussie pub-crawl by chopper, the experienced team at Pterodactyl Helicopters is at your service. We offer a variety of day or overnight tours by helicopter. But the adventure doesn't end there! If you want to create your own flight experience or have a specific tour destination in mind, we can help with that too. If you think it, we can do it. For memories that will last a lifetime, come fly with us.