Whitsundays, Queensland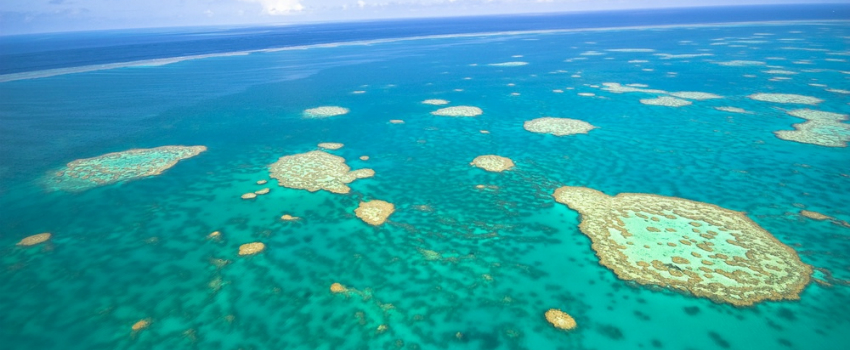 With 74 gorgeous, white-sanded islands in the middle of the Great Barrier Reef, the Whitsundays are loved by yachters, divers, and people who just want to be among among some of the most postcard-beautiful sub-tropical scenery on earth.
The set of islands is located off the coast of central Queensland, commercially centred on Hamilton Island and geographically centred on Whitsunday Island.
Said to be the "hub of the Whitsunday Coast", Airlie Beach is a stunning holiday spot in its own right, though is the launching pad for many looking to reach the Whitsundays, as are Proserpine and Hamilton Islands (see below). Many of the islands of the Whitsundays can be accessed by Airlie.
Daydream is the closest island to Airlie Beach, and is fringed by the coral of the Great Barrier Reef. Its peak features a small, thick jungle, and there are walking tracks throughout. Most of the island is taken up by Daydream Island Resort
Brampton Island is the entry to the Whitsunday Passage. It has a stunning blue water and white sand combination, is nearly all National Park, and has seven excellent beaches and a coral reef to itself. It is much loved for its bushwalking, snorkelling and kangaroo-spotting opportunities.
Hook Island is the second-biggest island, at 58 square kilometres in area. There is a diverse display of coral on its northern coast bays. It is also mostly National Park. Aboriginal cave paintings can be seen at various places on Hook, including the Nara Inlet.
The islands' average maximum temperature for January is 31 degrees Celsius, and the average minimum is 25. For July the average maximum is 23 and average minimum 18.
Be cautious when enjoying the water during the stinger season. Irukandji and box jellyfish can be an issue between October and May.
The most developed of the islands is Hamilton, owned by winemaking family the Oatleys, and has the largest of the Whitsundays' resorts. Hamilton Island has its own airport, and also has connecting ferry services to other islands. The airport is on domestic routes from Qantas (Cairns), Jetstar (Brisbane, Sydney and Melbourne) and Virgin (Brisbane and Sydney).
Getting there by Air
The Whitsundays are serviced by two domestic airports, Great Barrier Reef Airport on Hamilton Island (HTI) and Whitsunday Coast Airport on the mainland at Proserpine (PPP). From Great Barrier Reef Airport (HTI) Cruise Whitsundays meet flights for a comfortable 30 minute catamaran cruise to Daydream Island, departing from the jetty located directly at the airport. Book flights to Hamilton Island.
From Whitsunday Coast Airport (PPP) Cruise Whitsundays offer a streamlined transfer with a 30 minute coach connection directly from the airport to Abel Point Marina in Airlie Beach, where a connecting ferry transfers guests to Daydream Island in 30 minutes.
Helicopter services with Heli-reef are also available during daylight from Great Barrier Reef Airport (HTI) and Proserpine.
Accommodation
Find a range of accommodation in the Whitsundays.
Webjet's Destination Guides