Western Australia, Australia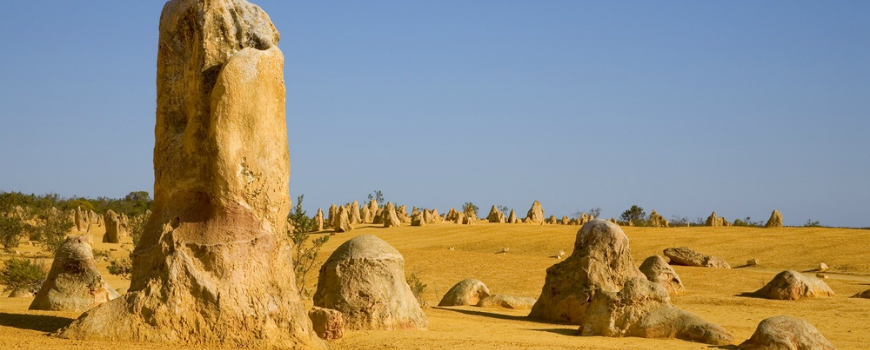 Domestic deals are now available on cheap flights to Perth. There's never been a better time to book a cheap domestic flight and experience extraordinary Western Australia.
One of the world's largest states
Horizontal Waterfalls | Karijini National Park | Snorkelling, Ningaloo Reef
Western Australia has enough diversity for an entire continent. No matter what time of year, there is always somewhere in Western Australia that feels like summer. The Australian state is two and half million square kilometres meaning, Western Australia could fit over ten United Kingdoms. Pristine white beaches, rugged gorges and rock formations, the largest collection of wildflowers on earth, and the only horizontal waterfalls in the world make Western Australia truly unique.
The Coast with the Most
Whale shark, Ningaloo Reef | Wildflowers, Australia's Coral Coast | Monkey Mia
For a holiday with a splash head to Australia's Coral Coast! Home to Ningaloo Reef which is the largest fringing reef in the world - there has never been a better time to explore this underwater wonderland with Skywest and Qantas now offering flights from Perth to Exmouth. The spectacular Ningaloo coast is one of the few regions in the world where whale sharks congregate regularly and is widely considered to be one of the best places to swim with
them.

Spend your days swimming with graceful manta rays, or snorkelling over the reef which is only a few metres from shore. No overcrowded pontoons here – it's just you, a mask and fins, and the most awe inspiring marine life you're ever likely to see. Dolphins are found along the coast and there are many opportunities to interact with these inquisitive creatures – feed them at Monkey Mia in the Shark Bay World Heritage area or watch them at play.

You'll also find an array of interesting and enjoyable marine activities along the coastline. Explore deserted islands of the Dampier Archipelago and the Abrolhos Islands or chase some waves off Kalbarri and Geraldton.

Inland, the wildflowers on display in between July and November, the wildflower season rivals the coral for colour and is one of the State's best loved natural attractions.

Visit www.australiascoralcoast.com for further information
Extraordinary Experiences
Western Australia will deliver on a unique and extraordinary holiday experience. Western Australia is home to Australia's sunniest capital receiving 3,000 hours of sunshine a year. Whether you're a family, couple or single person, Western Australia offers many ways to enjoy the sun! To make the most of your West Australian holiday visit the must see and do guide for details on extraordinary experiences in WA:
Year round Events
From spectacular concerts and arts festivals to international sporting challenges, local events guarantee a marvellous display of talent and sporting prowess - there is plenty to see and experience while travelling around Western Australia.
View the WA Events Calendar Here
Visit Broome and North Western Australia
Big Mertens Fall, Mitchell Plateau | Cathedral Gorge, Purnululu National Park | Camels on Cable Beach, Broome
Western Australia's extraordinary north west is just a hop, skip and a jump away! Direct services now fly between Brisbane and Broome, so exploring the inspiring Kimberley region from the east coast couldn't be easier.
Broome is a fascinating town of colour, culture, captivating scenery and intriguing history, surrounded by fiery red ochre cliffs, contrasting with the unspoilt turquoise waters of the Indian Ocean and a 22 kilometre stretch of gleaming white sands. A multicultural population provides arts, performances and irresistible cuisine, while its captivating history includes pearl diving sagas and dinosaur footprints. With a balmy tropical climate, Broome is a centre of intrigue and romance.
The Kimberley Region is an unspoilt wilderness of rugged gorges, waterfalls, Aboriginal rock art and sacred places. In this extraordinary place, marvel at the 350 million year old Bungle Bungle Range, cruise Lake Argyle, ride the world's only Horizontal Waterfalls, or witness the natural phenomenon known as the Staircase to the Moon.
From the white stretching sands of Cable Beach to the red rugged ranges and mystical Boab trees along the Gibb River Road, Broome in Australia's North West will leave you with a magical experience like no other. See the latest flights to Broome to compare airlines and fares.
Experience Perth
Cottesloe Beach, Perth | Kings Park, Perth | Parker Point, Rottnest Island
The great outdoors are always greater when the sun is shining, so whether you take advantage of Perth's great weather by touring the city, or by taking a short trip off to a world class wine region or national park, you'll feel a warm welcome in this sunny city - the perfect destination at any time of the year.
Take a ferry to Rotto
Just a short ferry ride from Perth is one of the most extraordinary little islands on earth. Rottnest Island is home to some of the world's finest beaches and bays, as well as unique plant and animal life, including the famous and rare quokka, a small kangaroo-like creature. But one thing you won't be seeing is any cars, with locals and holidaymakers alike preferring to travel the island by bicycle, or for those who prefer it, shuttle.
Find out more about Perth visit the Perth tourism website.
Visit the South West
Margaret River Wine Region |Tree Top Walk, Denmark | Middleton Beach, Albany
Just a few hours drive from Perth you'll discover the spectacular South West. One of Lonely Planet's top ten regions for 2010 – You'll feel worlds away where towering forests meet world class wineries and miles of unspoilt coastline, from Margaret River to Walpole and Albany.
Margaret River
Margaret River, Originally a chilled out surfie town has since evolved into the ultimate smorgasbord of wineries, boutique breweries, unique accommodation, and restaurants overlooking sweeping vineyards and surf breaks.
Valley of the Giants, Denmark
Continue further south to the Tingle forests of Denmark where the first walk trail of its kind was built amongst the tree tops to allow people to experience the majesty of these incredible trees while minimising the impact on the environment. In what's known as The Valley of the Giants, the Tree Top Walk stands 40 metres off the ground and stretches through 600 meters of forest.
Albany
Old meets new in the City of Albany, renowned for its history, spectacular coastline, and magical whale watching experiences. With breathtaking views from Mount Clarence and Mount Melville, visitors can spot dolphins and seals frolicking in the waters, and humpback and southern right whales as they migrate south.
Find out more about WA's South West region. There is also detailed suggested itineraries and must see attractions when visiting the South West region.
Experience extraordinary Western Australia through amazing videos here: http://www.youtube.com/westernaustralia
Accommodation
Western Australia is filled with great places to explore so make sure your accommodation needs are taken care of by booking at Webjet. With accommodation including hotels, bed and breakfasts, resorts and hostels for backpackers, there's options to suit any traveller. Find hotels in Western Australia:
Webjet's Destination Guides