Webjet's Destination Guides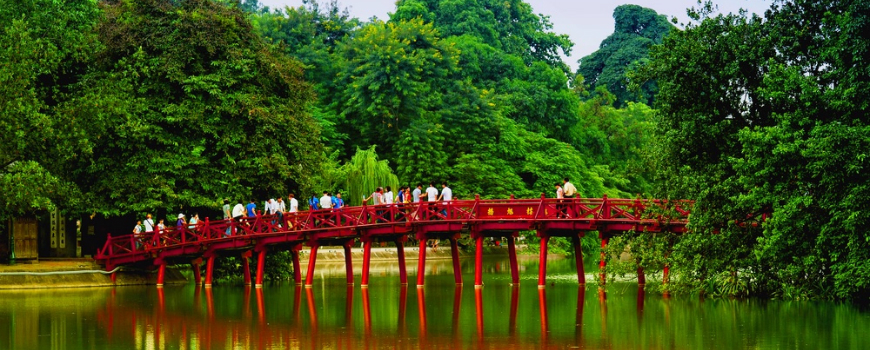 Vietnam is a popular travel destination for many Australians because of Vietnam's affordable lifestyle, unique culture and landscape, and for the deliciously fresh Vietnamese food. With a unique blend of Western and Eastern cultures, Vietnam is a country with a rich history that beckons travellers from across the globe.
Weather
The weather in Vietnam differs depending on which part of Vietnam you choose to holiday in. Generally the mountains of north Vietnam experience cooler temperatures, especially in winter, whereas the southern regions experience more tropical climates.
If you are travelling to the south of Vietnam, where Ho Chi Minh is located, it's best to visit between November and February as the temperatures are slightly cooler and the air not as humid. However, this period is also the peak travel season. If you wish to avoid the crowds stick to travelling Vietnam during May, June and September.
When planning a holiday in Vietnam be aware that there are two specific monsoon seasons. The winter monsoon between October and March brings brings cold weather to the north and dry, warm temperatures to the south. During the summer monsoon season between April and October the weather is humid and hot, unless you're in the mountains.
What to Do in Ho Chi Minh
When you're in Ho Chi Minh you can experience everything from the traditional celebrations, historical museums and bustling open air markets.
Tet Festival (Vietnamese New Year)
To be a part of the biggest celebrations in Vietnam, you cannot go past the Tet Festival, the Vietnamese New Year. The celebrations are always the biggest in Ho Chi Minh, where firecrackers burst overhead as people feast on the vast amounts of delicious foods for sale.
War Remnants Museum
A big tourist attraction, the War Remnants Museum in Ho Chi Minh city is a grim reminder of Vietnam's war filled past. For those who wish to learn more about the Vietnam War, a tour of the Cu Chi Tunnels is also worthwhile which now serves as a war memorial.
Ben Thanh Market
Ben Thanh Market is where you will find everything from clothing, souvenirs and fresh food. Haggle with the vendors, have some delicious pho (Vietnamese noodle soup) but beware of the pickpockets!
Travel to Ho Chi Minh
No holiday to Vietnam is complete without a visit to Ho Chi Minh, Vietnam's largest city. Located on the banks of the Saigon River in south Vietnam, Ho Chi Minh best represents the fusion between Western and local cultures that exists in Vietnam.