Uluru, Northern Territory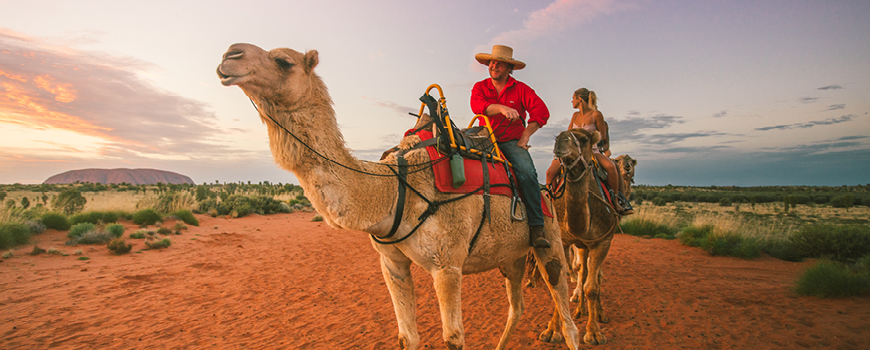 Few people who tour Uluru return unchanged. When you arrive at the rock, it's easy to see why it has such huge spiritual significance for the Anangu Aboriginal people, and why it is considered the spiritual heart of Australia.
You'll first be struck by the wonder of Uluru, as you fly over it on your direct flight from Sydney or via Alice Springs. Just a ten minute drive from the airport, you'll find a wide range of accommodation - from backpacker to eco-sensitive luxury there are options to satisfy any traveller.
As well as the iconic Uluru, this region offers other great experiences, such as the ancient dome-shaped formations of Kata Tjuta, the spectacular sheer red rock cliffs of Kings Canyon and a taste of life on real outback stations.

Culture
There are a number of ways to view and experience Uluru. It is immense in size - yet more than two thirds of the rock is actually hidden beneath the ground. Then there's its sheer beauty: it outshines even the brilliant sunset, arraying itself in a multiplicity of hues from black to purple, blue to brown, orange and red throughout various times of day and weather.
Choose from a range of informative walking tours with the traditional owners, to gain insights into Anangu history, knowledge and culture. You'll learn about Dreamtime stories of the area and the local flora, fauna and bush foods. Discover a rock shelter containing remarkable examples of Aboriginal rock art. There's also a cultural centre which offers an introduction to Anangu culture, and where you may be able to meet with local artists and see them practicing their crafts.

Adventure
If you're looking for adventure, you'll find lots to do in the land around Uluru! Meander through the changing colours of the Uluru and Kata Tjuta landscapes on the back of a camel, at sunrise or sunset. Or feel the exhilaration and freedom of seeing Uluru from a late model Harley Davidson. For a real bird's eye view, you can explore the amazing landscapes of Uluru, Kata Tjuta or Kings Canyon on a fixed wing or helicopter scenic flight adventure.
Head off-road on a quad biking adventure through the dunes around Kings Creek Station, or hike the trails around Kings Canyon or do the Kings Canyon Rim walk.

Top 10 Things To Do
To help you plan your visit to the heart of Australia, here are our top ten suggestions:
1. Start your discovery at the Uluru-Kata Tjuta Cultural Centre where artefacts, videos and artworks introduce the Dreamtime stories of Anangu culture.
2. Be astounded by the breathtaking landscapes of Uluru as it changes colours at sunrise and sunset
3. Do Kings Canyon by exploring the walking tracks through the ancient sandstone walls and past the cool waterholes of the "Garden of Eden".
4. Get away from everyone and everything at the Valley of the Winds walk at Kata Tjuta, with sweeping views over the desert plains.
5. Hear the story of the great Dreamtime battle between Kuniya and Liru (the python woman and the poisonous snake man) which helped create Uluru, when you join a guided walk.
6. Do a quad bike ride through magnificent desert oaks and over rolling sand dunes at the outback cattle station of Kings Creek.
7. Trek the red sand dunes on a camel safari and see the desert come to life at sunrise at Uluru.
8. Do Australia's greatest icons with an exhilarating helicopter ride over Uluru and Kata Tjuta.
9. Do the free daily guest activities at Ayers Rock Resort for an experience you'll never forget.
10. Dine on a three course bush tucker-inspired buffet under an incomparable starlit sky, while your own storyteller shares the stories of the southern night sky at the Sounds of Silence experience.

Accommodation
Find the perfect base to explore Uluru by booking your accommodation. With options including hotels, bed and breakfasts and motels, there's something to suit every traveller. Search for hotels in Uluru today.
Compare and book cheap flights to Uluru (Ayers Rock) for your next holiday getaway.
Webjet's Destination Guides