Explore South Australia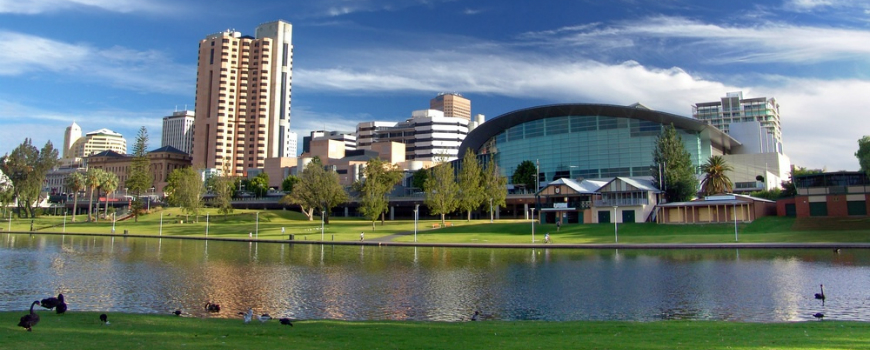 Adelaide
Adelaide is South Australia's capital city and is a great place to start exploring the rest of South Australia. Adelaide is a vibrant city; welcoming and easy to get around. The city is set beside a river, surrounded by parklands and buzzing with life, a capital city that is clever, cultured and cool. Adelaide's events calendar is packed with everything from award-winning sport to world-class art, its enormous range of restaurants and cafes is famous, its cultural attractions are many and varied. Adelaide is known as the '20 minute city' because everything is so close and easy to get to.
Attractions
VIP Panda Tour at Adelaide Zoo
The ultimate Giant Panda experience is at Adelaide Zoo. Go behind the scenes on a VIP Panda Tour where you will be greeted by a specially trained Giant Panda keeper and taken inside Panda Headquarters to meet Wang Wang and Funi. See their off limits night quarters, assist the keeper in placing bamboo around the exhibit and then help release the pandas into their day rooms. The tour is made complete with a visit through the bamboo storage facility and a once-in-a-lifetime opportunity to feed Wang Wang and Funi through their special feeding chute. www.zoossa.com.au. Stay close by with hotels near the Adelaide Zoo.
Events season
Adelaide makes the most of its blue skies and balmy weather from January to March with an array of sporting and cultural events. The Santos Tour Down Under attracts the world's best cyclists to Adelaide and surrounding wine regions, while hundreds of comedians, artists, musicians and performers flock to the city for the Adelaide Fringe – Australia's largest arts festival. And then there's motor racing - the Clipsal 500 V8 Supercars, a world music festival – WOMADelaide and the Festival of Arts – Adelaide starts the year on a high note.
http://www.southaustralia.com/Events.aspx
North Terrace
This is Adelaide's cultural boulevard. Its world-class attractions, all within walking distance of each other, including the Art Gallery of SA, the National Wine Centre, the State Library of SA, SA Museum, the Adelaide Botanic Garden and the nearby Migration Museum.
Adelaide Botanic Garden
The Adelaide Botanic Garden is a 16-hectare oasis in the heart of Adelaide that features stunning collections of plants including Australian natives, exotics and ornamental plants. Highlights include the magnificently restored Victorian Palm House, the Mediterranean Garden, the Amazon Waterlily Pavilion, the Museum of Economic Botany and the Bicentennial Conservatory. You can also join a free guided walking tour or learn about bush tucker with Bookabee Tours. http://www.environment.sa.gov.au/botanicgardens/home
Adelaide Central Market
Mingle with thousands of shoppers in the southern hemisphere's largest undercover produce market. Grab a coffee, have a leisurely breakfast and browse the stalls selling a huge array of wonderful South Australian food and other goodies direct to the public. The Adelaide Central Market is open Tuesday, Thursday, Friday and Saturdays. www.adelaidecentralmarket.com.au
Haigh's Chocolates
Visit the home of Australia's oldest surviving chocolate-making company, take a free tour to check out the factory and heritage display, and taste some of the world's best chocolates. www.haighschocolates.com.au
Did you know?
In 1872, Adelaide was the first Australian capital city to be connected by telegraph to London.
Famous Adelaideans include: former world number one tennis player, Lleyton Hewitt; the world's best cricketer, Sir Donald Bradman; and the first Australian in space, astronaut Dr Andrew Thomas.
Adelaide's South Australian Museum is home to the largest collection of Australian Aboriginal artefacts in the world, housed in its Australian Aboriginal Cultures Gallery.
Adelaide is Australia's fifth largest city. With 1.06 million residents, it's home to 73 per cent of the State's population. Its CBD is exactly one square mile. Average temperatures range from 29°C in summer to 15°C in winter.
Accommodation
Find the perfect base to explore Adelaide from by booking your accommodation at Webjet. With options including hotels, bed and breakfasts, motels and hostels for backpackers, there's something to suit every traveller. Search for Adelaide hotels today.
Kangaroo Island
Kangaroo Island is one of Australia's greatest natural treasures as well as one of its most surprising destinations. The island is already well known for is luxurious accommodation ideal for a romantic, relaxing getaway. Kangaroo Island is a wildlife sanctuary without fences, a place where you can walk among endangered Australian sea lions, watch kangaroos feeding at dusk or catch a glimpse of a shy platypus. This idyllic holiday destination is just 15km from the mainland but a world away from the city. Discover your own private beach or indulge in fresh, organic produce all sourced from Kangaroo Island including: freshly-caught marron, luscious honey, and cheese made from sheep's milk.
Must see places
Flinders Chase National Park
One of the most beautiful, untamed tracts of bushland in Australia, this is the place to spot Australian native animals, walk along pristine beaches and really get back to nature.
Vivonne Bay
Declared Australia's best beach after extensive research by Sydney University, this long, curved, sandy beach is superb for picnics, walks, surfing, swimming and fishing.
Seal Bay Conservation Park
Take a guided tour with rangers along a beautiful beach that is home to a large – very lively – colony of endangered Australian sea lions.
Island Beehive and Clifford's Honey Farm
Kangaroo Island is the last place on earth where you'll find pure Ligurian honey. Find out the history of this delicious product, how it's made, and then have a taste at Island Beehive or the quaint, family-owned Clifford's Honey Farm. www.island-beehive.com.au and www.cliffordshoney.com.au
Remarkable Rocks
The name says it all: these rocks have been shaped by erosion over thousands of years to create shapes that look a lot like modern works of art.
Did you know?
At 4,400km², Kangaroo Island is Australia's third largest island. It is 155km long (with 541km of coastline) and just 15km from the mainland.
There are nearly 1600km of roads on Kangaroo Island, linking the major towns of Kingscote, Penneshaw and Parndana.
300kg of salt falls across the island per hectare per year.
The region's main industries are agriculture, aquaculture, fishing and tourism.
Average maximum temperatures range from 23°C in summer to 15°C in winter.
How to get to
Access to Kangaroo Island is by ferry or air. Flights between Adelaide and Kingscote take about 30 minutes. SeaLink operates two passenger and vehicle ferries between Cape Jervis and Penneshaw. The ferry crossing takes 45 minutes, and coach connections are available from Cape Jervis to Adelaide.
Webjet's Destination Guides