Webjet's Destination Guides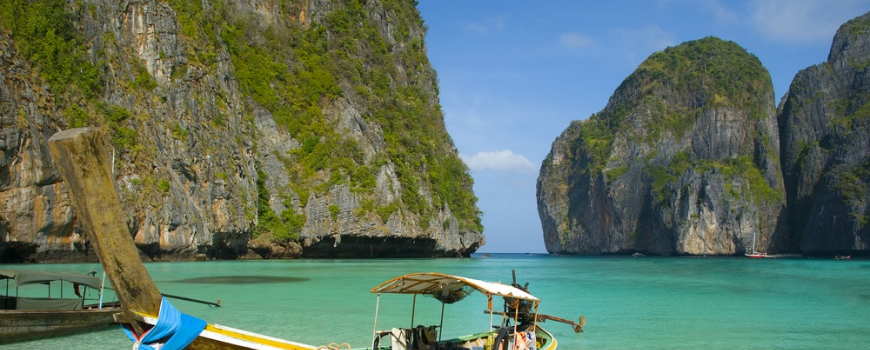 Phuket is the largest Island in Thailand. Phukets beaches, coves and bays are the main draw for many visitors. There are a range of leisure activities from treks and walks to snorkeling and diving, all set against a lush tropical backdrop.
Beaches - Holiday Fun for the Whole Family
Few islands can boast as many sandy beaches and clear waters as Phuket. The winding coastal roads along the west coast of this 540-square-km island offer stunning views and easy access to some of the world's finest beaches.
Best time to Visit
The busiest and most popular time for Australian travellers to visit Phuket is from late October until early April, especially the Christmas and New Year period.
It's advisable to book flights to Phuket and accommodation as soon as possible. Prices in Phuket during the peak season are generally higher and you can often miss out on popular hotels and resorts. Monsoon's are common in Phuket between July and October. The rainfall is generally fast and intermittent allowing you to enjoy the beautiful sunshine Phuket is known for.
Attractions
Jungle Trekking
The Khao Phra Thaeo Wildlife Park offers the best trekking in Phuket. Khao Phra Thaeo park demonstrates Phuket's exotic natural environment, maintained to ensure rare wild animals, such as langurs, porcupines, and macaques are kept from extinction in fast-growing Phuket. Visitors the Phuket nature reserve consider May until October the best time for jungle trekking. During this time the forest is full of blossom native to Thailand and Phuket island.
James Bond Island
James Bond Island is famous for the James Bond film "Man with the Golden Gun". The entire area surrounding this island with its signature rocky pinnacle is indeed spectacular.
Festivals
Loy Kratong
Loy Kratong, or the Festival of Light, takes place across Thailand on the twelfth lunar month at full moon. 'Loy' means 'to float' and 'kratong' refers to a lotus shaped vessel. During this festival, people gather beside rivers and light candles on kratongs they then place on the water, making a wish as they do so. It is believed that as long as the candle light doesn't go out, it will fulfil people's wishes and provide them with longevity. Loy Kratong is a beautiful sight and makes for a romantic event for couples.
Songkran
Songkran, or Thai New Year, is celebrated annually from 13 - 15 April. Water is the symbol of this festival as it washes away any bad from the past year. This tradition has evolved into throwing water on friends, family and strangers, which is convenient as Songkran also falls on the hottest time of the year. During Songkran, people also visit Buddhist monasteries to pray, give food to monks and cleanse images of Buddha in order to bring good luck and prosperity in the new year.
Chinese New Year
Chinese New Year in Phuket is a celebration filled with traditional Chinese foods, firecrackers and parades. Many Chinese areas are covered in red banners and decorations, a traditional colour thought to bring luck. Partake in the festivities and gorge yourself on the delicious foods during Chinese New Year. Gong xhi faa chai!
King's Cup Regatta
The King's Cup Regatta is an annual yachting event that takes place during the first week of December on Phuket's Kata Beach. The King's Cup Regatta is a week long celebration filled with sailing and many parties. During the regatta, festivities include music from local and international musicians, traditional Thai dances and amazing fireworks displays.
Flights