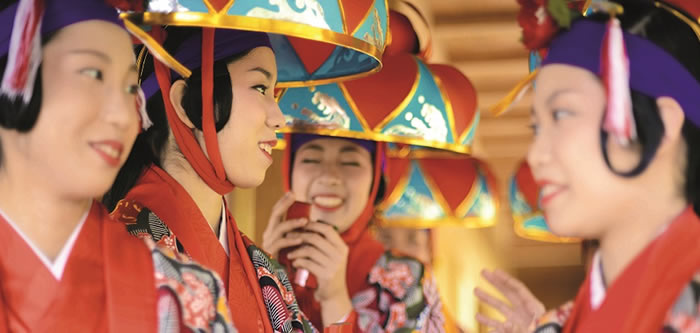 Unveil Japan's secret paradise - Okinawa
For a limited time only, unveil the hidden gems of Okinawa, with an all time low price from China Airlines and the Okinawa Convention & Visitors Bureau. Take advantage of a stop over in Taipei, Taiwan to enjoy a vibrant Asian city before or on your way back from visiting Japan's secret paradise, Okinawa.
Okinawa is no ordinary island getaway – there are many parts of the these islands at the southernmost tip of Japan that a traveller with a bit of curiosity and adventure can uncover.
Pristine Nature

Okinawa's breathtaking ocean views are what has made these islands so popular for Japanese travellers. Dive under the surface to discover another world, including the Yonaguni underwater structure, a monument shrouded in a mysterious history.
Hop between Okinawa's many islands and unveil your own spot among the land, water and sky.
A Unique People, an Unmistakable Character

Okinawa's landscape isn't the only thing that is worth discovering. The locals you'll meet on the island are as much a part of the experience as the breathtaking scenery! Known for their warm, friendly, and welcoming character, getting to know the people of Okinawa are a worthwhile part of your journey.
A Culture Like No Other

While Okinawa is a part of Japan, these islands are culturally rich in their own way. A trip to Okinawa allows you to discover a culture that has beautifully woven in influences around it, including Japanese culture as well as cultures from other parts of Asia. You'll discover this first hand at traditional festivals, with the uniquely Okinawan food, and through observation of martial arts like Karate, which was born on these islands.
Where is Okinawa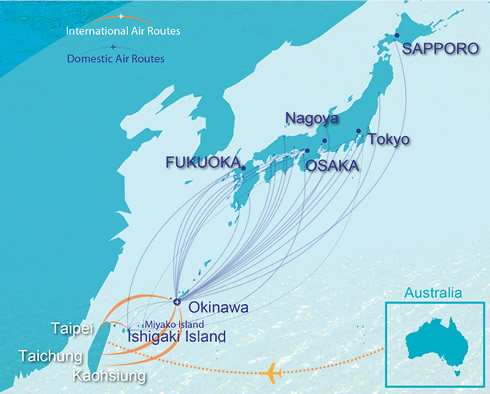 Okinawa is comprised of a group of islands that make up the southernmost tip of Japan. The location of the islands give them their unique climate and beautiful natural features, but also act as a gateway to enjoy a trip to Japan. Closer to Taipei than to Tokyo, a stop-over route from Australia via Taipei is a convenient way to begin your journey through Japan – and with direct routes from Taipei to Ishigaki island, access is only getting more convenient.
See more information on Okinawa

Add an Adventure in Taipei

Before or after discovering Okinawa's cultural richness and natural beauty, take advantage of China Airlines' stop over in Taipei for a wholly different experience at Taipei's famous night markets. Discover a different culture, taste and scenery in one of Asia's vibrant cities.
Fly with China Airlines to Unveil Japan's Secret Paradise - Okinawa.
With China Airlines, you can conveniently fly from Brisbane or Sydney to Okinawa, Japan, via Taipei. Unveil two different parts of Asia on one trip, at an all time low price for a limited time only.



Webjet's Destination Guides