Australia Travel Guide - Discover Australia City by City
Webjet's Destination Guides
Australia is made up of 7 states and territories. States on the east coast are home to the majority of Australia's population in New South Wales, Queensland and Victoria. Use this travel guide to get detailed travel information on top holiday destinations around Australia including capital cities.
Discover the unique travel attractions of Australia's key cities: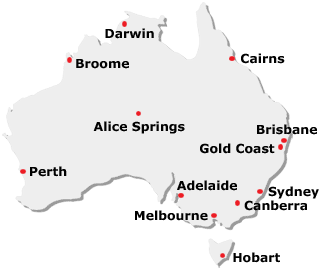 Sydney's sunny, stylish lifestyle makes it one of the shining stars of the Southern Hemisphere, while Melbourne - voted the world's most liveable city - is a cultural hub of fashion, food, entertainment and sport.
Brisbane and the Gold Coast are a blend of beautiful beaches and cosmopolitan bustle, while Broome - on Western Australia's northern coast - is blessed with sunny days and balmy nights.
Access the Great Barrier Reef via the coastal city of Cairns on Queensland's tropical north coast, or uncover the museum attractions of Australia's vibrant capital city, Canberra.
Perth is popular for its beaches and recreational lifestyle, Adelaide is elegant and plush with parks, while Hobart has a stunning harbour and is rich with colonial history.
Australia's most central provincial city, Alice Springs, oozes with character and colour, and Darwin, on the doorstep of Asia, is a vibrant, tropical city, rich in culture.