Explore a landscape formed of fire and ice
New Zealand's North Island plateau is one of the world's most active geothermal wonderlands, an utterly unique place. More than 20,000 years ago the Taupo super-volcano eruption created a playground of lakes, geysers, volcanos, hot springs and underground caves that still bursts with energy today. In this dramatic landscape, you can experience a winter holiday like no other – full of fire and ice.
Enjoy fresh powder trails on New Zealand's only skiable volcano or tackle the Tongariro Alpine Crossing to explore ancient lava flows, the active crater and a magnificent view of the emerald-coloured lakes. Witness the power of Huka Falls up close and personal, the most visited and photographed natural attraction in New Zealand. Our magical underground caves will take your breath away as the hundreds of thousands of glow worms gently light majestic rock formations while you float on black water. Feel the heat of a landscape rumbling with steam and boiling mud pools then once you've seen geysers shoot into the sky, relax and refresh in our world famous hot springs.
Day 1
A short three-hour flight will bring you to the North Island of New Zealand where your journey will begin in Auckland. Our city built on volcanos offers you the chance to see the Waitakere Ranges and twin harbours from the top of Mount Eden. Then get a bird's eye view of magnificent 360 degree panoramas while dining above the city at Orbit Restaurant, the Sky Tower.
Day 2
Explore the underbelly of the earth in Waitomo, a picturesque 2.5 hour drive from Auckland. This network of 300 known limestone caverns was created by 30 million years of geothermal and volcanic activity in the Waikato region. Take a boat and float gently down underground rivers under a blanket of sparkling glow worms or let your wild spirit out by abseiling, zip lining or black water rafting through this underground adventureland.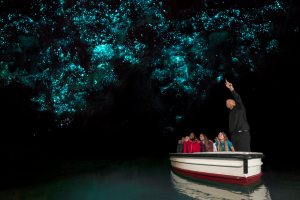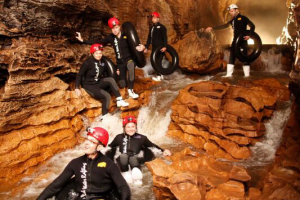 Drive an hour and a half through luscious countryside and arrive ready to relax fireside in our mountainside winter towns, before tackling New Zealand's only skiable volcano.
Days 3 - 5
You have a choice of locations in which to base yourself as you explore the Central Plateau and North Island ski areas. Great Lake Taupo is a bustling lakeside resort town with ski shuttles operating a daily service throughout the winter season. You might also wish to spend time in National Park or Whakapapa Village, two smaller settlements close to the Whakapapa ski area. Ohakune, at the southern edge of the Tongariro National Park, sits serenely at the foot of the majestic Mt Ruapehu's Turoa ski area.
Just an hour's drive from the ski fields is Great Lake Taupo, the largest lake in New Zealand and the epicenter of the volcanic activity that formed this geothermal landscape. The Taupo region is an adrenaline junkie's mecca. Jet boats, bungy jumping, white-water rafting and sky-diving are all on offer in this nature-lover's paradise or opt for a scenic cruise where you can taking in the Maori rock carvings, incredible trout fishing and fine dining. You'll encounter the power and roar of the mighty Huka Falls, one of New Zealand's most photographed scenic wonders.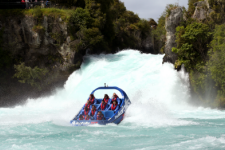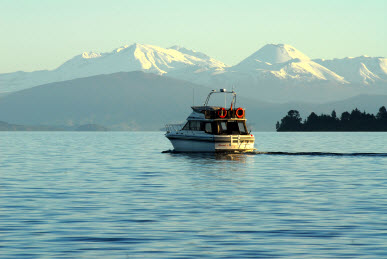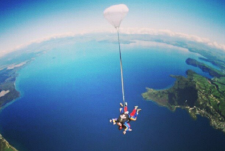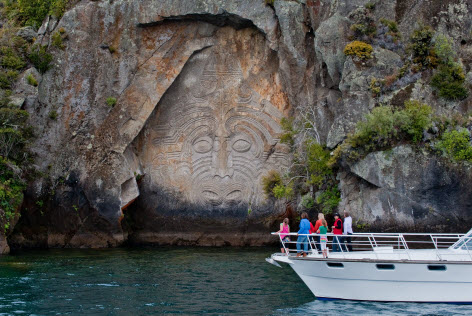 If your personal style is more relaxed, you'll love the cuisine, coffee and local hotspots – whether your taste runs to high tea at the historic Chateau Tongariro in Whakapapa Village, craft brews at one of the local Ohakune pubs or enjoy many a tall stories told over a cold beer seated at the unforgettable wood furniture in the iconic Powderkeg.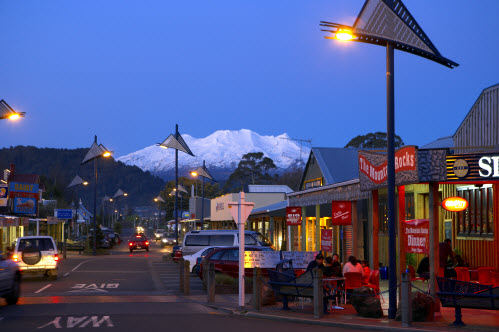 Ruapehu is proudly home to New Zealand's dual world heritage site Tongariro National Park. So whether you want to hit the slopes of Mt Ruapehu or enjoy this alpine destination at a more leisurely pace, the volcanic terrain and surrounding lakes, rivers and bush offers beauty and variety all at once.
Whakapapa and Turoa Ski Areas come alive from early July and offer some of the best terrain in the southern hemisphere. There are over 54 runs to choose from and a great range of packages to suit all skier or boarder abilities or simply enjoy a breathtaking sightseeing chairlift to lunch at NZ's highest café. The best snow is usually experienced between late July and end of October and there is always plenty of entertainment with a busy local calendar of events supporting this buzzing ski area. This year, Happy Valley Snow Park will be the first ski area open in Australasia on 3rd June and will offer a premier beginners' experience and snowplay option for early season visitors.
Shuttles will operate daily from Taupo, National Park and Ohakune to the ski areas, making the journey so much easier for you. Sit back and enjoy the scenery as you travel through some spectacular landscapes. Mt Ruapehu offers a range of ski passes; from flexi passes where you can choose which days and ski areas you visit, to the Ruapehu Ultimate Pass which can be exchanged for a range of leading attractions and activities in the local area should you wish to take a day off the slopes.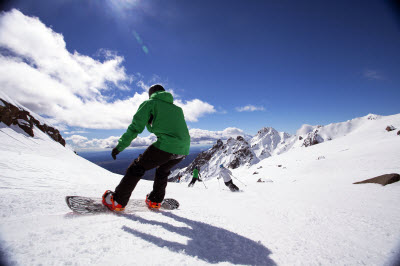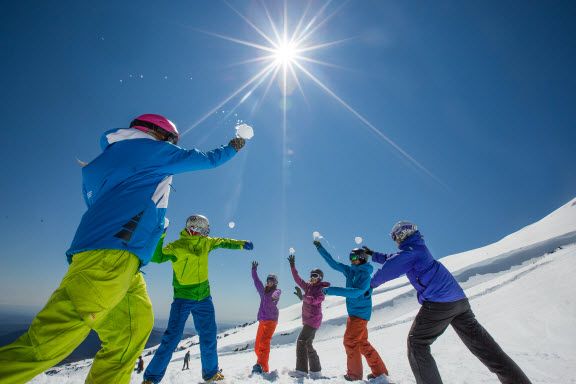 While based in the central plateau you can't miss the Tongariro Alpine Crossing. One of New Zealand's Great Walks, this one-day hike takes you on a spectacular scenic journey from alpine meadows to mountain summit across a surreal landscape of craters, brightly coloured lakes and volcanic rock.
From Taupo, an hour's drive will take you deeper into the lake district and the home of New Zealand's most prolific geo-thermal activity, Rotorua. After your busy day, enjoy an evening of fine dining before retiring to your accommodation, perhaps in one of the great luxury properties on offer in the region.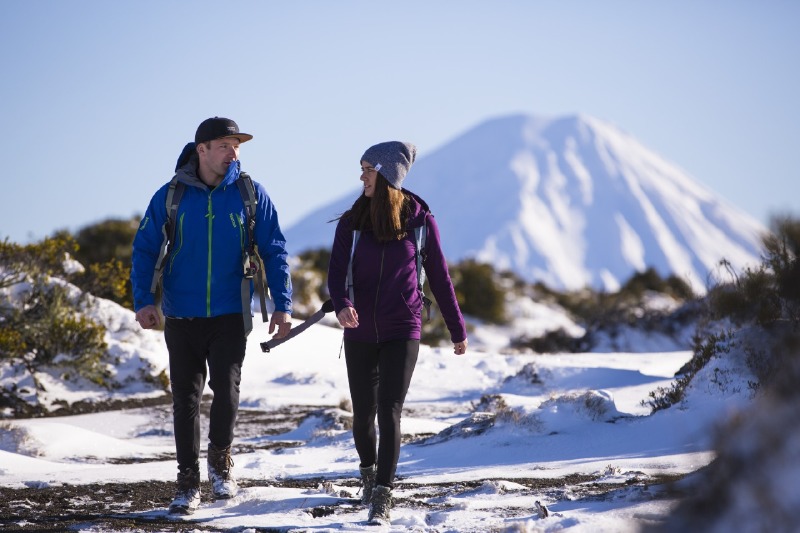 Day 6
Rotorua is a geothermal wonderland with bubbling mud pools, shooting geysers, and natural hot springs. The city is surrounded by mountains, rivers, native forests and 18 fresh water lakes, making it the perfect place to reconnect with nature.
After marveling at the distinctive landscapes and volcanic activity within a geothermal park, there's no better place to soak away the adventure and adrenaline of the last few days than in the natural mineral waters of Rotorua, the South Pacific's natural health spa. Soak up healing properties that nature offers – whether in the mineral pools and Sulphur spas, or an outdoor mud bath. Your mind and body will feel reconnected and you'll sleep like never before.
Discover New Zealand's Maori heritage during a cultural evening including a traditional Maori hangi — a feast of meat and vegetables cooked in the steaming ground — before retiring to your hotel for the night.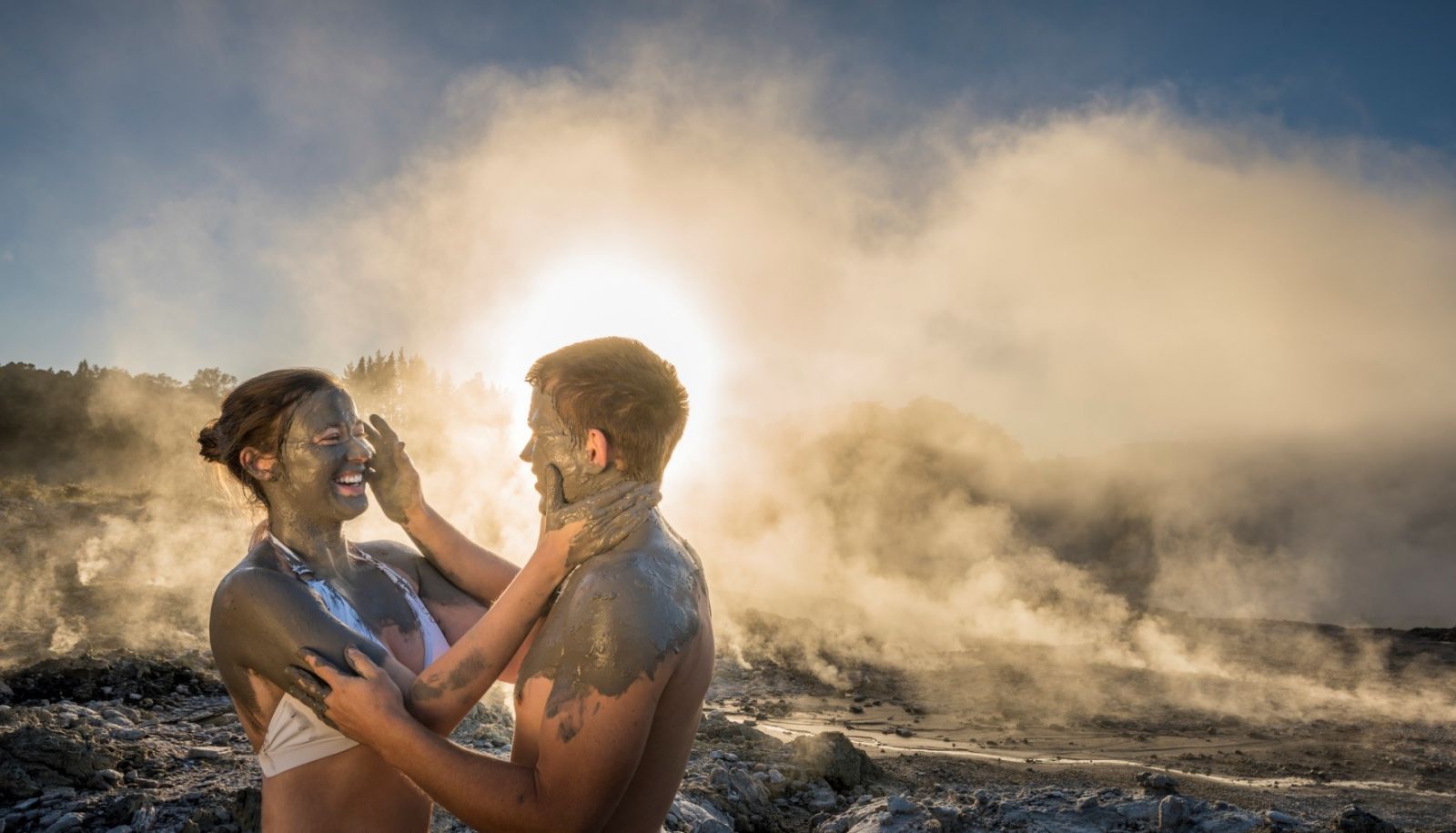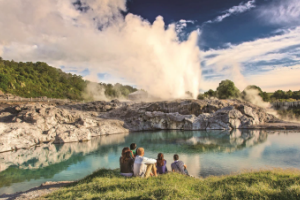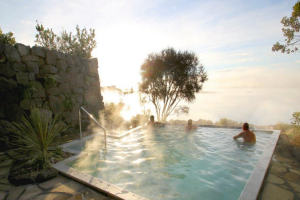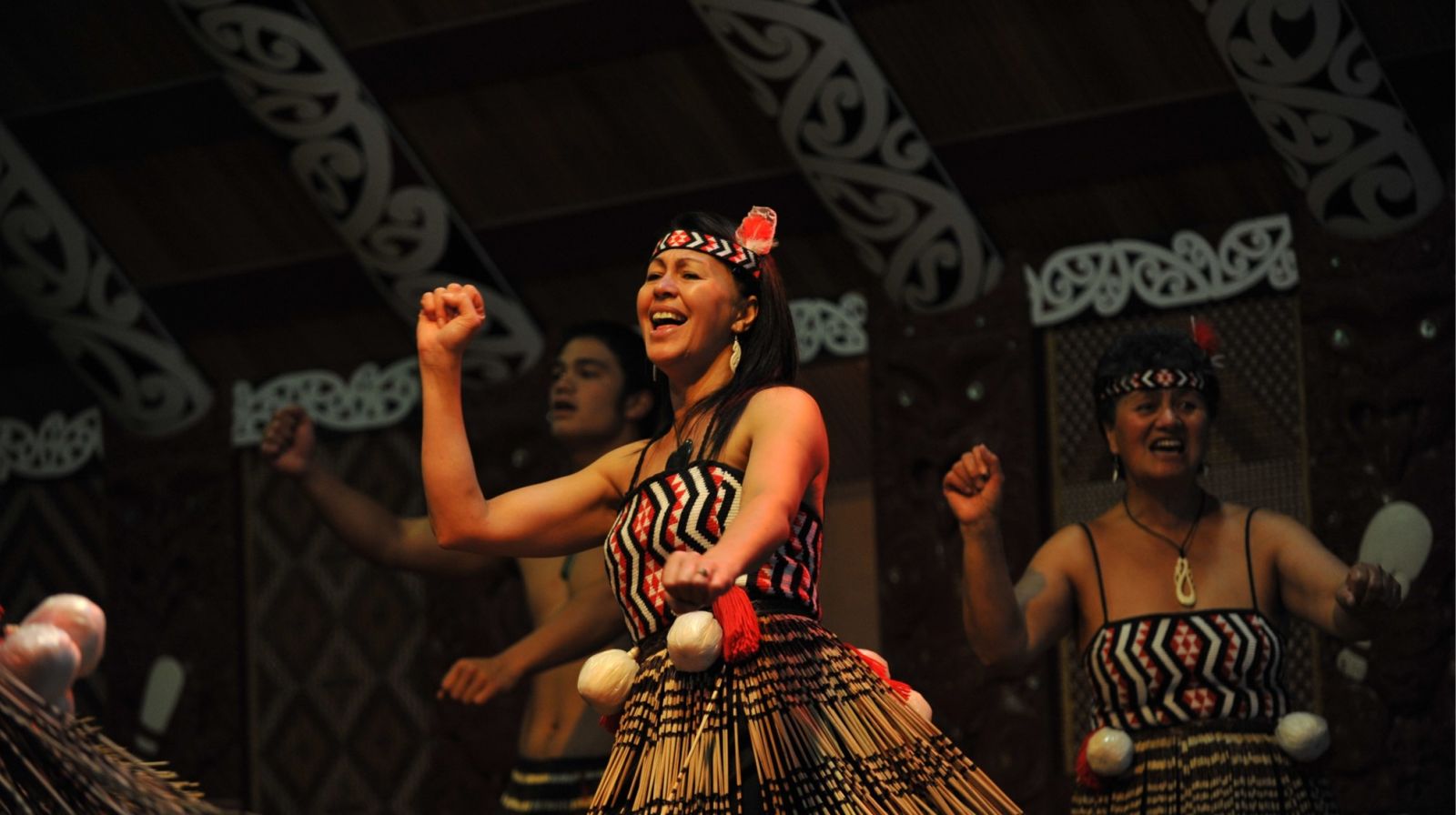 Day 7
The next morning, take a 1 hour scenic drive through the rugged Mamaku Ranges and see native ferns, trees and wildlife rising up from the landscape. The beauty of the land will take your breath away before delivering you to a whole other fantasy world. The green rolling hills and idyllic setting of Hobbiton Movie Set will enchant you as you explore one or many of the Tolkien film locations; a legacy where you can experience the real Middleearth.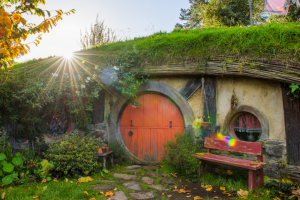 From the Shire, a 2 hour drive will see you back to Auckland, ready to depart – senses engaged, body refreshed.

We look forward to welcoming you soon.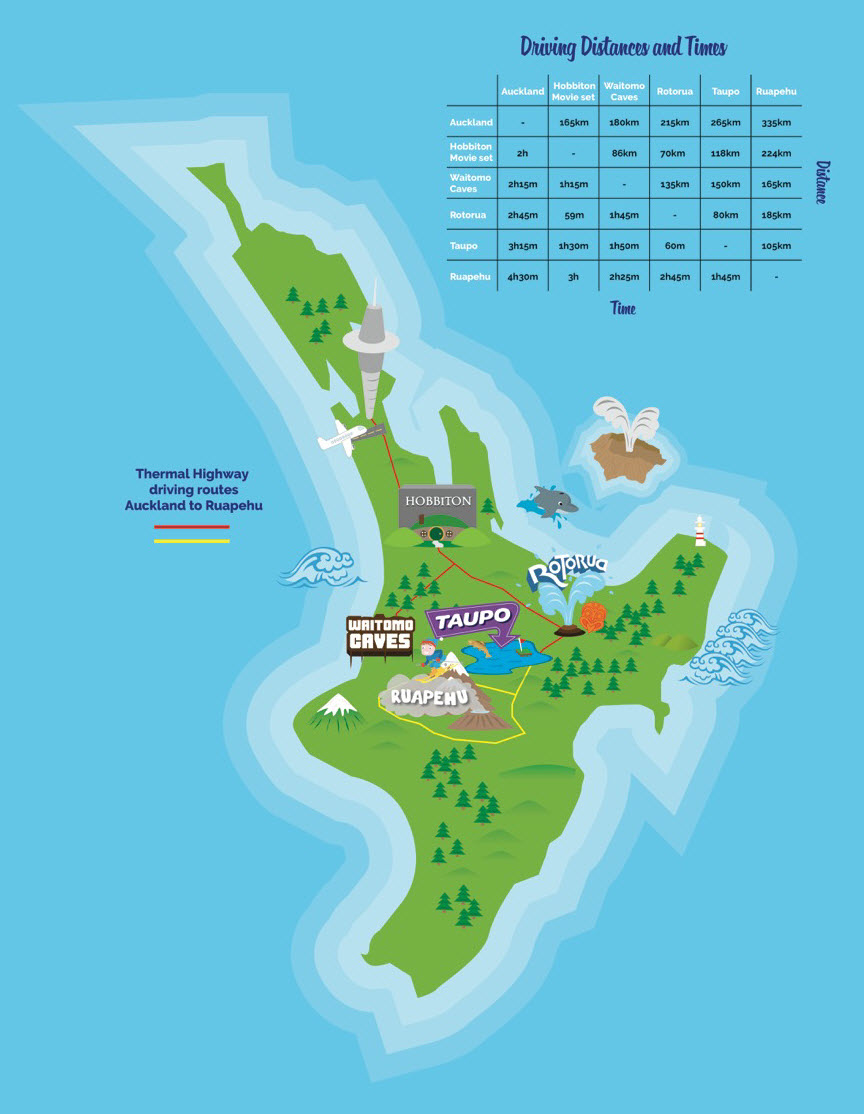 Book your North Island flights and hotel stays with the following Webjet offers today!


Terms and Conditions:
*Coupon Code: Offer valid from 00:01 2 April - 23:59 17 April 2017 (AEST) and is valid for North Island, New Zealand hotels only and is valid only for qualifying purchases made on the Site. Your $50 code NORTHISLAND OR $100 NORTHISLAND100 can be redeemed at http://www.webjet.com.au/ and through the App, excluding https://packages.webjet.com.au/ and https://exclusives.webjet.com.au/. Select your preferred hotel and enter the code in the Coupon Code field on the payment page and we'll pay $50 (a minimum spend of $400 applies) OR $100 (a minimum spend of $800 applies) towards your total hotel booking cost. Valid for all stay dates. Read our full Coupon Code Terms & Conditions. Webjet's standard booking Terms and Conditions apply.
*Prices on this page are subject to change without notice, perform a search to view live pricing. Prices are inclusive of taxes and airline surcharges.
Webjet fees per flight booking:
Webjet Servicing Fee
: Domestic $21.95, NZ/Pacific $24.95, International $32.95.
Booking Price Guarantee
: Domestic $12.95, NZ/Pacific $14.95, International $21.95. Varying
payment fees
are included in the price breakdown on Webjet's checkout page, once your payment method has been selected.
*Prices are subject to availability, include taxes and airline surcharges. All prices on this page are subject to change without notice. Whilst Webjet makes every effort to provide you with accurate and up-to-date information, in the event a product is listed at an incorrect price, whether due to typographical, photographic, or otherwise, Webjet may refuse or cancel any orders placed for a product listed at the incorrect price.
Webjet's Destination Guides