Explore the coast to the hinterland
Discover uncrowded beaches, tranquil rivers and lakes, World Heritage rainforest and dramatic volcanic hinterland on the North Coast of NSW.
Go kayaking with dolphins and whales, or simply relax on a beautiful beach and savour freshly caught seafood.
Self-drive adventure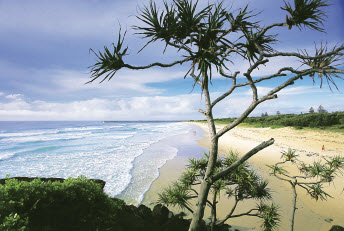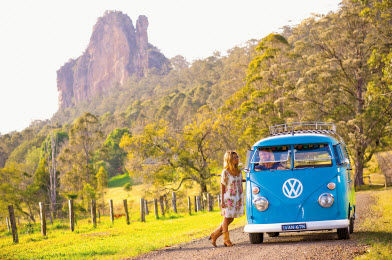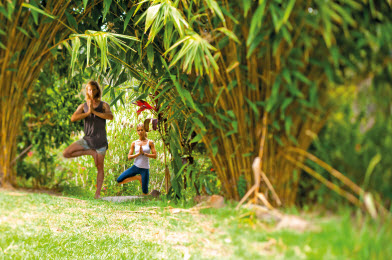 Ballina is a bustling holiday town and home of Australia's iconic Big Prawn. At the mouth of the beautiful Richmond River, Ballina is also blessed with gorgeous beaches and great surf, and you'll be delighted with the locally caught seafood.
Heading inland from Ballina you can embark on the Rainforest Way, uncover the scenic wonders of the lush, World Heritage-listed rainforests of northern NSW on this meandering drive, which encompasses the towns of Lismore, Casino, Kyogle and Murwillumbah.
Explore World heritage rainforests and national parks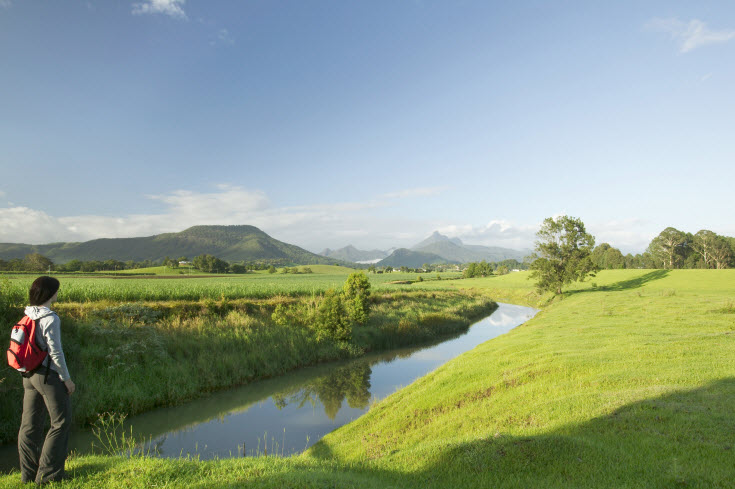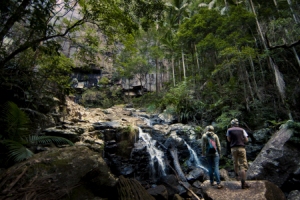 Lismore is a regional town with a thriving arts community, wonderful galleries and colourful markets. Discover outdoor sculptures along the riverbank on the Wilsons River Experience Walk.
With green pastures perfect for grazing cattle, Casino (30 mins from Lismore) is known as the beef capital. Treat your tastebuds to mouth-watering Casino beef at the town's restaurants, bistros and pubs. Amble through the town and explore heritage buildings, including a large number of Art Deco buildings.
A rainforest gateway, Kyogle is on the banks of the beautiful Richmond River. Enjoy scenic drives, kayaking and fishing, and visit Toonumbar National Park for bushwalking, Aboriginal history and wildlife.
Make a detour to Mavis' Kitchen & Cabins a beautiful 25 acre farmland at the foot of Wollumbin - Mount Warning, treat your tastebuds to a meal in the iconic Mavis's Kitchen restaurant, where the seasonal menu based on local, organic ingredients is sure to impress and delight.
Experience relaxed pace and coastal lifestyle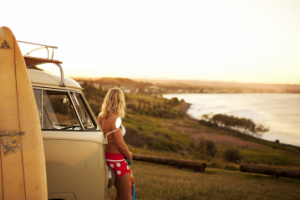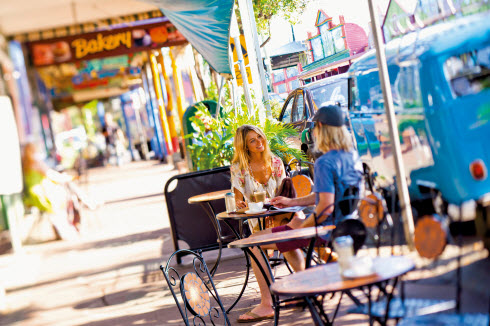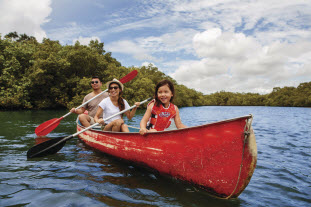 Murwillumbah is home to the Tweed Regional Gallery and a great base for exploring nearby national park wilderness, including Mount Warning. At the weekly Murwillumbah Farmers Market you can buy a range of fresh seasonal produce, including fruit, eggs, honey, nuts and meats.
Just 15 mins outside of Kingscliff is Tropical Fruit World, climb aboard a tractor train for a guided tour of the plantation where you can see, taste and learn about tropical fruits.
Kingscliff is a seaside delight, with gorgeous beaches, perfect waves, delicious seafood and beachside accommodation to suit a range of budgets. Enjoy water sports, including surfing, kayaking and fishing, and swim with green sea turtles on a snorkelling tour.
Enjoy gorgeous ocean beaches, tranquil river cruises and fun water activities in Tweed Heads, at the mouth of the beautiful Tweed River. Plenty of marvellous adventures are available too, including diving, whale watching, deep-sea fishing, and catching mud crabs.
Taste local produce and delicious restaurants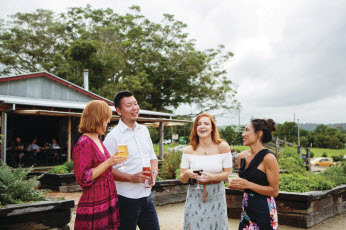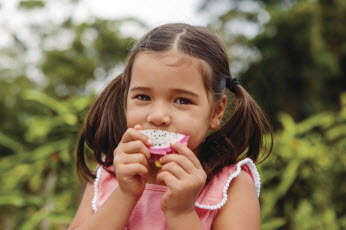 Explore the North Coast of NSW with Webjet deals today!


Terms and Conditions:
*Coupon Code: Offer valid from 00:01 17 July - 23:59 17 13 August 2017 (AEST) and is valid for North Coast, NSW hotels only and is valid only for qualifying purchases made on the Site. Your $50 code NORTHCOAST OR $100 NORTHCOAST100 can be redeemed at http://www.webjet.com.au/ and through the App, excluding https://packages.webjet.com.au/ and https://exclusives.webjet.com.au/. Select your preferred hotel and enter the code in the Coupon Code field on the payment page and we'll pay $50 (a minimum spend of $400 applies) OR $100 (a minimum spend of $800 applies) towards your total hotel booking cost. Valid for all stay dates. Read our full Coupon Code Terms & Conditions. Webjet's standard booking Terms and Conditions apply.
Flights:
Webjet Servicing Fee: Domestic $21.95, NZ/Pacific $24.95, International $32.95.
Booking Price Guarantee
: Domestic $12.95, NZ/Pacific $14.95, International $21.95
Varying
payment fees
are included in the price breakdown on Webjet's checkout page, once your payment method has been selected.
*Prices are subject to availability, include taxes and airline surcharges. All prices on this page are subject to change without notice. Whilst Webjet makes every effort to provide you with accurate and up-to-date information, in the event a product is listed at an incorrect price, whether due to typographical, photographic, or otherwise, Webjet may refuse or cancel any orders placed for a product listed at the incorrect price.
Webjet's Destination Guides