New York, USA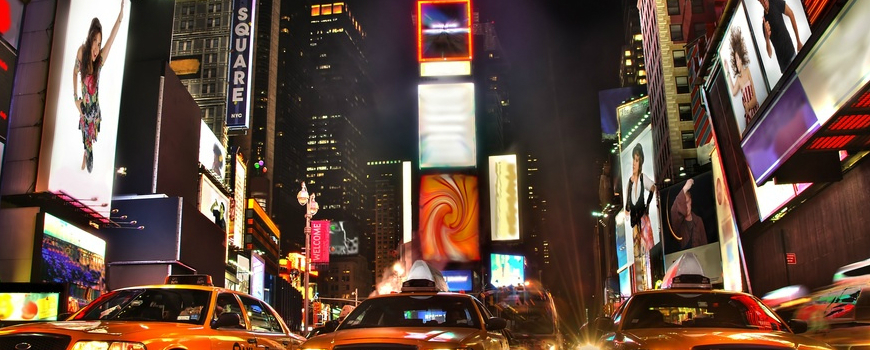 New York is the largest city in the USA and is an international centre of culture, arts, food, shopping and finance. Every year, millions of tourists travel to New York to see its famous landmarks and get a taste of the Big Apple lifestyle that has been popularised in film, TV and music.
When you holiday in New York, you can visit the city's landmark sites such as the Statue of Liberty, Central Park, the United Nations and catch a Broadway show. New York's five boroughs have something different to offer. Book your cheap flights to New York and you'll soon be saying "I love New York!"
Weather
The best time to travel to New York is in during spring (March to June) or autumn (September to December) when the temperatures are mild which makes it perfect for strolling the streets.
However, during summer (June to September) there are less crowds due to the heat (temperatures average 29°C) and humidity brought on by occasional thunderstorms. Cold New York winters usually deter large crowds, but is great for taking advantage of cheaper rates after the holidays.
Sightseeing
Statue of Liberty
The Statue of Liberty is a must see when in New York. Catch a ferry from Battery Park to Liberty Island and book a ticket to climb the 354 steps onto the observation deck in the crown. When climbing the Statue of Liberty be prepared for thorough security checks. On a nice day it is also popular for people to have picnics on Liberty Island's grassy areas.
Broadway
Broadway stretches across Manhattan but the most popular section is near Times Square, where many Broadway theatres are located. There are some 40 theatres on Broadway all showcasing fantastic musicals and plays. Broadway is known for the best theatre in the world, so make sure you see at least one show whilst in New York.
Empire State Building
Located on Fifth Avenue at 34th Street, the Empire State Building is a popular tourist attraction for the view from the observation deck. If you don't mind a lengthy wait (sometimes up to 4 hours), it's best to visit the Empire State Building during the night when there are no queues or at least significantly smaller than during the day. In fact, the Empire State Building is open until midnight, and up to 2 a.m. on weekends during the summer.
Central Park
Central Park is in the heart of Manhattan. Beautiful grass, trees and lakes makes Central Park a popular recreational are for picnics as well as rollerblading, jogging and cycling. Central Park is also where you will find the Central Park Zoo and Strawberry Fields, made famous in the song by The Beatles.
Times Square
Times Square has become an icon of New York with its giant video screens and LED lights. A bustling tourist hotspot, head to Times Square at the junction of Broadway and Seventh Avenue for themed restaurants, television studios, toy stores and fashion shops.
MoMA (Museum of Modern Art)
The Museum of Modern Art houses the largest collection of modern art in the world. Located on 53rd Street, MoMA is where some of the most important artworks by modern artists such as van Gogh, Warhol, Dali and Monet can be viewed.
Search and compare airfares to New york today!
Webjet's Destination Guides