Webjet's Destination Guides

Noumea - The Paris of the Pacific
The capital, Nouméa, is set on a hilly peninsula surrounded by bays; it is the largest and most cosmopolitan city among the South Pacific isles.
More than 130 cafés and restaurants line its streets and waterfront, along with gourmet providores, pâtisseries, chocolatiers, fromageries and fine wine importers. The weekly night markets Thursdays at Place des Cocotiers draw hundreds to the city square to enjoy food, arts, music and entertainment, while the surrounding lagoon provides a stage for a daily procession of kite surfers, sailors, wind surfers and jet skis.
Top 10 Attractions:
The Tjibaou Cultural Centre
Noumea Aquarium
Museum of New Caledonia
Amedee Island
Michael Corbasson Zoological Park

Duck Island
Maritime Museum
Le Petit Train
Ouen Toro Look out
Anse Vata & Baie des Citrons
Isle of Pines - The Jewel of the Pacific
The Isle of Pines is just a short 20 minute flight or 2.5 hour fast catamaran trip from Nouméa. The island is around 18 km long and 14km wide, with 60km of coastline and surrounded by its own extensive reef system. It is world renowned for its unspoilt beauty and truly carefree lifestyle.
Sparkling crystal clear water and glorious fine white sandy beaches under swaying palms can be found all over the island, including Oro Bay which has been described as one of the world's best undiscovered beaches
The Isle of Pines is very accommodating, with a range of resorts and hotels to choose from to suit all budgets, and an excellent menu of restaurants to suit all tastes.
There is also so much to see and do. Apart from the obvious selection of water-based activities, the island has many hidden treasures that should not be missed.
The Loyalty Islands
A half-hour's flight from Nouméa are the Loyalty Islands, a string of breathtaking coral atolls cast across an unspoilt reach of the Pacific.
The three main islands of Lifou, Maré and Ouvéa each have a different personality.
Lifou boasts a succession of untouched beaches, sheer cliffs and dense forests, and is pitted with ancient caves and grottoes. Maré has a wild beauty, contrasting its beaches with towering cliffs, basalt rocks and dusky forests. Ouvéa is among the most beautiful atolls in the Pacific, defined by a 25km stretch of unbroken white beach and a vivid turquoise lagoon.
The Northern Province
Covering the upper half of La Grande Terre, the Northern Province is among the best regions of New Caledonia in which to engage with the Kanak people and their proud culture.
Against a backdrop of mountains, rainforests, rivers, savannah and beaches live some of the most traditional communities in New Caledonia. This is the most untouched area of New Caledonia, where the customs of ancient times are still practiced by many Kanak people.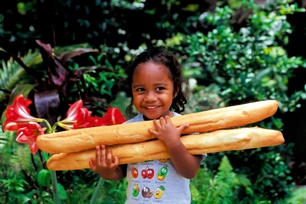 One of the best ways to discover these customs is to stay within a Kanak community. Guests can sleep in a case (thatched hut) and dine on a traditional Bougna (food baked in an earth oven) while listening to stories and legends around a camp fire. The village hosts are often able to take guided hikes, horse rides and fishing expeditions.
The Northern Province is also renowned for its diving, with crystal clear waters and an abundance of marine life. Other activities include hiking, four-wheel-drive expeditions, boating and canoeing.
Getting there
New Caledonia is Australia's closest Pacific neighbour, a land of rare natural beauty just 2 hours from Brisbane or 2½ hours from Sydney. Aircalin and Qantas fly offer daily flights from Sydney and 3 flights per week from Brisbane. Book your flight to Noumea today
For more information visit New Caledonia Tourism website or call 1800 673 745.