Korea. Let your Story Begin
Webjet's Destination Guides
Korea has some of the best cuisine, heritage sites, buildings and entertainment facilities in the world. To visit Korea is to begin your very own unforgettable tale of curiosity, discovery, and wonder. Let your story begin in Korea.
FOOD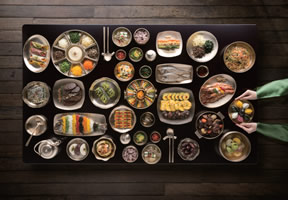 Korean food is imaginative, plentiful, diverse, and rich in flavour. The robust selection consists of street food, modern fusion dishes, royal cuisine and special seasonal dishes.

Korean cuisine is famous for its variety of side dishes (banchan) that accompany steam-cooked rice and noodles. The most renowned among them is Kimchi – add this to virtually any dish and experience the way the flavours are enhanced.

Your journey through Korea will begin and end with flavour. If you eat nothing else, make sure you try the long braised hot beef soup, delicious black bean noodles and soy marinated BBQ short ribs. Your tastebuds will thank you.
HERITAGE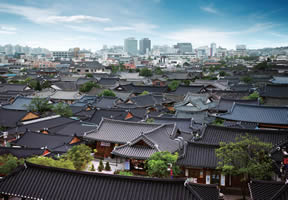 Travel back in time by immersing yourself into Korea's long history. Korea has a wide range of historical sites within the cities and the stories behind them will inspire you. The most notable of these places are Korea's UNESCO World Heritage sites.
There are 12 UNESCO World Heritage sites located throughout Korea, including the ancient city of Gyeongju; Jeju Volcanic Island and Lava Tubes; historical Haeinsa Temple, which is one of the three principle Buddhist temples in Korea and represents Korean Buddhism's 1,200 years of distinguished cultural legacy; Jongmyo Shrine - the royal shrine where the memorial services for the kings and queens of the Joseon Dynasty were performed; and the Royal palaces of the Joseon Dynasty.


MODERN KOREA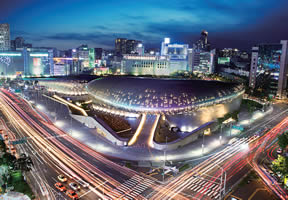 Korea is the most technologically advanced country in the world. The economy is booming and living standards are the highest they have ever been. There is a huge range of modern cafes, bars, shopping centres, resorts, sports facilities, entertainment parks, museums, and many other modern facilities that you can enjoy.
The most notable example of modern Korea is Dongdaemun Design Plaza (DDP). DDP is designed by renowned Iraqi-British architect Zaha Hadid, and its unique curved shape is what makes the plaza stand out from the rest of the buildings in Seoul.
The interior is divided into five themed areas that are used for international meetings and concerts, and includes a learning space that teaches kids to develop their creativity and imagination. There are also modern restaurants, cafes and shops that you can visit.

SKI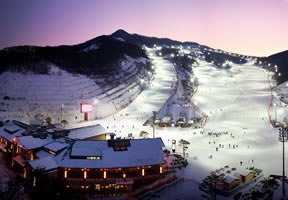 When it comes to destination skiing, Korea should be at the top of your list. Korea is proudly hosting the 2018 Winter Olympics in Pyeongchang - the first Winter Olympic Games in South Korea.
The majority of Korean ski resorts are spread throughout Gangwon-do Province, and the resorts have world class ski facilities. The most notable ski resorts in Korea are Yongpyong and Alpensia Ski Resorts, located in Pyeongchang.
Yongpyong is the largest ski and snowboard resort in Korea. It's also known as 'Alps of Korea', and can accommodate more skiers than any other venue in the country. The resort has 31 slopes, 15 different lift facilities and offers top of the range ski and snowboarding facilities.
Alpensia resort is another world-class ski resort in Korea. It will be the location of
an Olympic Village, and the main focus of the outdoor sports of the
2018 Pyeongchang Winter Olympics.
The ski resorts in Korea are home to great restaurants, shops, bars and a wide
range of entertainment facilities, including bowling alleys, arcade games,
Karaoke rooms and hot spas.