Webjet's Destination Guides
Enjoy the changing seasons of Japan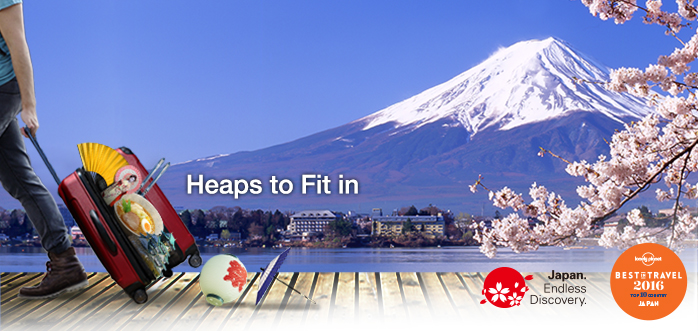 Japan is a country lucky enough to have four very distinct seasons that travellers can enjoy. While each season brings its own set of experiences and beauty, there's heaps to enjoy during the transition between seasons as well – such as from winter to spring. Explore the exciting cultural events and seasonal beauty of Japan, only available during the transition to early spring!
Plus, it's a great time to save on travel as well, so don't miss out! We've gathered some great flight deals for travel during February and March 2016, but hurry, bookings must be made before the 4th of December.
3 ways to enjoy the transition from winter to spring in Japan
1. Enjoy the final days of winter – snow attractions
Even as spring nears, there are still many snow attractions you can experience. Spring skiing is recommended for winter sports lovers, while snow sculpture festivals are fun for the whole family.
2. Warm up with popular hot dishes

Depending on the region of Japan you're travelling in, early spring can still have a bit of winter chill, so it's actually a great time (and one of the last during the season) to enjoy the many popular Japanese hot soups and stews. You may already know of the ever popular ramen, but there's much more – like various Japanese hot pot dishes. What's more, each region has different flavours, so you'll never run out of new things to try!
3. Experience seasonal events to welcome spring

As one of the most popular seasons in Japan, there are many seasonal events that celebrate the coming of spring. You can experience traditional events like Setsubun – celebrating the beginning of spring – where shrines and temples perform rituals to drive out evil spirits and bring in good luck with the new season. Hinamatsuri is another festive event that prays for the health and prosperity of young girls. In addition to traditional events, another early spring treat is the plum blossom, which has a different beauty and charm from the popular cherry blossom (and there are less crowds)!

Terms and Conditions:
*Hotel Coupon Code: Offer is valid from 12:01am 6 November - 11:59pm 4 December (AEDT) and is valid for Japan hotel bookings only. Your $50 code JAPAN50 can be redeemed at http://hotels.webjet.com.au. Select your preferred hotel and enter the code in the Coupon Code field on the payment page and we'll pay $50 towards your total booking cost (a minimum spend of $400 applies). Excludes some hotels/hotel chains. Hotel Coupon Codes are redeemable on hotel only bookings and therefore are not valid for bookings which combine flight and hotel in one transaction. Read our full Coupon Code Terms & Conditions.