Webjet's Destination Guides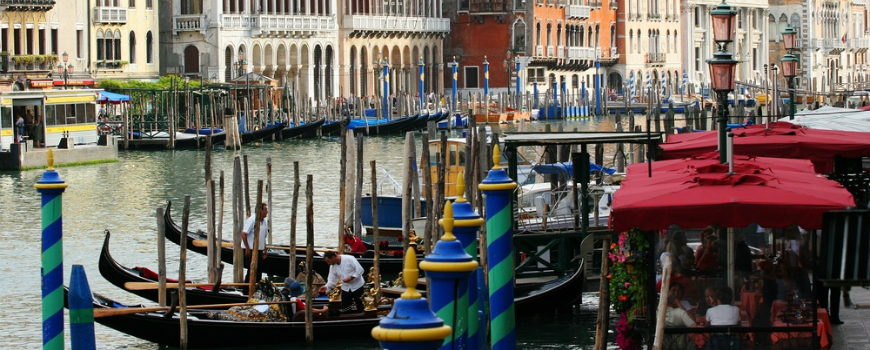 From the lure of cosmopolitan cities like Rome and Milan, to the culture and history of Venice, and not forgetting the fabulous food of Naples, it is no wonder Italy continues to draw millions of travellers looking for the best in culture, fashion and food.
Weather
Italy's weather varies with location. Temperatures in Italy's capital, Rome, are fairly moderate, with warm summers (the hottest month being August), and cool winters. In southern Italy, a Mediterranean climate is found in cities like Sicily, where there are warm summers and mild winters.
The best time to visit Italy would be from April to June, when the weather across most of the country has mild spring weather. It's best to travel before the peak season in July and August when crowds are larger and prices are more expensive.
Food
Italian food is localised and as a general rule you will find heavier dishes in the north and lighter, Mediterranean foods in the south. When travelling, try and avoid restaurants in touristy areas as the food is not truly authentic and more expensive. Instead, find where the locals like to eat and you're sure to find great tasting food minus the expensive bill.
For something a little different, plan a trip to the southern Italian island of Sicily. There you will find many seafood dishes and the ever popular arancini. You are spoiled for choice when it comes to dessert, with cassata, cannoli, granita and pine nut and almond cookies all easily available.
Rome
Rome, the Eternal City and capital of Italy is a city that blends the ancient with the modern, where cars and Vespas zip past the Colosseum and the Trevi Fountain. After a cup of espresso in Rome's many cafes, head to the Vatican City to see St Peter's Basilica and the frescoes by Renaissance masters in the Sistine Chapel.
Milan
Milan is the fashion capital of Italy and attracts a trendy local crowd. You will find shopping centres and boutiques stocking Italy's best fashion brands in Milan's Fashion Quadrangle. Like its fashion, food culture in Milan is equally sophisticated with an apertivo, a drink before dinner at a local bar, a common ritual. The beautiful people come out to enjoy Milan's nightlife at the popular bars and clubs on Corso Como on Thursday, Friday and Saturday.
Venice
A very popular tourist destination, travellers flock to Venice to see the floating city that has been unchanged for 600 years. A romantic gondola ride is popular amongst couples who wish to ride along the canals, but walking is the best way to see Venice. Some districts of Venice are empty to visitors and are a delight to find yourself in.
Book cheap flights to Venice at Webjet today!