Webjet Tips For Travelling Internationally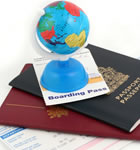 Book early
Getting a cheap flight is easy, if you start looking early. Airlines work on a system where a cheap seats on flights are sold first and then as the time draws closer to the departure point, prices increase. The Webjet Deal Finder allows you to see a range of airlines to major international destinations for departures up to six months away, making your research a really simple task.
Compare flights and airlines - Mix 'n' Match
If you have to travel on a specific date, then the variable on your side is airline choice. Nowadays there is plenty of competition in the skies, with most domestic and international routes serviced by at least four airlines. Keep in mind your frequent flyer program and rewards available while considering the pricing of the airlines. Webjet includes all taxes and airline surcharges in quoted prices to make comparison easier.
Research travel warnings
Not all parts of the world are as safe and stable as Australia, so before venturing off on your holiday be sure to do your research. A quick check of DFAT warnings in your destination(s) could save you from a nasty surprise.
Immunisations
Immunisations are very simple and a cheap form of health insurance. Consult your local GP about relevant immunisations and health risks in your travel destination(s).
Travel insurance
Consider purchasing travel insurance.
Check passport expiry date
Save embarrassment at the airport by ensuring your passport is valid for the duration of your time overseas. This has caught many a traveller out on an extended holiday. The links below are also useful if you lose your passport or need to apply for a new one.
Photocopy passport and leave with a friend/relative
In the event that you have to use the Report Lost Passport link above it's a fantastic idea to leave a photocopy of your passport with someone at home in a safe place. They will then be able to give you your passport details including passport number in case of emergency.
Australian embassy details for the countries you're visiting
When travelling overseas, there may be reasons to visit an Australian embassy. It's a great idea to have this information with you before departing. Visit the link below and make a list of the embassies in the countries you're visiting.
What you can and can't bring back - Australian Customs
When you're travelling overseas you need to know that some items can't be brought back with you and for others you need to get permission.
There are also duty free limits for goods, alcohol and tobacco/cigarettes that you need to know about.

Australian Customs and Border Protection's Can I bring it back? guide can help you find out what you can and can't bring into Australia. View Can I bring it back? or call 1300 363 263
1300 363 263 for more information.
Tourist Refund Scheme (TRS) and Duty Free
It has long been a tradition for departing international tourists to buy items in Australia and claim the tax back on these items upon their departure. The TRS enables you to claim refunds in some circumstances for GST and Wine Equalisation Tax on goods purchased in Australia. Be sure you know what can and can't be claimed to avoid any surprises at the airport.
New aviation travel security restrictions for carry-on luggage at international airports
During 2007 travel security measures were increased for carry-on luggage at international airports. Passengers are permitted to only carry on a maximum 100ml of liquids. All liquids and their containers must be sealed in a transparent bag as shown below. This is so officials can inspect your luggage quickly. Failure to adhere to the 100ml limit will mean confiscation of goods over this limit. To avoid this, store as many liquids as you can in your checked-in luggage.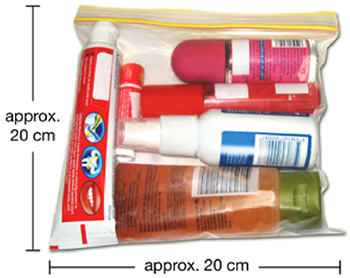 This insurance is underwritten by the insurer Allianz Australia Insurance Limited ABN 15 000 122 850 AFSL 234708 and issued and managed by AWP Australia Pty Ltd ABN 52 097 227 177 AFSL 245631 trading as Allianz Global Assistance. Webjet Marketing Pty Ltd ABN 84 063 430 848 AR 301380 arranges this insurance as an authorised representative of Allianz Global Assistance. *Terms, conditions, limits and exclusions apply. Any advice on this insurance is provided by Allianz Global Assistance and is general advice only and not based on any consideration of your objectives, financial situation or needs. Before making a decision please consider the Combined Product Disclosure Statement and Financial Services Guide. If you purchase a policy, we receive a commission which is a percentage of your premium - ask us for more details before we provide you with any services on this product.
Webjet's Destination Guides