Webjet's Destination Guides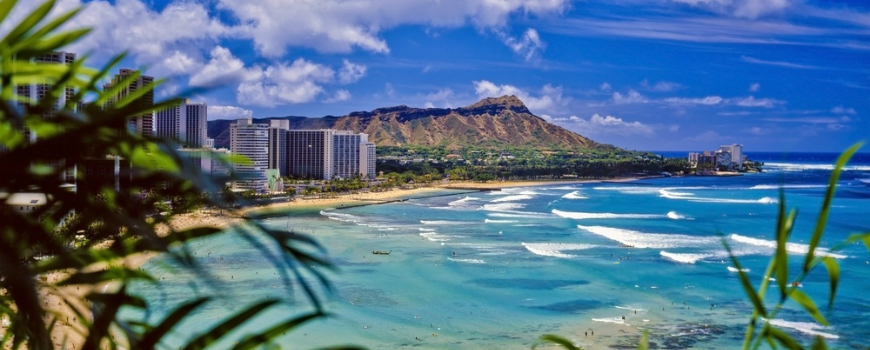 Set right on the Pacific Ocean on Oahu Island, Honolulu is Hawaii's largest city. Fun in the sun attracts many people to Honolulu and Waikiki Beach making it a popular holiday destination year-round.
Honolulu is a hub for international travellers looking to break their trip as well as regular visitors to Hawaii and her beautiful islands. Honolulu Airport is Hawaii's major airport welcoming visitors from many international destinations and providing domestic connections via the many domestic airlines operating in Hawaii.
Best Time to Visit
Honolulu is the perfect destination for a beach holiday and travellers who love the outdoors. Although temperatures can drop as low as 10 - 15°C, average temperatures range between 19°C and 32°C making Honolulu a popular destination all year. Rain is most common in winter. Visitors may experience rain anytime from October through to March however rainfall is infrequent, so it's extremely unlikely to rain for a whole day or in succession.
Sightseeing
Waikiki
Waikiki is as well known, worldwide, as our own Bondi Beach. Waikiki is the most popular tourist destination in Honolulu. Hawaii is known for its surfing and Waikiki is considered a good place for beginners to learn to surf. As a tourist hot spot there are plenty of places to shop, eat and drink at Waikiki Beach.
Honolulu Zoo
Honolulu Zoo is home to some local species of animal and bird life as well as many exotic animals including elephants, lions and giraffes. Honolulu Zoo is open every day (except Christmas Day) and is a great family excursion to spend the day watching animals in a lush, green environment.
Hiking
Just a short distance from the city centre of Honolulu are some easily accessible hiking trails. Popular trails that visitors to Honolulu include rainforest hikes in the Makiki and Manoa Valleys. There are more than eighty separate hiking trails across Oahu Island including bike hikes and birdwatching hikes which are considered a must when visiting Honolulu. Many hotels will arrange drop off and pick up at the start of the trail.
Ala Moana Centre
In the late 1950s Ala Moana Centre was the largest shopping centre in the United States. Still the largest shopping centre in Hawaii, the Ala Moana Center has a huge collection of stores and products targeted at tourists visiting Honolulu. Besides souvenirs, local tour guides and maps for all languages, the Ala Moana Center caters for visitors interested in luxury designer brands, American department stores and basically anything you could want to make your holiday in Honolulu more enjoyable.
USS Arizona Memorial
The USS Arizona Memorial is considered a must see for any traveller visiting Honolulu for the first time. The memorial commemorates the World War II attack at Pearl Harbour. Admission to the memorial is free, but there are a limited number of tickets available daily. Make sure you plan and arrive early to avoid disappointment.