Hawaii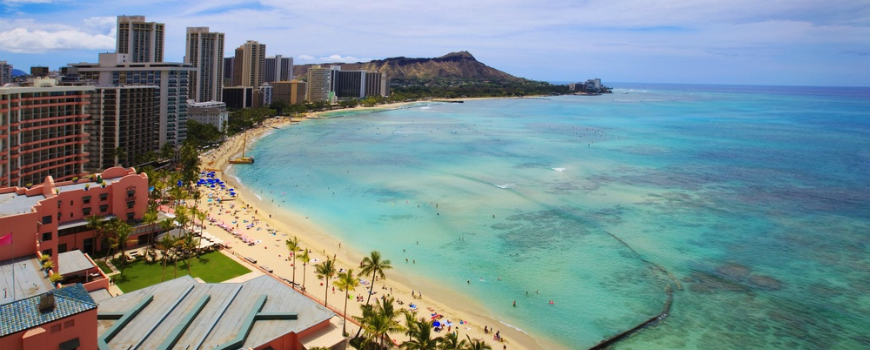 Hawaii is fast becoming a popular holiday destination for Australians and is well known for it's inviting beaches, stunning landscapes and relaxed island environment. Many carriers fly to Hawaii from Australia daily including cheap fares from low cost airline Jetstar. There are many accommodation options in Hawaii from ultra budget to luxurious hotels and private resorts.
It's never been more affordable to live your Hawaiian dreams and book a holiday to Hawaii. Compare airlines and book cheap flights to Honolulu with Webjet. Easily add a hotel reservation to your booking. Save time and secure a cheap rate on your Hawaiian hotel.
Islands
Oahu
Oahu would be considered one of Hawaii's most visited tourist destinations. Oahu welcomes it's many visitors that may also be visiting Oahu to connect to other islands via Honolulu International Airport.
Oahu is probably best known as the island where Hawaii's capital city, Honolulu, is located as well as the stunning beach at Waikiki. Other towns and villages on Oahu include Ko Olina, Haleiwa, Kapolei and Kailua which all offer a range of accommodation options from budget to luxury resorts.
There are many transport options on Hawaii's Oahu island, including the reliable and safe public transport system which will help you conveniently explore the island's cities and beautiful surroundings.
Lanai
Lanai Island in Hawaii is well known by first time and regular visitors for its privacy and relaxed environment. To help you unwind there are two world class golf courses, luxury resorts and a range of outdoor activities to satisfy any desire. A hike up the Munro Trail with give you spectacular views of Hawaii's other islands including Maui, Molokai, Kahoolawe and Hawaii's Big island.
Maui
Probably best known for whale watching excursions and sunrises at Haleakala, Maui is fast becoming a favourite holiday destination for families, couples and anyone looking for a little adventure. With all the comforts of a city holiday including museums, shops and excellent restaurants in the relaxing island surrounding, you're sure to leave Maui with a smile.
Molokai
Molokai is well known as an island for adventure, as with all Hawaiian islands there is so much to see and do. Molokai will not leave you disappointed. Take a boat trip to see the dramatic sea cliffs, known as the largest in the world, hike through the Halawa Valley or for a truly unique experience take a ride on the back of a mule and explore the historical Kalaupapa National Park.
Kauai
Like most islands in Hawaii, Kauai is known for its beautiful landscape and unforgettable beaches. Kauai is the only island where tourists can access rivers for kayaking.
Getting to Kauai is easy via the main airport known as Lihue Airport. Daily connections between Hawaiian islands and the US are available. Once you are on the island it's easy to get around by shuttle or hire a car for a more convenient way to explore. The hike to Waimea Canyon is a popular local attraction for visitors to Kauai year round. It's a must see.
Big Island
Known for it's size and volcano, Hawaii's Big Island is always ready for visitors looking for a big adventure. The Big Island was home to King Kamehameha I. The king and his significant history is still very present in Hawaii especially on Big Island.
Hilo is the capital city of the Big Island. It's located on the east side of the Hawaiian island, known to be the wetter side of the island. Hawaii Volcanoes National Park is at your footstep so it's a great place to stay if you are visiting Hawaii to glimpse the volcano.
Kona is another popular city on Big Island and is known to be the sunny coast of the island. Famous for its coffee production and recreational game fishing, Kona is a pleasant destination to visit year-round.
Webjet's Destination Guides