Great Barrier Reef, Queensland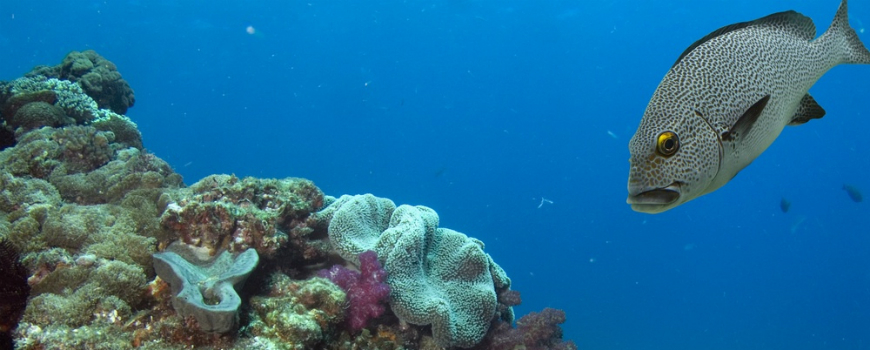 With a place on just about everybody's Bucket List, the Great Barrier Reef is visible from space and stretches 2,300 kilometres along the coast of Queensland, taking in nearly 3,000 reefs and about 940 islands and cays.
To give another example of the immense scale of the GBR, one of the Seven Wonders of The World, it has a third of the earth's soft corals in its 344,000 kilometre square area, making it the largest reef system in the world. Add to this over 1,500 species of fish and pristine water, and you understand why serious divers revere this series of reefs. Sites like SS Yongala wreck near Townsville are among the best in the world.
There are no direct flights to Great Barrier Reef. The nearest airport is Cairns International. The airport is serviced domestically by Qantas, Jetstar, Virgin Australia, Skytrans, and Hinterland Aviation. Other airport options include Proserpine - which is only reachable from Brisbane Airport on Virgin Australia and Jetstar - and Hamilton Island, which can be reached by Brisbane, Cairns, Sydney or Melbourne Airports, and is served by Qantas, Jetstar and Virgin Australia.
The weather is warm all year round, and the tropical Queensland climate has two distinct seasons: wet (November to April) and dry (May to October). However, due to the length of the reef, there's a bit of variation along the GBR area and things heat up as you go north.
Major cities near the Barrier Reef include Bundaberg (at its southernmost point), Rockhampton, Airlie Beach, Townsville, Rockhampton and Cairns. The coastline is littered with superb beaches with warm water, golden sand and excellent fishing.
Cairns features the Night Markets on the Esplanade and Kuranda Scenic Railway, and is only 90 minutes' drive from the Daintree Rainforest - the country's biggest and best tropical rainforest - in the World Heritage-listed Wet Tropics of Queensland.
If you want to get off the mainland, hire a boat to catch a seaplane to one of the Whitsunday Islands. About a third of the islands along the Reef are National Parks, and two of the big-name islands are Green and Hinchinbrook, the latter famous for its superb bushwalks and majestic mountain scenery.
Getting to the Great Barrier Reef by AIr
There are a number of access points to the Great Barrier Reed including Cairns, Port Douglas and the Whitsundays. For accommodation, check out our range of hotels in Cairns.
Webjet's Destination Guides