Gold Coast, Queensland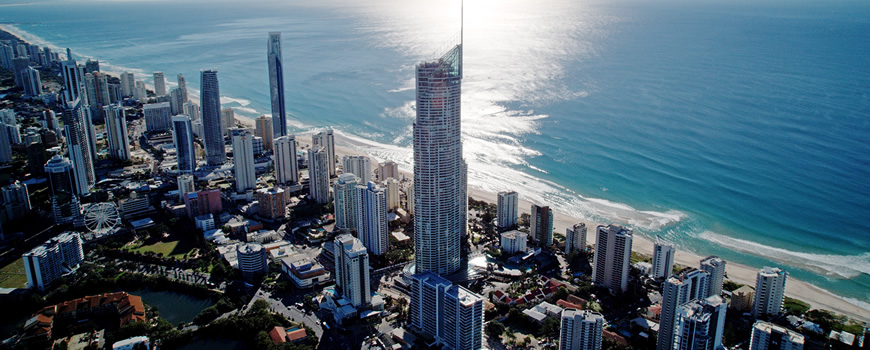 Getting to the Gold Coast is easy, with direct flights from across Australia and New Zealand with Jetstar, Virgin Australia, Qantas, Tiger Air and Air New Zealand. Fly direct to Gold Coast Airport and spend less time travelling and more time enjoying your next beach holiday.
From pure, adrenalin-packed fun to natural indulgence, the contrasts of the Gold Coast unite to deliver every holiday experience you could desire in one friendly place. Get into the Gold Coast's easy living lifestyle with 70 kilometres of sun, sand and surf at your doorstep plus 100,000 hectares of world heritage listed rainforest just a short drive away.
Theme Parks
Home to some of the world's best theme parks - the Gold Coast is Australia's undisputed 'fun' capital. Explore the wildlife parks and you're in for an animal encounter with a difference. Feel your pulse soar when you get up close and personal with polar bears, sharks and amazing tropical marine life. Fall in love when swimming alongside the enchanting dolphins, and laugh along when the sea lions start goofing around. But the wildlife parks are not just famous for their wildlife - their famous for their wild thrill rides, shows and attractions! It's a terrific combo of adrenalin pumping thrills, heart-warming encounters and non-stop action. Then there's the magic and excitement of a world where everyone's a star and the world of water-powered wow of the water parks. It's you're ultimate playground for unlimited fun in one great location giving you the freedom to explore your playful side and let loose.
Beaches
Fun, laughter and sunshine are the order of the day on the Gold Coast's golden surf beaches. With over 70km of wide white sandy beaches to choose from you'll find the ideal spot to swim, surf or stroll along the coastline. Whether it's right in the action at lively and social Surfers Paradise, or carefree days at laid-back Burleigh. Each is pristine, perfect in its own way, with a natural energy to revitalise the senses. And if you want to up the ante, nowhere in Australia offers such a huge variety of exhilarating water-powered adventures including parasailing, jet skiing, sailing, jet boating, diving, snorkelling, kayaking and more.
Events
Australia's Gold Coast is ever evolving on the events landscape. Significant national and international proceedings are complemented by the presence of more and more activities which enhance the entertainment experience for visitors and locals alike. Growing its reputation as Australia's event capital, promoters ensure the ongoing success of the more established annual fare, while reinvigorating the Gold Coast's cultural and sporting plain with many exciting initiatives. There's a seasonal windfall as the Gold Coast's national sporting teams in AFL, rugby league, soccer and basketball compete in their respective elite competitions.
Entertainment
There's just something about the Gold Coast's energising atmosphere that makes you want to get amongst it and have a great time. With unlimited things to see and do in the ultimate beach paradise, you're in for some serious fun. The warm climate and outdoor lifestyle are perfect for a 24/7 vibrant social scene with stylish lounge bars, surf clubs, pubs, coffee bars and alfresco restaurants. Experience happy days chilling out and listening to great live music or pushing your limits at the ultimate dance club. Visit the casino or take in a show from an international extravaganza through to intimate local theatre production. And who could forget the shopping from premier waterfront shopping precincts to colourful arts and crafts markets.
Hinterland
Escape to the natural wonders of the Gold Coast Hinterland and experience a sojourn to energise the body, mind and soul. Feel the revitalising freshness of cool mountain breezes while meandering along quiet country roads on the way to more than 100,000 hectares of National Parks and reserves. Ignite your inner adventurer's spirit with miles of enchanting bushwalks through the rainforest, visiting waterfalls, canyons and valleys along the way. Just 30 minutes from the coast, the Hinterland is your invitation to relax in the great outdoors, wine, dine, and enjoy an adventure. Be taken in by the charm of boutique wineries and unique shops with hidden treasures and try locally produced food, arts and crafts. The Gold Coast Hinterland truly has something for everyone.
Official Travel App
Make the most of your next Gold Coast holiday with the Official Gold Coast Travel app. Map out your days and nights as you explore all the amazing things to see and do in Australia's favourite playground.
Accommodation
Australia's Gold Coast allows you to choose the style, location and level of accommodation to suit your holiday needs. Indulge at one of many luxury Gold Coast hotels and stay for a while in one of Australia's best apartment resorts, forget about the world in a hinterland retreat or grab a beach shack and some friends for the ultimate short break. The region's year round weather ensures an unforgettable stay whether basking in secluded opulence, pitching a tent on top of a mountain or taking a houseboat to a myriad of island getaways. As Australia's favourite holiday destination there are literally thousands of places to stay, it's just a matter of deciding upon your own special space.
Getting to and around the Gold Coast
Compare Gold Coast flights from most major Australian cities including:
Ensure the beginning of your holiday in the Gold Coast gets off to a great start using Webjet's Gold Cost - Airport guide.
The Gold Coast is a fantastic gateway to the rest of Queensland, one of Australia's premier cluster of surf, sun and sand. Booking yourself a rental with Gold Coast car hire is one of the best ways to navigate this world-class stretch of beaches and create your own self-drive itinerary along Australia's stunning east coast.
Webjet's Destination Guides