Gold Coast, Australia
It's never been easier to get to and from the Gold Coast, with direct flights from across Australia and New Zealand with Jetstar, Virgin Australia, Qantas, Tigerair and Air New Zealand. Fly direct to Gold Coast Airport and spend less time travelling and more time enjoying your next Gold Coast holiday.
From natural indulgence to adrenalin-packed fun, the contrasts of the Gold Coast unite to deliver every holiday experience you could desire in one friendly place. Get into the Gold Coast's easy living lifestyle with 56 kilometres of coastline at your doorstep and 100,000 hectares of world heritage listed rainforest just a short drive away.


Accommodation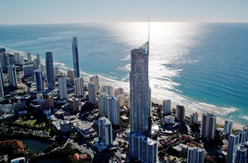 The Gold Coast has plenty of options to choose the style, location and accommodation rating suited for your preferred stay. Indulge at one of many international luxury hotel brands, perch yourself in a towering high-rise offering a bird's eye view of the surf, stay self-contained in a spacious apartment with resort facilities, forget about the world in a Hinterland retreat or chill-out in a beach shack for the ultimate short break. The Coast's beautiful year-round weather ensures an unforgettable stay whether basking in secluded opulence, pitching a tent on top of a mountain or taking a houseboat to a myriad of island getaways. As Australia's favourite holiday destination there are literally thousands of places to stay - it's just a matter of deciding where?
http://www.visitgoldcoast.com/gold-coast-holiday-deals
Beaches

With over 56km of wide white sandy beaches to choose from you'll find the ideal spot to swim, surf or stroll along the coastline. From one of the world's best surf breaks to some of the Coast's laziest secluded coves, Gold Coast beaches are an inviting part of Australia's iconic beach culture.
The city is also jam-packed with adrenalin rides; jet boating on the Broadwater, whale watching and themed attractions so you can create exciting holiday memories on the water. Nowhere in Australia offers such a huge variety of exhilarating water-powered adventures including parasailing, jet skiing, sailing, jet boating, diving, snorkelling, kayaking and more.
http://www.visitgoldcoast.com/places-to-see/
Events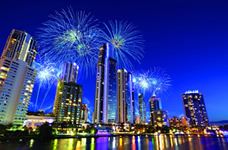 The Gold Coast delivers spectacular events all year-round. The Coast has thumping sounds showcased in theatres, venues and outdoor stadiums to ensure a rocking good time for all while providing a real sense of surfside occasion. Consider this your personal invitation to some of the biggest and best gigs ever staged. The Surfers Paradise Festival offers the perfect mix of culture, food, wine and music. Broadbeach is the home of internationally acclaimed music events including the iconic Blues and Country Music Festivals. Head south to Coolangatta to embrace the sights and sounds of 50's and 60's nostalgia at Cooly Rocks On. For a unique blend of motorsport and music, hit the Castrol Gold Coast 600 V8 Supercars where you can hear the roar of the V8s by day and rock all night to headline entertainment in the Broadwater Parklands.
http://www.visitgoldcoast.com/whatson
Entertainment

The Gold Coast carves out its own cultural wave by embracing the City's iconic beach lifestyle and playful past. While preserving the Gold Coast's playful past, the city continues to evolve culturally in tune with exciting infrastructure developments. Niche creative hubs offer up unique platforms for established and grassroots local artists across music, film, dance, theatre, fashion, art and more.
Visit the casino or take in a show from an international extravaganza through to intimate local theatre production. And who could forget the boutique stores, shopping centres and lively markets dotting the coastline.
http://www.visitgoldcoast.com/things-to-do/
Hinterland

The Gold Coast Hinterland is untouched lush beauty in all its green glory stretching as far as the eye can see. A true hidden gem of the Gold Coast, our Hinterland breathes in harmony with the pulse of the Pacific Ocean swells that pound our golden beaches; we are proudly green and gold. Be awestruck on bushwalks through subtropical rainforests that house living ancient relics and lava flows, crystal waterfalls cascading into rock pools and abundant native wildlife; it's a multi-sensory overload. Such is its pristine condition and under-canopy diversity, the Hinterland's national parks have been World Heritage listed by the United Nations Educational, Scientific and Cultural Organisation. The area is a hotbed for the international science and conservation community which means you truly will explore one of the earth's best eco-experiences. Lamington and Springbrook National Parks are the best places to set off with official bushwalks in place, and the quaint village of Mount Tamborine is the ideal stop-off to grab a bit to eat in an ornate café or boutique winery; with Gallery Walk a lovely stroll of art galleries and quaint antique and homewares stores.
http://www.visitgoldcoast.com/places-to-see/
Theme Parks

There's no comparison to the Gold Coast's choice of attractions and experiences. With theme parks offering a terrific combo of heart-warming encounters and non-stop action; nowhere in Australia delivers as many smiles and happy memories as the Gold Coast. It's your ultimate playground for unlimited fun in one great location giving you the freedom to explore your playful side.
http://www.visitgoldcoast.com/things-to-do/amusement-and-theme-parks/

Official Gold Coast Travel App
Make the most of your next Gold Coast holiday with the Official Gold Coast Travel app. Map out your days and nights as you explore all the amazing things to see and do in Australia's favourite playground.

Terms and Conditions:
*Coupon Code: Offer valid from 00:01 23 October - 23:59 20 November 2016 (AEST) and is valid for Gold Coast hotels only and is valid only for qualifying purchases made on the Site. Your $50 code GOLDCOAST OR $100 GOLDCOAST100 can be redeemed at https://www.webjet.com.au/ and through the App, excluding https://packages.webjet.com.au/. Select your20 preferred hotel and enter the code in the Coupon Code field on the payment page and we'll pay $50 (a minimum spend of $400 applies) OR $100 (a minimum spend of $800 applies) towards your total hotel booking cost. Valid for all stay dates. Read our full Coupon Code Terms & Conditions. Webjet's standard booking Terms and Conditions apply.
Flights: Webjet Servicing Fee: Domestic $21.95, NZ/Pacific $24.95, International $32.95. Booking Price Guarantee: Domestic $12.95, NZ/Pacific $14.95, International $21.95
Payment fees may apply to flights depending on your payment method.
*Flight prices are indicative and may vary dependent on travel dates. Prices above were found by customers and may change at any time.
Webjet's Destination Guides