Flinders Ranges, South Australia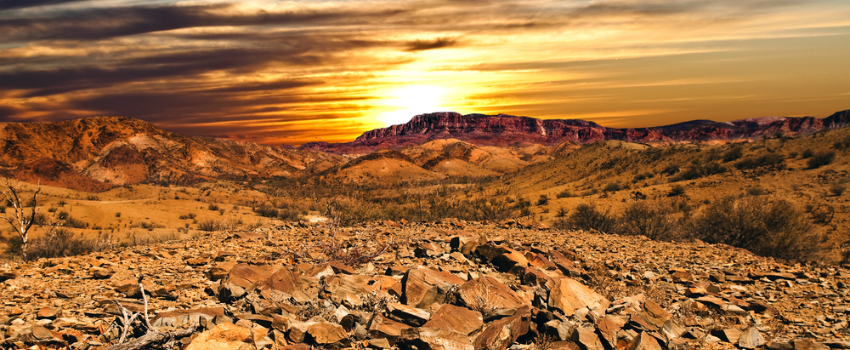 Outback South Australia's Flinders Ranges are a must for those in love with the Australian outdoors. The ranges are one of Australia's recognised eight national landscapes, beginning 200 kilometres north of Adelaide and stretching north for over 400 kilometres.
The standout landmark of the ranges is often said to be Wilpena Pound in the Central Flinders Ranges. A natural amphitheatre with an area of 80 kilmetres square, they include the literal high point of the ranges, St Mary Peak (1,170 metres).
The Central area is also home to the Brachina and Bunyeroo Gorges, and a lot of the Flinders Ranges National Park.
Bicycling and four-wheel driving are popular activities for visitors. For keen mountain bikers, there are over 50 kilometres of single tracks through Melrose, Orroroo, Bendleby Ranges and Wirrabara. The 200 kilometres Flinders By Bike Trail links Wilpena Pound in its south to Gum Creek Station at its north, offering some of the ranges' best views to those who have the stamina and four days to spare. Many towns offer bike hire in Flinders.
Other notable trails include Heysen and Mawson. The Mawson Trail is recommended for mountain bikers wanting a challenge, and avoids traffic and sealed roads. Heysen is mainly for walkers. Both can offer opportunities to see some of the spectacular local fauna, including wedge-tailed eagles, emus, dragon lizards and goannas.
The Innamincka Regional Reserve is full of natural wonders, and its famous wetlands stand in remarkable contrast to the surrounding areas. There is plenty to offer hikers, and Cullyamurra is one of Australia's finest waterholes.
The Southern Flinders Ranges have a surprisingly strong reputation for winemaking, with the Stone Hut, Bangor and Murray Town cellar doors worth visiting.
The climate in the north is generally a few degrees hotter (and it is also drier) than the south, and there is a good deal of variation. Autumn is perhaps the best time to visit, weather-wise. Days are generally sunny and clear regardless of the time of year, and it is generally dry and hot in summer.
Port Augusta Airport is one of the main points of departure to get to Flinders Ranges. Sharp Airlines fly to Port Augusta from Adelaide.
Webjet's Destination Guides