Darwin, Northern Territory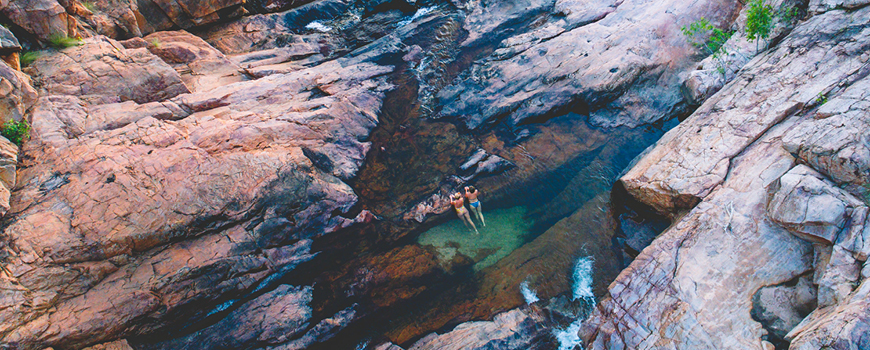 Darwin is a tropical city offering a blend of cosmopolitan and outback adventure, and you can make it as action-packed or as laidback as you want it to be. There is no shortage of things to do in Darwin, from the famous Mindil Beach Markets and festivals, to eyeballing a croc in the Cage of Death.
Do explore the history of Darwin and Aboriginal culture, cruise on the harbour or just relax at the wave lagoon and soak up the outdoor lifestyle. When the sun goes down, Darwin comes alive with a multitude of entertainment venues, in cluding restaurants, theatres, nightclubs, and casino.
Darwin sits on a harbour twice the size of Sydney Harbour and overlooks the Arafura Sea, offering an array of waterfront delights including superb dining, harbour cruising, fishing and amazing sunsets. There are also plenty of popular freshwater swimming spots nearby, such as Howard Springs, Berry Springs and Litchfield National Park - where you will find thundering waterfalls, crystal clear rock pools, wildlife and bushwalking tracks.
Do Nature
Darwin is surrounded by more than 20 national parks and reserves with some of the best swimming holes, waterfalls, wildlife spotting, bushwalking and hiking trails to do.
For the perfect day trip make sure you pack a picnic to do Litchfield National Park. Cool off in plunge pools at the bottom of either Florence or Wangi Falls, see some of the biggest magnetic termite mounds, or experience a natural neck massage by the smaller waterfalls at Buley Rockhole. You can do it all in a day or why not camp overnight.
A must do is Kakadu National Park and it's an easy three hour drive from Darwin with an amazing collection of flora and fauna, from sinister crocodiles to beautiful waterlilies. One of the best ways to view the wildlife and plant life is on a cruise through Yellow Water billabongs. You'll witness crocodiles in the wild, as well as good selection of the 280 different bird species inhabiting Kakadu National Park.
In Katherine you will find Nitmiluk National Park (
Katherine Gorge
), just three hours' drive south from Darwin, includes 13 gorges carved from ancient sandstone. You can explore these spectacular gorges and the waterfalls by paddling a canoe at your own pace, by a guided cultural cruise, or by a high-powered speedboat tour. Helicopter rides from the nearby visitor centre offer an excitement-charged way to view the magnificent gorge system from the air.
Crocodiles are well known in the Top End and you can get up close a personal with them in the wild on one of the many cruises that take place in the Mary River National Park or on Adelaide River.

Travelling to Asia? Make Sure to Do Darwin on your Way!
Darwin is closer to Asia than any other Australian capital city, and with direct flights to Singapore, Kuala Lumpur, Denpasar and Manila, a short break Darwin is a great way to double your fun with a tropical stopover en route to Asia.
There are great hotels near the airport, or grab the airport shuttle bus to head into the city. With a wide variety of touring options, you'll be able to discover the vigour and diversity of this exciting city.
So next time you plan an Asian holiday, take a break in Darwin and explore how a vibrant Aboriginal culture and the 50 ethnic groups which call Darwin home, have helped mould a unique restaurant, market and cultural scene.

Top 10 Things to Do
Darwin and the surrounding areas are an adventurer's paradise with tropical outdoor lifestyle. Here's our Top Ten list to help you get
the most out of your Darwin break.
1. A must do is the Mindil Beach Markets where you can choose from over 1200 different dishes, buy local arts and crafts and watch the famous toped sunset.
2. Do the hike up to nature's infinity pool at Gunlom Falls and swim with magnificent views over Kakadu.
3. Swim with a crocodile in the Cage of Death at a crocodile experience in the heart of Darwin city.
4. Discover the latest new releases or revisit your favourite classic films under the stars at the open air cinema on Darwin Harbour.
5. Take a tour to the Aboriginal art centres of Tiwi Islands and see for yourself why their traditional paintings, carvings, Pukumani poles and screenprinted fabrics are world-famous.
6. Do a Darwin Harbour cruise at sunset, to see the city's cosmopolitan foreshore bounded by scenic mangroves and pristine tidal waters.
7. Discover the rich traditions of region's indigenous people with guided cultural touring in the city or through the nearby landscapes.
8. Learn about the significance of the bombing of Darwin during World War II when Darwin endured 64 bombing raids, at the Defence of Darwin Experience.
9. Do a fishing adventure, whether it's a bluewater charter, estuary fishing or chasing the iconic Barramundi.
10. Discover the Mary River wetland floodplains with an exhilarating morning trip in an airboat.

Flights to Darwin
Compare flights to Darwin from most major Australian cities including:
Get to know Darwin Airport - your gateway to the beautiful northern capital - with our guide airport car hire, car parking facilities, hotel accommodation and airline lounges. If you're looking for a rental car, plenty of Darwin car hire operators can hook you up with a car straight from the airport.

Accommodation
Find the perfect base to explore Darwin from by booking your accommodation at Webjet. With options including hotels and motels, there's something to suit every traveller. Search for hotels in Darwin today.
Webjet's Destination Guides