Cairns, Queensland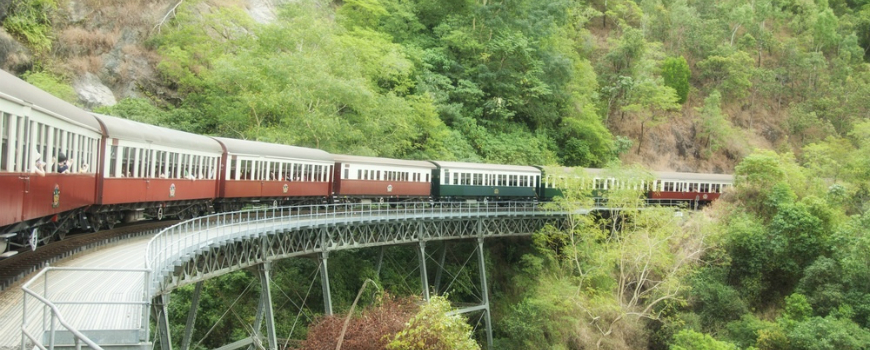 Shopping
If you are looking for retail therapy you'll be in seventh heaven here. Cairns boasts an excellent range of outlets and shopping centres whether you're after designer sunglasses, hip fashion, jewellery, or souvenirs and gifts from crystals to boomerangs.
The shopping centres offers luxurious brand shops, duty-free stores, boutiques, galleries and craft shops.
Facing the Cairns Harbour, Pier Market Place has a great view over the bay. Cairns Central Shopping Centre contains large department stores, supermarkets and a cinema.
The night market is open for business every evening, located along the shores of Trinity Inlet in Esplanade Street. Aboriginal artworks, handmade accessories by the local artists, t-shirts and quality opals are in good supply.
For the best fresh produce walk through "Rusty's Bazaar". This market is held on Saturday and Sunday every week, is a great place to purchase vegetables, fruit, and every day clothing.
Dining is a high point in Cairns and local eateries offer an eclectic choice of Australian and international cuisine. The highlight of most menus is the region's fresh seafood and unusual tropical fruits.
Entertainment
As for entertainment there are excellent theatres, galleries, nightclubs and the glass-domed Reef Hotel Casino with four separate gaming areas and a luxury five star hotel.
Hinterland Haven
Teetering on the brink of the Macalister Ranges high above the city of Cairns, Kuranda is a floral extravaganza under siege from the surrounding rainforest. Everything in the town seems to be green, moist and wrapped in scarlet bougainvillea. The main street is a federation of green vines, trunks, vines, mosses and staghorn ferns. They say that if you sit still for too long in Kuranda, you could easily become part of the vegetation.
The town is just over 30 kilometres from Cairns along the Kennedy Highway - a curving, swerving, roller-coaster ride before the road irons itself out and crosses the range.
But most visitors to Kuranda choose to travel there by train. Several times a day trains leave the Freshwater Station north of Cairns for the dramatic climb through tunnels of greenery, past Barron Falls and finally to Kuranda Station, which is swathed in palms and ferns.
Kuranda Markets
A number of alternative-lifers have put down roots in this earthly paradise and Kuranda is the centre for a thriving arts and crafts community.
Every Wednesday, Thursday, Friday and Sunday this colourful brigade comes to town for the market, and even if you don't need a banana leaf flyswatter, a didgeridoo or an exotic tropical fruit tree, market days are the time to be in Kuranda.
Skyrail Cable Car
Make the return journey to Cairns by SkyRail, a cable car that takes you above the rainforest canopy on an unforgettable journey. Be sure to stop off at one of the stations along the way to explore the rainforest.
Book your holiday flight or golf tour to Cairns, Australia with Webjet and save.
Accommodation
Cairns has a wealth of quality accommodation on offer, including international hotels and resorts, island escapes and rainforest lodges, as well as self-catering styles for families and hostels for backpackers. Find Cairns hotels to suit your needs today.
Flights to Cairns
Compare flights to Cairns from most major Australian cities including:
Ensure the beginning of your holiday in Cairns gets off to a great start using our Airport guide.
Car hire
Compare Cairns car hire and pick up your vehicle straight from the airport. Choose from a huge range of rentals, including many luxury cars, and create your own self-drive itinerary when you're in Cairns.
Webjet's Destination Guides