Broome, Western Australia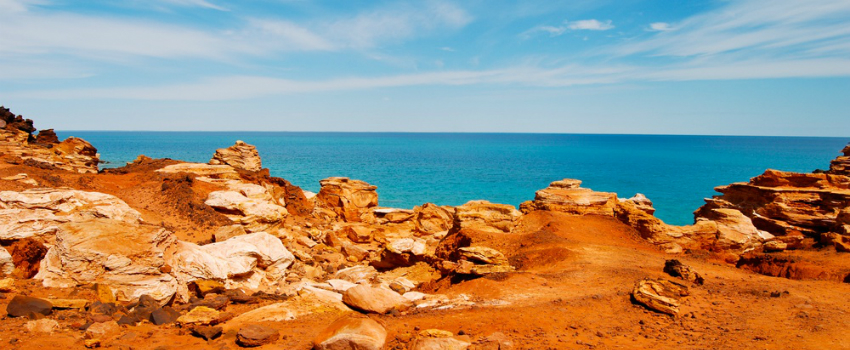 Broome History
From its rough and tumble, romantic pearling history and the cosmopolitan character of Chinatown, to the turquoise waters, red sandstone cliffs and the endless expanse of white sand at Cable Beach -the colours and moods of Broome will capture your soul. Be prepared - you might not want to leave.
Broome owes its existence to Pinctada Maxima - the world's largest pearl oyster shell - discovered in Roebuck Bay in 1861. When the giant pinctada shells were discovered it caused a sensation overseas and soon a melting pot of nationalities flocked to the shores of Broome in the hope of making their fortune. Japanese, Malays and Koepangers joined the Aboriginal pearl divers, whilst Chinese settlers became shopkeepers in town.
Today, remnants of Broome's exotic past are everywhere. The town's multicultural society ensures a wonderful array of gourmet cuisines, colourful characters and cultural influences.
Pearling still remains a thriving industry and the world famous South Sea pearls feature in Chinatown's string of pearl galleries.
Cable Beach
Regarded as one of the most stunning beaches in the world, Cable Beach stretches 24 kilometers along the coast. Stroll along kilometres of pristine white sand and swim in clear water or sit back and watch the spectacular sunset over the Indian Ocean. Visit Gantheaume Point, home of the 130 million year old dinosaur footprints visible on very low tides.
Camels ride at sunset
A short camel ride is a good way to travel along Broome's Cable Beach and to relax in the tropical tranquility. Broome Camel Safaris offer sunset rides along the pearl-white sands lapped by azure waters.
80-Mile Beach
One of the district's tropical delights is Eighty Mile Beach, located between Port Headland and Broome. Its brilliant white sands and intense blue seas are magic to behold.
Bird observatory
The Broome Bird Observatory is one of the top bird watching spots in the world. From September to March each year, around 800,000 migratory shorebirds from Siberia take flight to the shores of Roebuck Bay.
Cultural mix
Take the opportunity to visit the Aboriginal communities of the Dampier Peninsula including the famous Mother of Pearl Chapel at Beagle Bay. Learn of the unique role the sea and river systems of the Kimberley have played in the life of the Aboriginal people at an Aquaculture and Discovery Centre. Broome is a fascinating place with a mixture of cultures created by those who came in search of pearling wealth back in the 1860s. In addition to the local Aboriginal divers were Japanese, Malay, Timorese, Indonesian and Filipino crews. As a result, Broome's population, its food and wider culture are unusually colourful and diverse. Pearling still remains one of the town's leading industries and tours are available.
Getting there and staying in Broome
Getting to Broome is easy with so many cheap flights heading from Darwin and Perth. Car hire is another great way to get to Broome, Western Australia's secret getaway, and explore more of the west coast's stunning coastal scenery.
With accommodation including hotels and resorts there's options to suit any traveller to Broome.
Webjet's Destination Guides