Blue Mountains, NSW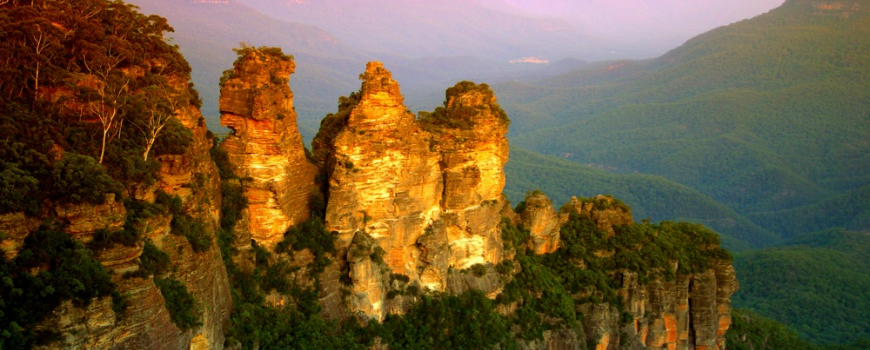 Western Sydney's Blue Mountains are roughly 50 kilometres from the city, and feature exquisite scenery, thrilling caves and tremendous walking trails. The Greater Blue Mountains World Heritage Area contains a million hectares of mainly temperate eucalypt forest on sandstone tablelands.
The upper mountains suburb of Katoomba features the iconic Three Sisters formations, the world's steepest incline railway at Scenic World, and Echo Point, with panoramic views of the southern Blue Mountains. Scenic World also features the southern hemisphere's longest boardwalk, at 2.4 kilometres. Katoomba hosts yearly events including the Blue Mountains Music Festival (various locations) over three days in March and the Winter Magic festival at around the time of the winter solstice in June, featuring art, music and fireworks events.
The Six Foot Track is one of many superb hiking trails, extending 44 kilometres from Katoomba to the world-famous Jenolan Caves. The track is a three-day walk, and has, since 1984, hosted a foot race every March. It begins at Katoomba's Explorers Tree and runs through Megalong Valley, past sights like Cox's River, Mini Mini Saddle and Alum Creek.
The Oberon region's Jenolan Caves feature nine show caves and spectacularly lighted underground limestone rivers. Its Legends, Mysteries and Ghosts tours take place on Wednesday and Saturday evenings and there are child-oriented tours of caves held in school holidays.
The lower mountains suburb of Faulconbridge has the National Trust-run Norman Lindsay Gallery, home of the classic Australian children's story The Magic Pudding. The late 19th Century sandstone cottage features works by artist and author Lindsay and is open every day from 10 am to 4 pm.
The climate in the Blue Mountains varies with elevation, though is more temperate than the lower parts of Sydney. The average minimum and maximum temperatures for Katoomba are 12.6 and 23.1 degrees Celsius in January and 2.5 and 9.2 in July.
The nearest airport is Sydney's Kingsford Smith, served domestically by Qantas, Jetstar, and Skytrans, and regionally by Aeropelican, Brindabella, Jetstar, QantasLink and Rex. There are over 75 hotels, resorts, motels and lodges within the region for your next holiday to the Blue Mountains.
Webjet's Destination Guides