Bay of Plenty, New Zealand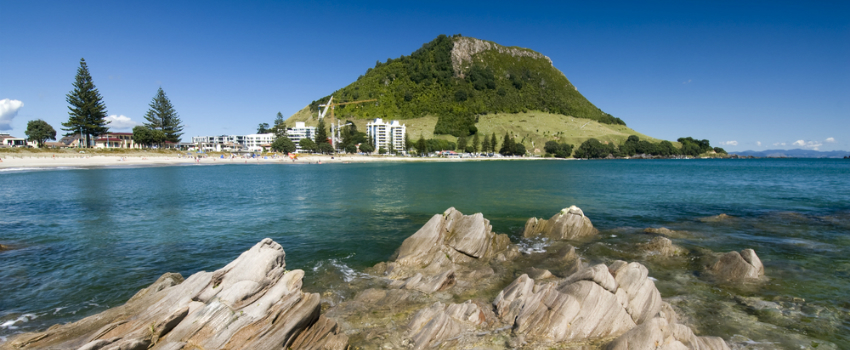 The Bay of Plenty takes in plenty in its 260 kilometres of coastline on the north coast of the North Island, and it is famous for its superb beaches and beachside culture, sunny weather, marine life, and the nearby active volcanic island, Whakaari. The bay runs from Cape Runaway in the east to Coromandel Peninsula in the west.
The bay is popular for pleasure boating and fishing, and these and more can be enjoyed in Tauranga, the commercial hub of the bay. Tauranga is its biggest city, and The Strand, redeveloped in recent years, has many well-regarded restaurants and pubs. Devonport Street Road and Wharf Street also have several dining and drinking options.
Tauranga is well known for its agriculture, and produces apples, kiwi fruits, citrus and wines. It also has excellent fishing, and many firms offer chartered tours.
15 minutes' drive from Tauranga is Mount Maunganui, a popular beach town for holiday-makers. There is fine year-round surfing among warm waters and white sands of Maunganui, which had an artificial reef added to improve the way waves break for board riders. The mountain, also known as Mauao, offers excellent views of the Pacific Ocean, and the dormant volcano's 232-metre height can be scaled via a number of tracks.
One of the brightest towns in the country (with 2,602 hours' sunshine in 2012) is Whakatane. It also has tremendous deep-sea fishing and numerous dolphin and seal-spotting eco-tour operators.
48 kilometres off the shore (a short helicopter ride) of Whakatane is Whakaari, or White Island. This is New Zealand's only active volcano, and you can hear it grumble and see it spit steam as you tour the island. Tour operators issue visitors with a hard hat and gas mask. The island's volcanic activity also warms its hot pools and spas.
The Bay's climate is one of the warmest and driest in the country. Tauranga has January average maximum and average minimum temperatures of 23.9 and 14.5 degrees Celsius, and 14.3 and 6.1 for July
The nearest airport is Rotorua, with Air New Zealand flights from Auckland, Wellington, Queenstown & Christchurch.
Webjet's Destination Guides