Bangkok, Thailand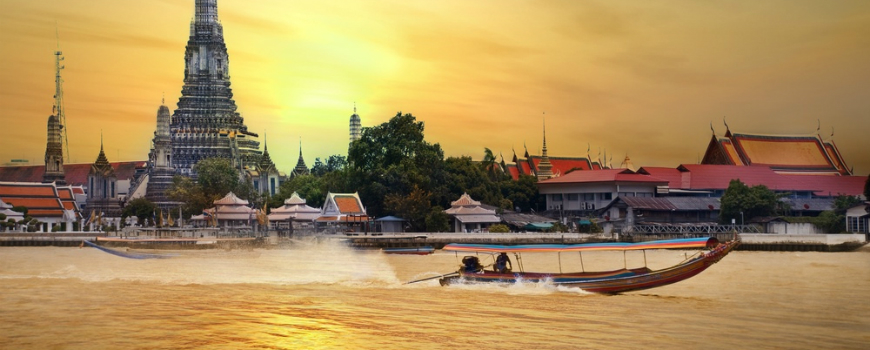 Bangkok has something for everyone! Bangkok is a modern city yet firmly embedded in tradition. Bangkok is the capital city of Thailand and is one of the world's most popular tourist hotspots. All aspects of Thai culture are revered in Bangkok, such as people of all ages praying at one of the countless Temples and Monks accepting their daily alms.
Best Time to Visit
Bangkok is bustling throughout the year. A lot of travellers like to visit Bangkok between November & March. Flights and hotels are generally more expensive at this time because it's considered high season. However the climate in Bangkok during Christmas and New Year is not as hot as the other parts of the year, usually staying below 30 degrees Celsius.
Attractions
Royal Grand Palace
A trip to Bangkok would not be complete without visiting the Royal Grand Palace. The Grand Palace features several magnificent buildings including Wat Phra Kaeo (Temple of the Emerald Buddha), which contains a beautiful Emerald Buddha that dates back to the 14th century.
The Floating Markets
The floating markets ('talaat naam') in and around Bangkok allow you to experience the traditional Thai way of life. Small wooden boats loaded with fruits, flowers, vegetables and other produce make a colourful and bustling scene at market time.
Unique Experiences
A unique way to travel around Bangkok's busy city streets is on a tuk tuk. Maybe you could catch a tuk tuk to a ladyboy show, where transvestites put on cabaret style shows with extravagant costumes and sets. Or for those into sports, catch a Muay Thai match at a boxing stadium in Bangkok and even take a few lessons yourself!
Festivals
Songkran
Songkran, or Thai New Year, is celebrated annually from 13-15 April. The Songkran Festival is also known as the Water Festival because of the many water fights that occur during the celebrations which fall on the hottest days of the year. Water is used to wash images of Buddha as well as friends and family in order to symbolise the beginning of the New Year by washing away any bad from the past year. In Bangkok, head to Khao San Road, the epicentre of water throwing revelries, just be sure to protect any valuables from getting wet beforehand.
Chinese New Year
Chinese New Year in Bangkok is filled with red decorations, loud music and spectacular fireworks. Head to Bangkok's Chinatown for all the festivities, chow down on delicious traditional Chinese foods and enjoy the Procession of the Golden Dragon.
Webjet's Destination Guides