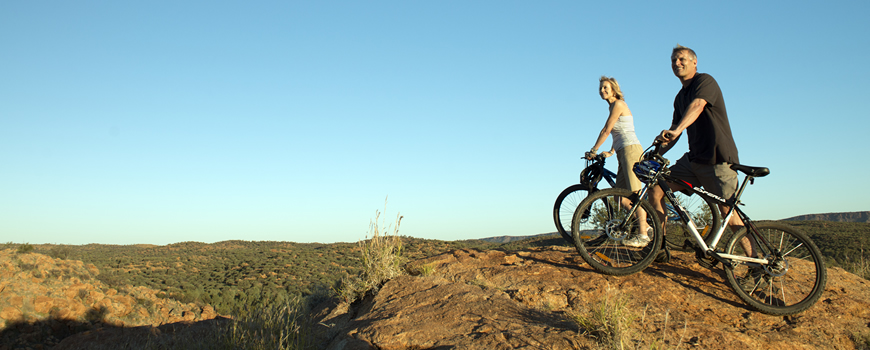 Alice Springs, Northern Territory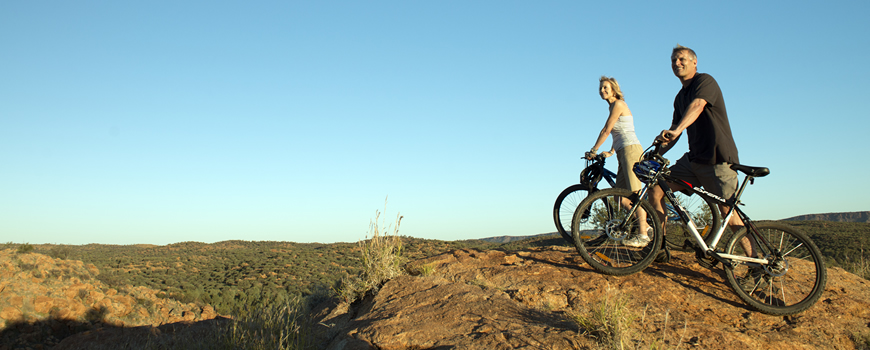 Do the Alice
Australia's most central city, Alice Springs, is a place that oozes with character, colourful outback culture and breathtaking scenery. In as little as 2 1/2 or 3 hours from most major cities, Alice Springs is your basecamp to new adventures.
Alice Springs is social and vibrant with an outback welcome from 30,000 people waiting for you. Now more affordable than ever with Qantas and Tiger flying direct, you can come for a long or short getaway. And why not? The climate is warm, the air is pure and the pace is relaxed. Alice is a town that you can visit either on your way to the red centre's outback icons, or enjoy for its own unique charm.
Do Adventure
Adventure is never far off. The East and West MacDonnell Ranges surround Alice Springs and provide an adventure playground with hiking trails, four-wheel drive tracks, swimming holes and camping spots to enjoy. Hot air balloon rides over the MacDonnell Ranges offer a truly unique experience to take in the sunrise over the rugged ranges.
For the thrill seekers, there is an almost boundless range of adventures including quad biking, camel trekking, camping and scenic flights to enjoy around Alice. Or hit the trails with some fun and speedy mountain bike riding on the extensive network of tracks around the town.
Or for an adventure of another kind, take on the challenge of the Alice Springs Golf Club, one of the world's finest desert courses set in the foothills of the majestic MacDonnell Ranges.
Tours frequently leave for other wonders such as Kata Tjuta (the Olgas), Uluru, Kings Canyon, Finke Gorge, Ormiston Gorge and Pound and Rainbow Valley.
Do Culture
Visit Alice's vibrant culture at the Aboriginal Art and Culture Centre. There, the Arrente people share their art, craft, food and legends that give meaning to their culture. Visitors can learn to play a didgeridoo, throw a boomerang, and discover some of the symbolism behind central Australian art or bush tucker.
You'll also see artists at work at some of the many art galleries lining Todd Mall or at art centres in nearby communities. You'll be amazed at the rich stories and symbols and are bound to find a perfect souvenir of your visit.
Do it Like a Local
Alice has a fascinating modern history too. Experience the remarkable aviation history of the region at the recently redeveloped Royal Flying Service Museum where visitors can learn about the history of this great Australian institution. Or visit the School of the Air Alice Springs School of the Air, and learn how this unique school services the needs of isolated children living in the outback.
To get an insight into the local desert lifestyle, plan your visit to coincide with one of the many quirky events such as the Henley on Todd Regatta, a boat race held on a dry river bed, or the hilarious Camel Cup where riders race camels along dusty outback tracks.
Accommodation
Find the perfect base to explore Alice Springs from by booking your accommodation at Webjet. With options including hotels, bed and breakfasts and motels, there's something to suit every traveller. Search for hotels in Alice Springs today.
Compare and book cheap flights to Alice Springs for your next holiday getaway, or tackle the scenic drive from Adelaide on your own handcrafted itinerary with a rental car.
Webjet's Destination Guides