Expect the unexpected in Abu Dhabi

With amazing beaches, awe inspiring desert-scapes, lush oases and the new Louvre Abu Dhabi, it's no wonder Abu Dhabi is on everyone's to do list.
Abu Dhabi is a destination of diversity, not only of terrain, but of people, traditions and heritage. From Bedouin beginnings to a rich and luxurious present, Abu Dhabi can offer the experience of 'Authentic Arabia' with all the five star luxuries you want.
As a stop-over, Abu Dhabi is unbeatable. Some of the Emirate's best hotels are within fifteen or so minutes from the airport, so soon after you've cleared the baggage hall, you'll be in the swimming pool.
Once you checked in, you'll be spoilt for choice about what to do. Should you laze in the luxury of your spectacular hotel or should you go and discover all of the stunning activities Abu Dhabi has on offer?
See below for ideas.
Saadiyat Beach club

Built along the shores of the Arabian Gulf, Saadiyat Beach Club is the perfect place to get away for the day and relax. Surround yourself with natural beauty on the beach, take a cooling dip in the stunning pool and sample the delights that the restaurants and lounges have to offer. It's all yours to indulge in – a haven for the day.
Sheikh Zayed Grand Mosque
Understand for yourself why it was voted number 2 on the World's Most Amazing Landmarks by TripAdvisor.
This architectural work of art is one the world's largest mosques, with a capacity for an astonishing 40,000 worshippers. It features 82 domes, over a 1,000 columns, 24 carat gold gilded chandeliers and the world's largest hand knotted carpet. The main prayer hall is dominated by one of the world's largest chandeliers –10 metres in diameter, 15 metres in height and weighing twelve tonnes.
Ferrari World Abu Dhabi

Beneath the gigantic, iconic red roof of Ferrari World Abu Dhabi are numerous high-adrenaline rides including the spectacular Flying Aces ride, featuring the highest rollercoaster loop in the world, the world's fastest rollercoaster, Formula Rossa, with a top speed of 250kmph in 4.9 seconds, family-friendly attractions, state-of-the-art simulators, electric-powered go-karts and live shows.
Emirates Palace

A lavishly imagined dream, Emirates Palace offers you a magical location to enjoy the quintessence of award-winning 5-star luxury hospitality and authentic local experiences. From 394 luxurious rooms and suites, to award-winning culinary cuisine, Emirates Palace is the definition of an Arabian fantasy.
Zaya Nurai

Nurai Island is situated in the pristine waters of the Arabian Gulf to the east of the Abu Dhabi city coastline. Just a ten-minute boat ride from Saadiyat Island, Nural Island is a stunning piece of paradise that is a perfect retreat for those looking for peace and tranquility, complemented by unparalleled and uninterrupted Arabian Gulf Views.
Qasr Al Sarab

Almost a fairytale from '1001 nights', this magnificent resort seems to spring out of nowhere, a luxurious oasis in the midst of the mystic Liwa Desert. Set in the middle of the Rub' al Khali or Empty Quarter, the largest uninterrupted sand mass in the world, Qasr Al Sarab Desert Resort by Anantara is isolated from the outside world, yet is less than 200km away from Abu Dhabi.
Yas Island

An emerging entertainment destination home to theme parks, an award-winning golf club, Yas Beach and Yas Mall, Yas Island is also where you'll find the state-of-the-art Yas Marina Circuit – host to the annual F1™ Etihad Airways Abu Dhabi Grand Prix. At the circuit's centrepiece is Yas Viceroy Abu Dhabi, a five star, iconic hotel – the only one in the world to straddle an F1 race track being breathtakingly built half on land and half over water.
Al Ain Oasis

In the heart of Al Ain, this oasis has been opened as the UAE's first curated UNESCO World Heritage site visitor experience. Containing more than 147,000 date palms of up to 100 different varieties, this impressive oasis is filled with palm plantations, many of which are still working farms. The cool, shady walkways transport you from the heat and noise of the city to a tranquil haven; all you will hear is birdsong and the rustle of the palm fronds.
Sir Bani Yas Island

A nature-based destination alive with wildlife and adventure activities, a 5-star boutique hotel, luxury villas, purpose-built stables and historical sites, Sir Bani Yas Island is one of the eight which make up the Desert Islands in Al Dhafra. More than half the island is made up of the Arabian Wildlife Park, one of region's largest wildlife reserves, which is home to more than 10,000 free roaming animals.
Book your Abu Dhabi holiday with Webjet's Flights and Hotel Deals today!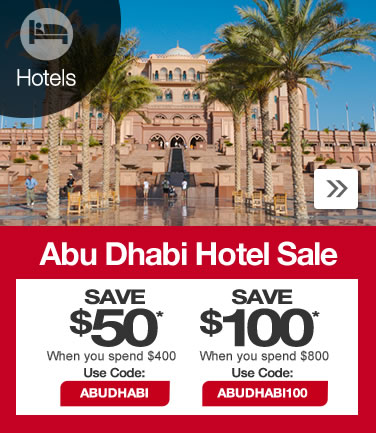 Terms and Conditions:
*Hotel Coupon Code: Offer valid from 00:01 1 October - 23:59 31 October 2017 (AEST) and is valid for Abu Dhabi hotels only and is valid only for qualifying purchases made on the Site. Your $50 code ABUDHABI OR $100 ABUDHABI100 can be redeemed at https://hotels.webjet.com.au/hotels/ and through the App, excluding https://packages.webjet.com.au/ and https://exclusives.webjet.com.au/. Select your preferred hotel and enter the code in the Coupon Code field on the payment page and we'll pay $50 (a minimum spend of $400 applies) OR $100 (a minimum spend of $800 applies) towards your total hotel booking cost. Valid for all stay dates. Read our full Coupon Code Terms & Conditions. Webjet's standard booking Terms and Conditions apply.
*Prices on this page are subject to change without notice, perform a search to view live pricing. Prices are inclusive of taxes and airline surcharges.
Webjet flight fees per booking:
Webjet Servicing Fee
: Domestic $21.95, NZ/Pacific $24.95, International $32.95.
Booking Price Guarantee
: Domestic $12.95, NZ/Pacific $14.95, International $21.95. Varying
payment fees
are included in the price breakdown on Webjet's checkout page, once your payment method has been selected.
*Prices are subject to availability, include taxes and airline surcharges. All prices on this page are subject to change without notice. Whilst Webjet makes every effort to provide you with accurate and up-to-date information, in the event a product is listed at an incorrect price, whether due to typographical, photographic, or otherwise, Webjet may refuse or cancel any orders placed for a product listed at the incorrect price.
Webjet's Destination Guides