Abu Dhabi, United Arab Emirates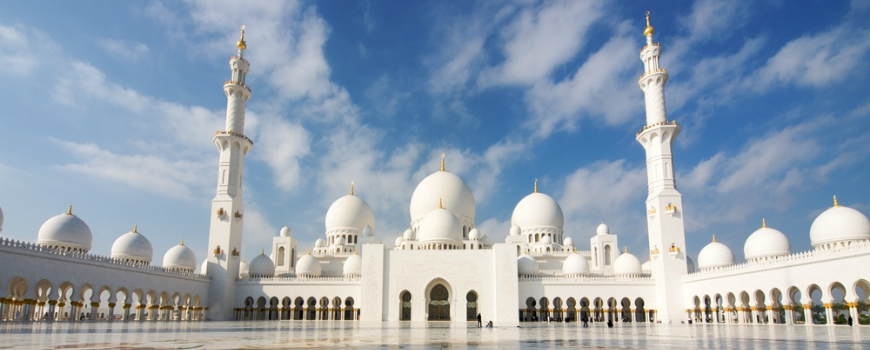 Discover
Abu Dhabi is the modern capital city of the United Arab Emirates (UAE). Located on an island in the Persian Gulf, Abu Dhabi is a fast growing cosmopolitan metropolis full of contrasts.
Abu Dhabi's modern conceptual architecture stands tall over the warm Persian Gulf, highlighting Abu Dhabi's dramatic transformation from a tranquil fishing village to the richest city in the world, in the space of 50 years. There is an abundance of green parks and boulevards throughout the city, but just beyond Abu Dhabi's buildings and shopping centres, awaits breathtaking scenes of untouched desert.
Easily find and book cheap flights to Abu Dhabi with Webjet today.
Eat & Shop
Abu Dhabi offers everything you'd find in any international city in the world, with a unique Abu Dhabi twist. For foodies, there are many options from stylish fine dining restaurants to more casual cafes with views across the Persian Gulf and even the multicultural flavours found within Abu Dhabi's large expatriate community.
If you want to shop, you'll love Abu Dhabi's range of shopping centres. Abu Dhabi's large malls offer shoppers multiple levels of unique stores as well as international chain stores. For a more local experience, shop at the various Abu Dhabi markets where you can haggle and bargain over the prices of antiques, carpets and jewellery.
Yas Island
Yas Island is only 20km from Abu Dhabi and is somewhat of an entertainment epicentre, currently you can find a marina, golf course and the Yas Island Circuit, which hosts the Formula One Abu Dhabi Grand Prix. Soon Yas Island will be home to several theme parks and a water park, making Yas Island a definite stop off on any trip to Abu Dhabi.
Relax in Luxury
Desert Islands Resort & Spa
Desert Islands Resort & Spa is a 5-star retreat located on the beautiful island of Sir Bani Yas, just south of Abu Dhabi. Explore the island's wildlife reserves with activities like hiking, snorkelling and kayaking. Or how about a relaxing massage, steam or sauna in the tranquil Anantara Spa? Book a room, suite or villa at the Desert Islands Resort & Spa for a truly indulgent escape.
Qasr Al Sarab Desert Resort
Qasr Al Sarab is an opulent resort that stands in the Liwa Desert, much like a desert oasis. Just 90 minutes from Abu Dhabi, the Qasr Al Sarab resort is designed to give guests a true glimpse of Emirati hospitality and culture that doesn't compromise on style and luxury in any of its rooms, restaurants or spa.
Start Your Adventure Today
Travel to Abu Dhabi and you'll quickly be amazed by the city's wonder. Treat yourself to the many high class resorts and spas in the Persian Gulf, shop in Abu Dhabi's shiny shopping centres and traditional markets, and discover the beautiful deserts in Abu Dhabi's surrounds.
Fly to Abu Dhabi with cheap flights from Webjet today.
Webjet's Destination Guides