Nelson Domestic Airport (NSN)
Nelson Airport is located approximately 8 kilometres south of central Nelson which is about a 16 minute drive.
Air New Zealand operates domestic flights within New Zealand to Nelson Airport.
Car Hire at Nelson Airport
Car hire is also available from Nelson Airport from the following car rental companies: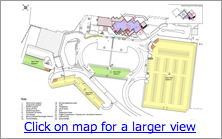 Be sure to book your rental car when you book your flight with Webjet to save!
Accommodation near Nelson Airport
For information on various accommodation options, from hotels to backpacker hostels, visit the official Nelson Region's listing of local accommodation.
Also worth a look is Webjet Hotels where you can compare and book between the best deals on accommodation near Nelson Airport.
Taxis at Nelson Airport
Travelling by taxi from Nelson Airport to the city generally takes 16 minutes.
Nelson Airport Shuttle Bus Services
Shuttle bus services are also available from Nelson Airport to the city.
Short and Long Term Parking at Nelson Airport
There are four uncovered car parks located at Nelson Airport with two lots designated for short and long term parking.
Airport Services at Nelson Airport
Food & Drinks at Nelson Airport
There is a cafe located at Nelson Airport offering snacks, coffee and is also licensed to serve alcohol.
Wireless Inernet at Nelson Airport
Nelson Airport provides a WiFi hotspot allowing travellers access to the internet. This service is provided by goHOTSPOT and requires online payment via credit card.