London (LON)
London is the capital city of the United Kingdom and England. It is the home to many famous icons such as Buckingham palace, The London Eye and Big Ben. This 2,000 year old city not only has a fascinating history but is the hub for travel to Europe.
London Heathrow Airport – (LHR)
London Heathrow airport is linked to over 180 destinations in more than 90 countries.
Heathrow airport is located 24 kilometres from London's centre which is between a 30 to 60 minutes drive.
Car Hire at London Heathrow Airport
Car hire is available from Heathrow Airport from the following car rental providers:
Add a hire car to save when you book your flights to London with Webjet!
Accommodation near Heathrow Airport
London has an enormous range of hotels from budget accommodation to the top 5 star hotels. There are three airport hotels about 20 other hotels within close proximity to Heathrow airport.
Whatever your preference, you can compare a variety of hotels at one time in destinations across London with Webjet.
Heathrow Airport Rail Link Services
Heathrow airport offers three different rail services, Heathrow Express, Heathrow Connect and the London Underground.
The London Underground or 'the Tube' is the most cost effective route between the airport and the city. It runs from 5:03am until 11:48pm arriving at 10 minute intervals during both peak and off peak times. The journey to London's centre is under 60 minutes.
Heathrow Airport is a nonstop 15 minute journey to London Paddington via the Heathrow Express. It costs more than the London Underground. The train leaves from the airport between the hours of 5:07am and 11:42pm and operates in 15 minute intervals.
Heathrow Connect is a non direct rail service traveling from the airport to London Paddington stopping at local stations in west London.
Catch a Taxi from London Heathrow airport
Taxis are a convenient but costly way to travel around London. Taxis run 24 hours, 365 days a year and accept cash or credit card.
London Heathrow Airport Shuttle Bus Services
Many different bus services are available from London's Heathrow airport including coaches, local buses and railair coaches.
Frequent coach services are available to take travelers to over 500 local and national destinations.
Railair coach services also connect passengers with the national rail network at Woking, Watford Junction and Reading. A pre purchased ticket is recommended as you may not be available to buy one from the bus driver. Purchase your coach tickets from the travel centre at London Heathrow airport.
Local buses frequently depart from London Heathrow airport to west London. This is one of the most cost effective ways to get to the centre of London from Heathrow airport.
Short and Long Term Parking at Heathrow Airport
London Heathrow airport offers both short and long term parking for all travelers. The airports safe and well lit short term parking can be found next to each of the terminals.
The long term parking is about 15 minutes from the airport and requires you to catch a courtesy coach which arrives every 10 minutes.
More information on hourly rates can be found at the BAA Heathrow Airport website
London Gatwick Airport (LGW)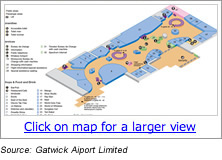 London's Gatwick airport has around 80 airlines flying to more than 220 destinations. It's the second largest airport in the UK after London Heathrow airport.
London Gatwick airport is located 45 km southof London just over 1 hours drive.
Car Hire at London GatwickAirport
Car hire is available from Gatwick Airport from the following car rental providers:
Combine your car hire with your flight booking at Webjet and save on booking and credit card fees!
Hotels near London Gatwick Airport
Whether you're looking at short-term, top of the range, central or cheap hotels, London accommodates for every traveler.
Whether you wish to stay in London city or at any of the three hotels at London Gatwick airport you'll find the best deals at Webjet.
London Gatwick Airport Rail Link Services
London Gatwick airport offers travelers a number of different train lines including the Gatwick Express to take you to many areas in and around London.
A non stop trip on the London Gatwick express to central London will take about 30 minutes and they operate in 15 minute intervals.
Catch a Taxi from London Gatwick Airport
The taxi service at London Gatwick Airport is run by Checker Cars who are the airports official partner. A trip to the centre of London takes about 65 minutes.
London Gatwick Airport Shuttle Bus Services
London Gatwick airport offers four different bus services to many destinations throughout London. The bus services include the Fastway 10, Fastway 20, Route 100 and Gatwick Direct 200. Each service runs from the early hours of the morning until midnight with the exception of the Fastway 10 which operates 24 hours a day.
Short and Long Term Parking at London Gatwickairport
Safe short and long term parking are conveniently available at Gatwick Airport. There are two short term parking lots in walking distance from both the north and south terminals. Fast tracking short stay parking is also available for travelers who require immediate parking in order to reach the airport quickly.
Long term parking is ideal for a traveler leaving for more than a couple of days. As these parking lots are located a couple of minutes drive from the airport a transfer bus will collect passengers from the car park every 10-12 minutes.
More information on hourly rates can be found at the Gatwick Airport website