Hobart Domestic & International Airport (HBA)
Hobart is the capital city of Tasmania. It is Australia's southernmost capital city and its second oldest. Hobart has a fascinating history and stunning surroundings. The Lonely Planet has called it the third most photogenic city in the world – a description it lives up to. Hobart is a city of colours, of statuesque pines and wayward trellises burdened with vines, tidy gardens and breathtaking mountain backdrops. Hobart Airport is located 20 minutes north east of central Hobart. Hobart Airport operates both domestic and international flights from:
Car Hire at Hobart Airport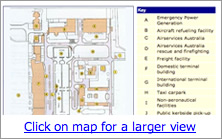 Rent a car from any of these car rental companies available at Hobart International Airport so you can make your own way around the city.
Choose from a variety of vehicles at different price points - and take advantage of Webjet's handy car hire/flight booking bundling when you purchase your next flight with Webjet.
Hotel Accomodation near Hobart Airport
There are no hotel facilities at Hobart International Airport as it is only 20 minutes away from the city.
Hobart has something to fit every requirement and budget, whether it's luxury hotels or youth hostels, campsites, or friendly B&Bs. The popular spots to stay around Hobart include Battery Point, Glebe, North Hobart, West Hobart and Sandy Bay. To find the best value hotel accommodation in Hobart take a look at the great hotel deals from Webjet Hotels and book your hotel.
Transportation to and from Hobart Airport
Taxis at Hobart Airport
A taxi rank located just outside the Domestic terminal.The driver will be happy to take you anywhere between Hobart Airport and the CBD. For advanced bookings, please contact the following taxi companies:
Bus Services at Hobart Airport
At Hobart International Airport, there is a regular shuttle bus service that operates to meet every arrival. The shuttle buses conveniently depart from outside the arrivals terminal and transport passengers to Hobart. If you are travelling to a destination other than Hobart, Tasmanian Redline Coaches operate coach services to many destinations throughout Tasmania.
Limousines and chauffeured cars at Hobart Airport
For a more fashionable option, limousines and chauffeured cars are also available for hire.
Hobart Airport parking facilities and long-term parking options
Hobart Airport hosts a public car park with 450 places at which offers both short and long term parking options. The car park is located across from the international terminal.
Also available at Hobart International Airport is the choice of outdoor or undercover valet car parking with places for 320 vehicles.
For more information on services and prices browse this handy link for Hobart Airport Parking Facilities.
Services at Hobart Airport
Hobart International Airport offers comfortable lounge areas that offer wireless internet next to a café, bar, newsagent, gift shop and public amenities such as ATMs and public telephones.
There are toilets located throughout the airport. Disabled toilet facilities are also available, and a baby changing room is available in the Departures Hall.
Baggage trolleys are freely available, throughout the airport and carpark.
Airline Lounges at Hobart Airport
There is a Qantas Club lounge located between check-in and the Arrivals Halls. The lounge is open from 05.15 until the last departure.