Virgin Australia
Make your own way in the world
Superior Selection
Easily find the best travel deals
24/7 Support
Customer service available
Anytime, Anywhere
Visit us on desktop, mobile or app
Travel Australia With Virgin Domestic
Virgin Australia Online Check-in
Virgin Australia Hot Deals
*Prices on this page are subject to change without notice, perform a search to view live pricing. Prices are inclusive of taxes and airline surcharges.
Webjet flight fees per booking:
Webjet Servicing Fee
: Domestic $21.95, NZ/Pacific $24.95, International $32.95.
Booking Price Guarantee
: Domestic $12.95, NZ/Pacific $14.95, International $21.95. Varying
payment fees
are included in the price breakdown on Webjet's checkout page, once your payment method has been selected.
Virgin Australia – Now You're Flying
Formerly known as Virgin Blue, Virgin Australia received its current moniker in 2011. The Australian outpost of the worldwide Virgin brand connects passengers with 44 local destinations, including major cities, regional hubs and smaller airports. Virgin Australia operates as a full-service airline.
Pre-Flight Information
Check-In Information
At the Airport
There are counter services or self-service check-in kiosks for Virgin Australia flights at most domestic airports. The check-in and bag drop counters close 30 minutes prior to departure for domestic flights. Virgin Australia recommends passengers check-in at least 45 minutes before their flight's scheduled departure time. Passengers connecting to an international flight, travelling in a large group or requiring additional assistance are recommended to check-in 60 minutes prior to departure.
Mobile Check-In
Passengers may also check-in for their domestic flight using the Virgin Australia App, available on the App Store or Google Play store. The app allows travellers to access their boarding pass too.
No check-in times stated for mobile check-in.
Online Check-In
Virgin Australia's online check-in service for domestic travel opens 48 hours before departure, and closes 45 minutes ahead of the scheduled flight time.
Baggage
Cabin Baggage
Economy, Economy X and Premium Economy passengers have three options for their carry-on luggage. A single piece of luggage must weigh no more than 7kgs and fit within required 56cm x 36cm x 23cm dimensions. Or, passengers are permitted two small pieces of carry-on luggage, with a combined total weight of 7kgs and dimensions of 48cm x 34cm x 23cm. The third option is one standard piece plus a suit pack; again weight must not exceed 7kgs. A personal item - laptop, blanket, overcoast, umbrella, reading materials - is also permitted in addition to carry-on luggage.
Passengers travelling in Virgin Australia Business Class, or those holding Velocity Gold and Platinum memberships may carry on one standard piece (56cm x 36cm x 23cm) at 7kg, two small pieces (48cm x 34cm x 23cm) at 7kg for each piece, or one standard piece and one suit pack (114cm x 60cm x 11cm) at 7kg for each piece.
Checked Baggage
All Virgin Australia airfares are inclusive of a checked baggage allowance. Passengers in Economy Class and with Velocity Red Status membership receive 23kgs checked luggage, for one piece of baggage. Velocity Silver and Gold members travelling in Economy Class can check two pieces, weighing up to 23kg each. And Velocity Platinum members may check through three pieces of baggage, each weighing 23kgs, when travelling on an economy fare.
Virgin Australia's checked baggage allowance for Business Class travel increases to 32kg per piece. Velocity Red, Silver and Gold members in Business Class are welcome to check two pieces of luggage, and Velocity Platinum status-holders can check three pieces of baggage.
Velocity Frequent Flyer
The Virgin Australia loyalty program is Velocity Frequent Flyer. This points-based program sees members earn on purchases made for flights (both on Virgin Australia and partner airlines), as well as with retail partners, associated banks and credit cards. Points are then redeemed for flights, upgrades, hotel stays, and even fuel for your car. The program has four membership levels: Red, Silver, Gold and Platinum. Members progress through the membership tiers by earning Status Credits when travelling on eligible flights with Virgin Australia and their network of airline partners, such as Tigerair, Singapore Airlines, SilkAir, Etihad Airways, Hainan Airlines, Alitalia and more. It is free to join Velocity Frequent Flyer.
Lounges
Domestic Lounges
Virgin Australia have pre-departure lounges available in Adelaide, Alice Springs, Brisbane, Cairns, Canberra, Darwin, Gold Coast, Mackay, Melbourne, Perth (Terminal 1 and 2), and Sydney Airports. These domestic lounges are available to Business Class passengers, plus those holding Velocity Gold or Platinum memberships, when travelling on a Virgin Australia or codeshare flight. Features of Virgin Australia's domestic lounges include a dedicated business area, excellent buffets offering rotating menus and hot and cold items, bar services, barista-manned coffee stations, showers and valet service. Opening and closing times of the lounges varies between airports, as does the service of alcoholic beverages. Some lounges also have private meeting available for hire. The freedom to bring guests into these lounges is dependent upon a passenger's Velocity or Virgin Australia Lounge Member status.
In-Flight Experience
In-flight Entertainment
The in-flight entertainment offering on Virgin Australia domestic flights is all about going wireless. Passengers can board the aircraft with their own device - smartphone, tablet or laptop - and then access the entertainment service using the plane's wireless connection. Passengers must download Virgin Australia's free Entertainment App should they wish to access the selection of movies, TV shows and music. WiFi is also available for purchase on-board some Virgin Australia domestic routes.
Dining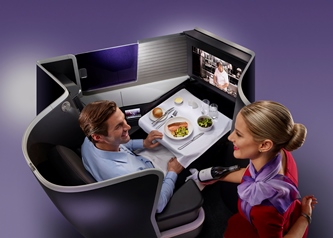 Virgin Australia's Economy Class passengers receive a complimentary snack and the choice of tea, coffee, water or juice on most domestic flights. Plus, if you're booked on a flight that is departing between 5pm and 7pm on any weekday, you'll be treated to a free beer, wine, juice or soft drink. Economy Class passengers travelling between Perth and Sydney, Melbourne or Brisbane are able to select a meal and drinks from an in-flight dining menu. Those in Business Class are treated to a menu designed by Luke Mangan, as well as an array of delicious snacks and beverages such as premium beers, wines and spirits. Those still feeling hungry, in any class, can take their pick of value deals, savoury and sweet snacks and some more substantial bites from the on-board retail menu. While special meals are not available on domestic flights, passengers with particular dietary requirements may bring their own food and non-alcoholic beverages on-board.
Cabin Class
Economy Class
The leather-upholstered Virgin Australia Economy Class seat has a pitch of up to 31 inches and more than 17 inches of width. An Economy Class airfare is inclusive of food and beverage service, as well as free tea, coffee and water. Economy Class seats aboard A330 feature seatback entertainment systems, while services operated on select Boeing 737 provide entertainment vis the Virgin Australia Entertainment App (to be downloaded prior to boarding).
Economy X
The Economy X experience aboard Virgin Australia encompasses an upgraded seat within the standard Economy Class cabin. Upgrading to this fare type covers additional legroom, priority airport security screening, priority boarding and an allocated section for prefered overhead lockers. Economy X is available on all domestic Virgin Australia flights.
Business Class
Virgin Australia has two types of Business Class seat: the A330 The Business Suite, and the 737 Business Class seat.
Seats in The Business Suite convert to 80 inch fully flat beds, with additional amenities, including a 16 inch in-flight entertainment screen and access to USB ports and power charging points, provided as standard. The Business Suite passengers are also provided with a personal amenity kit and are offered a turn-down service with pillows and a doona. The 737 Business Class' luxury leather seats have a generous recline and a 38 inch seat pitch. Comfort packs, including amenities, a pillow and a blanket, are available. All passengers travelling in Business Class or within The Business Suite may enjoy gourmet dishes developed by Luke Mangan, a renowned Australian chef. Gourmet snacks and a selection of beverages, including beer, wine, soft drinks and spirits are also available. A coat check service, in-flight entertainment, lounge access, increased complimentary baggage allowance, priority baggage delivery, and priority check-in and boarding are all standard inclusions.
Frequently Asked Questions
Where does Virgin Australia fly?
Virgin Australia flies to 44 destinations around Australia, including Adelaide, Brisbane, Canberra, Darwin, Hamilton Island, Hobart, Melbourne, Perth, the Sunshine Coast and Sydney.
Are Virgin Atlantic and Virgin Australia the same?
Virgin Australia is a codeshare partner with Virgin Atlantic Airways, a sister airline.
What is the airline code for Virgin Australia?
Virgin Australia's Airline Designator Code is VA.
Cheap Flights on Webjet
Webjet Top Airlines
*Prices are subject to availability, include taxes and airline surcharges. All prices on this page are subject to change without notice. Whilst Webjet makes every effort to provide you with accurate and up-to-date information, in the event a product is listed at an incorrect price, whether due to typographical, photographic, or otherwise, Webjet may refuse or cancel any orders placed for a product listed at the incorrect price.