Solomon Airlines
Make your own way in the world
Superior Selection
Easily find the best travel deals
24/7 Support
Customer service available
Anytime, Anywhere
Visit us on desktop, mobile or app
Fly International With Solomon Airlines
The national carrier of the Solomon Islands, Solomon Airlines has evolved to become a market leader in the region. Starting out as one of the world's smallest international airlines, the airline now travels to a selection of international destinations and serves an impressive network of 24 domestic airports.
Explore the Solomon Islands and beyond
Travelling to 24 domestic airports across the Solomon Islands, Solomon Airlines provides the perfect excuse to discover what makes the island nation so unique. From the capital of the Solomon Islands, Honiara, through to the hubs of Gizo, Munda, Auki and beyond, the airline travels to a host of destinations across the country's 900 islands and atolls. From its natural beauty through to its rich culture, you're sure to find no shortage of things to see, do and discover across the South Pacific archipelago set just over 3 hours from Brisbane.
Based in Honiara, Solomon Airlines also operates several regular international services. Travelling to and from Brisbane, Nadi, Port Vila and Port Moresby, the airline provides the opportunity to explore the islands of the South Pacific.
Enjoy generous baggage allowances
Whether you're looking to explore the Solomon Islands or travel further afield, Solomon Airlines' generous checked baggage allowances allow you to pack all your travel essentials while leaving plenty of room for a souvenir or two. International Business Class ticketholders are permitted to travel with 40kg of luggage, International Economy Class can check in 30kg of luggage and Domestic Economy Class travellers have an allowance of 16kg. Each travel class is also provided with a cabin baggage allowance of 7kg.
Home to almost 500 species of coral and more than 1,000 different varieties of fish, sharks and other marine life, it comes as no surprise that the waters surrounding the Solomon Islands prove to be popular amongst the diving community. Providing generous baggage allowances, it's even easier to travel with your diving gear and experience what has been described as the 'Amazon of the ocean'.
Fly in comfort with Solomon Airlines
In addition to friendly service, Solomon Airlines provides delicious inflight meals and complimentary beverages. Each menu cycle offers the choice of two meal choices, while the complimentary beverages include a selection of wines and beers from Australia and the Solomon Islands.
From Business Class through to Economy, you'll find a great selection of inflight entertainment on offer from Solomon Airlines. Take your pick from music, comedy, audio programs and more, and sit, back, relax and enjoy your flight.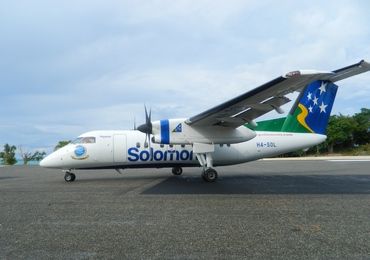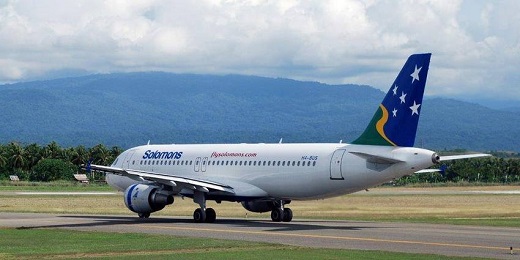 Fares
Solomon Airlines offer competitve pricing. Book flights today with Webjet, your online specialist for cheap flight bookings.
Cheap Flights on Webjet
Webjet Top Airlines
*Prices are subject to availability, include taxes and airline surcharges. All prices on this page are subject to change without notice. Whilst Webjet makes every effort to provide you with accurate and up-to-date information, in the event a product is listed at an incorrect price, whether due to typographical, photographic, or otherwise, Webjet may refuse or cancel any orders placed for a product listed at the incorrect price.