Book cheap flights with Singapore Airlines
Make your own way in the world
Superior Selection
Easily find the best travel deals
24/7 Support
Customer service available
Anytime, Anywhere
Visit us on desktop, mobile or app
Travel The World With Singapore Airlines
Singapore Airlines
Singapore Airlines' heritage can be traced back to the 1940s, with the airline's first flight (then operating under Malayan Airways Limited) taking off in 1947. This much-acclaimed international carrier is based in the city-state of Singapore and is one of the most awarded airlines in the world. The Singapore Airlines fleet is among the most modern, fuel efficient and comfortable. Singapore Airlines is a member of the Star Alliance, and connects passengers with destinations all over the world, from Australia and New Zealand, to hubs around Asia and South East Asia, Europe and the United States of America. SilkAir and Scoot are subsidiaries of Singapore Airlines.
Pre-Flight Information
Check-In Information
At The Airport
Opening times of Singapore Airlines' check-in counters vary by location. The general guidelines is that counters are open for check-in anywhere between 4 and 2 hours prior to the scheduled flight departure time. Check-in counters close between 1 hour and 30 minutes before a flight's scheduled departure.
Flights departing Singapore Changi Airport
Passengers departing Singapore Changi Airport may check-in from 48 hours prior and up until 40 minutes ahead of their scheduled flight time. Check-in counters in Terminal 2 open at 4.30am and close at 10pm. The counters in Terminal 3 open at 4.30am and close at 2am.
Kiosk Check-In
Check-in kiosks are available for Singapore Airlines passengers at 19 airports around the world, including Auckland Airport, London Heathrow, Melbourne Airport, Singapore Changi Airport and San Francisco International Airport. Passengers cannot use the kiosk check-in service if their passport or visa is not machine-readable, their booking is not confirmed, they are an unaccompanied minor, an extra seat has been booked, or if special assistance is required. Passengers departing from Singapore Changi Airport may use the kiosks to check-in up to 24 hours ahead of their flight time.
Online Check-In
Singapore Airlines' online check-in is available from 48 hours before and up until 90 minutes ahead of a flight's scheduled departure. Passengers travelling from select cities may opt to print their boarding passes at home or download their boarding pass onto their smartphone.
Baggage
Cabin Baggage
Economy Class and Premium Economy Class passengers are permitted one piece of cabin baggage, weighing no more than 7kg. Those passengers travelling in Suites, First Class and Business Class may carry two pieces of cabin baggage, weighing no more than 7kg each. All passengers may also carry one additional item free of charge. This item may be a handbag, camera bag, document bag, overcoat, umbrella, laptop or notebook in a bag. An infant's amenities (up to 6kg), walking stick, crutches, prosthetic devices and a small amount of duty free goods are also covered in this additional allowance.
Checked Baggage
Singapore Airlines' checked baggage allowance is dependent upon a flight's destination, and is calculated either by weight or piece. Allocated baggage allowance is displayed at the time of booking.
Weight (flights to and from all destinations excluding those departing from the United States)
Passengers travelling in Suites or First Class have a 50kg standard allowance for checked baggage. Business Class passengers may check in bags weighing up to 40kg, and Premium Class Passengers can check bags of up to 35kg. The allowance for those travelling in Economy Class varies by fare type: Flexi tickets permits 35kg, Standard permits 30kg and Lite allows for bags of 30kg.
PPS Club members receive an additional baggage allowance of between 30kg and 50kg, depending on the class of travel. Krisflyer Elite Gold members and Star Alliance Gold members travelling in any of Singapore Airlines' flight classes also receive an additional 20kg of checked baggage.
Piece (flights to and from the USA only)
Passengers travelling to or from the USA may travel with two pieces of checked baggage. Pieces carried by Suite, First Class and Business Class passengers may weigh up to 32kg each, while Premium Economy Class and Economy Class passengers are entitled to two luggage pieces weighing up to 23kg each.
An additional two pieces, weighing up to 32kg each, may be carried by PPS Club members travelling in Suites, First Class and Business Class. Members with seats in Premium Economy Class or Economy Class may travel with two additional pieces, weighing no more than 23kg each.
Krisflyer Elite Gold members and Star Alliance Gold members are entitled to an extra piece of checked baggage each. The weight limit for this piece is capped at 32kg for Suites, First Class and Business Class passengers, and 23kg for Premium Economy and Economy Class passengers.
KrisFlyer
Singapore Airlines' loyalty program is KrisFlyer. As well as Singapore Airlines, there are more than 30 airlines that are a part of KrisFlyer, including Scoot, SilkAir and Star Alliance member airlines. Plus, there are more than 200 additional non-airline partners, covering credit cards, car rental, hotels, banks, and more. KrisFlyer members earn miles when booking flights with partner airlines (tier bonuses are awarded for flights flown with Singapore Airlines or SilkAir), or making purchases through on-the-ground partners. KrisFlyer miles may be redeemed for flight upgrades, hotel room bookings, car hire and shopping discounts. The program has three tiers: KrisFlyer, KrisFlyer Elite Silver and KrisFlyer Elite Gold. The entry-level KrisFlyer is free to join, and passengers move up tiers based on mile accrual. KrisFlyer membership privileges include exclusive KrisWorld content, member-only promotions, priority check-in and boarding, lounge access, and discounts on flight add-ons such as additional baggage.
PPS Club
The PPS Club is an exclusive membership program available to travellers who achieve 25,000 in PPS Value within a 12-month window. PPS Value is earned through travel in Singapore Airlines Suites, First Class or Business Class, and the total Value is calculated based on airfare cost and applicable surcharges. If 50,000 total PPS Value is earned within 12 months, members are elevated to the Solitaire PPS Club. Members enjoy seat selection privileges and upgrades, and earn additional KrisFlyer miles as they travel. As a member of the PPS Club, any KrisFlyer miles collected do not expire.
Lounges
SilverKris Lounge
SilverKris Lounges are available to passengers travelling in Singapore Airlines Business or First Class. SilverKris Lounges may be divided into two separate spaces, one for Business Class passengers and another for First Class travellers. Those travelling on a Star Alliance carrier and who hold KrisFlyer Elite Gold, PPS Club or Solitaire PPS Club membership are also able to access the SilverKris Lounges. The lounges provide both leisure and business facilities, and may be equipped with productivity pods, Singapore Airlines' signature armchairs, WiFi, showering facilities, and kitchens offering an extensive range of food and drinks. All SilverKris Lounges have been designed and styled to make passengers feel comfortable, relaxed and at home. SilverKris Lounges are located in Singapore, Adelaide, Bangkok, Brisbane, Hong Kong, Kuala Lumpur, London, Manila, Melbourne, New Delhi, Perth, Seoul, Sydney and Taipei.
KrisFlyer Gold Lounge
The exclusive KrisFlyer Gold Lounge is located in Terminal 2 of Singapore Changi Airport. A second KrisFlyer Gold Lounge is slated to open in Terminal 3 by mid-2021. The lounge is open 24 hours a day, and is home to buffet food stations, free WiFi, and relaxation spaces with TVs. KrisFlyer Gold Lounges is available to KrisFlyer Elite Gold members travelling in Economy or Premium Economy on Singapore Airlines flights. The lounge is also accessible to Star Alliance Gold and Velocity Gold frequent flyers.
The Private Room
This VIP lounge is the most exclusive of Singapore Airlines' passenger lounges. It is located in Singapore Changi Airport and is only available to Suite or First Class passengers departing on an outbound flight. Guests are not permitted access to The Private Room. It is open between 5.30am and 2.30am daily. More akin to a fine-dining restaurant than airport lounge, The Private Room offers a la carte dining across starters, mains and desserts. There is also a self-serve food station, as well as a family room/nursing room, shower facilities and quiet spaces.
Partner Lounges
Through the Star Alliance program, some Singapore Airlines passengers are able to access affiliated airline partner lounges. An extensive list of partner lounges includes 49 destinations, ranging from Amsterdam, Beijing and New York City, to San Francisco, Tokyo, Yangon and Zurich.
In-Flight Experience
In-flight Entertainment
Singapore Airlines' in-flight entertainment is KrisWorld. It has a huge offering, with more than 1,800 on-demand movies, TV shows, music albums, games and apps available to passengers in all classes. However, availability of KrisWorld may vary between aircraft. WiFi is available on all A350, A380, B777-300ER and B787-10 aircraft. Free unlimited WiFI access is available to Suites and First Class travellers, and Business Class and PPS Club members are entitled to 100MB of complementary data. Passengers travelling in all other cabin classes may purchase an in-flight WiFi plan of between 30MB and 200MB.
Dining
Passengers travelling on long-haul Singapore Airlines flights receive between one to three in-flight meal services, no matter the class of travel. Passengers in Economy Class typically receive a choice of three meal options, with a range of regional and Western dishes on offer. Snacks and beverages are also provided.
Those travelling in Suite, First or Business Class have the opportunity to order their meals ahead of time, thanks to Singapore Airlines' 'Book the Cook' service. Dishes available through 'Book the Cook' vary depending on flight route and travel class, however the range of cuisines and meals is impressive - many designed by the airline's International Culinary Panel of world-renowned chefs. The 'Book the Cook' option is applicable to the main meal of dining service, as well as breakfasts and refreshments on some routes. Passengers can peruse menus featuring everything from roast chicken and pak choy, grilled scallops with dill pesto, and suckling pig with beer sauce. Some of the cuisine on offer include Western, Japanese, Thai, Malay, Singaporean and Indian, as well as wholesome options. 'Book the Cook' is available up to 24 hours before scheduled flight departure. A 'Premium Economy Book the Cook' service is also available.
For their youngest passengers, Singapore Airlines offers their Yummy! in-flight meal service. Available to children travelling in Suites, First Class and Business Class, this service is designed around meals well suited to young palates. Expect options such as burgers and potato chips, chicken and vegetable lasagne, macaroni and cheese, and spaghetti and meatballs.
To complement its culinary offering, Singapore Airlines invites three of the world's leading wine experts - Jeannie Cho Lee, Michael Hill Smith and Oz Smith - to curate its in-flight wine menu every year. More than 1,000 wines are tasted over the course of 12 months, and the varietals are tested under cabin pressure to find the vintages best suited to the unique conditions of air travel. For passengers not sure which wine to choose, Singapore Airlines' Air Sommeliers are on-hand to assist with selection.
Singapore Airlines has meal options that cater to special needs and requests, be it for religious, dietary or allergy reasons. Special meals can be arranged by contacting the airline directly, ahead of your flight.
Cabin Class
Economy Class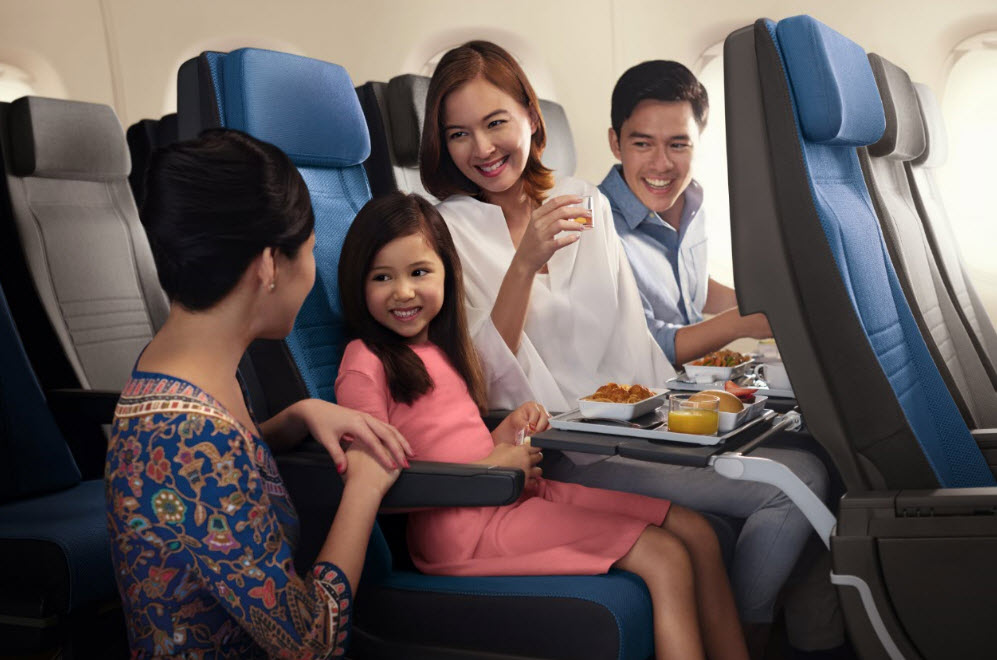 Singapore Airlines' Economy Class seats feature ergonomically-designed backrests and comfortable cushioned headrests. The pitch on Economy Class seats ranges from 32 to 35 inches, and seat width is between 17.5 to 19 inches - both dependent upon aircraft type. Economy Class passengers have on-demand access to the KrisWorld entertainment system, and seats on some aircraft have laptop power and the option for WiFi connectivity (available for an additional fee).
Premium Economy Class
A 38-inch seat pitch, in-built foot and calf rest, and spacious seat width of up to 19.5 inches are offered to Singapore Airlines Premium Economy Class passengers. These seats have a 2-4-2 cabin configuration, and are provided with all the features included with Economy Class travel. All seats have laptop power, and some have dedicated storage spaces.
Business Class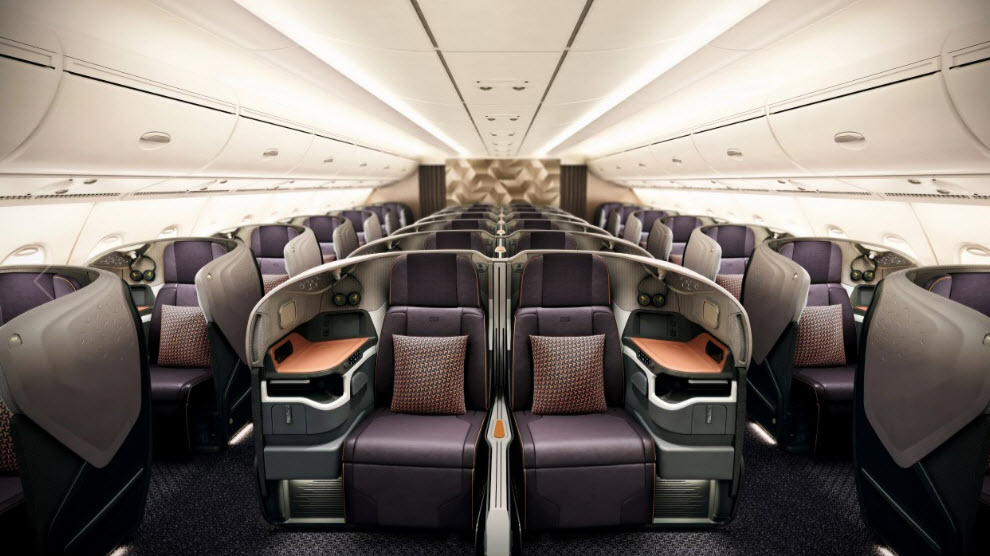 Singapore Airlines has two types of Business Class seat: angle lie-flat or complete flat-lie beds. Business Class cabins typically feature a 1-2-1 configuration. The pitch on Business Class seats ranges from 51 to 76 inches, and seat width is between 24.5 to 30 inches. All seats are designed with leather upholstery, personal stowage spaces, power connectivity and direct aisle access. Additional features (dependent on aircraft) include vanity mirrors, sculpted wing backs, personal dividers, noise-cancelling headphones, and swivel lights.
First Class
Singapore Airlines' First Class extra wide seats are upholstered in buttery leather and have been designed to deliver the utmost in privacy and luxury, with curved cradle-like backs, sculpted headrests and plush back cushions. Seat designs are either closed suite, open suite or flat beds, and the beds can be made up with linen, duvet and pillows. Ferragamo amenity kits are provided. The pitch of Singapore Airlines First Class seats ranges from 71 to 81 inches, and width is 35 inches across all aircraft types.
Suites
The Singapore Airlines Suites are the ultimate in air travel. These individual cabins are equipped with its own door, window blinds, leather armchairs and full standalone beds. Other features include 32-inch touch-screen monitors, enhanced KrisWorld systems, wireless tablets, and luxurious lavatories with ensuite wardrobes. The Suite in-flight meal service is presented on bone Wedgwood china (made exclusively for Singapore Airlines) and on personal dining tables. Suites are available in Single or Double options.
Frequently Asked Questions
Where does Singapore Airlines fly to?
Singapore Airlines serves flight routes across the globe, touching down in destinations across Australia, Europe, Asia and North America.

Is Singapore Airlines a budget airline?
Singapore Airlines is not a budget airline. It is a full-service airline and all flight classes receive in-flight dining and entertainment options (varying depending on aircraft type).

Does Singapore Airlines have WiFi?
Singapore Airlines does have in-flight WiFi connectivity, however it is not a free inclusion for travelling with an Economy and Premium Economy airfare. Three in-flight plans are available for Economy and Premium Economy passengers to purchase: Chat (30MB at $3.99 USD), Pro (100MB at $9.99 USD) and Premium (200MB at $15.99 USD).
Passengers travelling in Suites, First Class and Business Class, as well as PPS Club members, receive free WiFi access while on-board. Those travelling in Suites and First Class receive unlimited data, and Business Class passengers and PPS Club members are given a 100MB per flight data allowance.
Cheap Flights on Webjet
Webjet Top Airlines
*Prices are subject to availability, include taxes and airline surcharges. All prices on this page are subject to change without notice. Whilst Webjet makes every effort to provide you with accurate and up-to-date information, in the event a product is listed at an incorrect price, whether due to typographical, photographic, or otherwise, Webjet may refuse or cancel any orders placed for a product listed at the incorrect price.