Singapore Airlines is a company that prides itself on innovation. Based in Changi Airport, Singapore Airlines has been the first airline to achieve many things. In 2007, they were the first airline to start flying Airbus A380s and are now proud of their fleet of over 100 aircrafts, prioritising comfort and space for all passengers. Flying to over 62 destinations and one of the main airlines throughout South-east Asia, Singapore Airlines now also provides a low-cost option through their own carrier Scoot. In more recent years, they have heavily invested in refining their inflight dining experience, publishing their very own cookbook in 2010.
*Prices on this page are subject to change without notice, perform a search to view live pricing. Prices are inclusive of taxes and airline surcharges.
Webjet flight fees per booking:
Webjet Servicing Fee
: Domestic $21.95, NZ/Pacific $24.95, International $32.95.
Booking Price Guarantee
: Domestic $12.95, NZ/Pacific $14.95, International $21.95. Varying
payment fees
are included in the price breakdown on Webjet's checkout page, once your payment method has been selected.
< EMPTY POPULAR DESTINATIONS MODULE >
KrisFlyer is Singapore Airlines' very own frequent flyer programme, for rewarding passengers for traveling and when they are at home. Travelers can earn points through flights, shopping, hotels, car hire and more. Customers are also able to earn and redeem miles within the Singapore Airlines Group which includes Virgin Australia and the Star Alliance network.
With three triers, KrisFlyer, KrisFlyer Elite Silver and KrisFlyer Elite Gold, passengers advance as they travel more, with added bonuses such as miles, priority check-in, boarding and baggage handling, lounge access and more.
In-Flight Entertainment
Singapore Airlines has a wide selection of in-flight entertainment offerings, ranging from over 1400 on-demand movies, TV shows, music and more. All entertainment options can be accessed within Krisworld, their very own in-flight entertainment system. To ensure premium comfort, travelers are able to enjoy Krisworld from their very own personal electronic devices. Singapore Airlines also offers a range of games and apps to keep travelers entertained.
In-flight Wi-Fi is one other convenient service offered by Singapore Airlines on all aircrafts to make sure travelers are able to stay connected with loved ones. Customers are also able to access the internet or send text messages via data roaming on-board. For all passengers travelling in Suites, First Class, Business Class, PPS Club members, supplementary cardholders and KrisFlyer members in Premium Economy or Business Class are given a Wi-Fi allowance based on their class of travel.

Dining
When designing the premium menu for Singapore Airlines, chefs have taken a range of elements into account including the cabin pressure of flights, which can influence the perceived taste of different foods.
Once Suites, First, Business or Premium Economy Class travelers receive confirmation of their booking, they are able to pre-select their main course meal up to 7 days before their flight.
Pre-ordering of meals varies from flight to flight. Traveler's are able to confirm upon booking.
The 'Book the Cook' experience offered by Singapore Airlines is not one traveler's find frequently, presenting travelers with a restaurant look and feel and serving up world class dishes. Passengers are able to select from a range of meals, including creations inspired by their International Culinary Panel. 'Book the Cook' availability varies between aircraft and travel class.
Singapore Airlines prides themselves on providing meals for enjoyment as well as catering to dietary requirements such as religious, dietary or allergy needs, or even for teething toddlers. All that is required is a request from the list of Special Meals. They ask travelers to make any requests at least 48 hours prior to departure from Istanbul and at least 32 hours prior to takeoff when departing from Dubai, Fukuoka, Haneda, Hong Kong, Incheon, Nagoya, Narita, Osaka, Perth, Taipei.
Singapore Airlines also strives to serve the best wine to travelers, having the world's leading experts tasting over 1000 different drops each year. They again, ensure to take into account all the elements when flying like cabin pressure, to ensure passengers can enjoy something special onboard.

+1 more
Economy Class
Economy seating on Singapore offers comfortable seating, quality meals and friendly service for all passengers.
Economy Class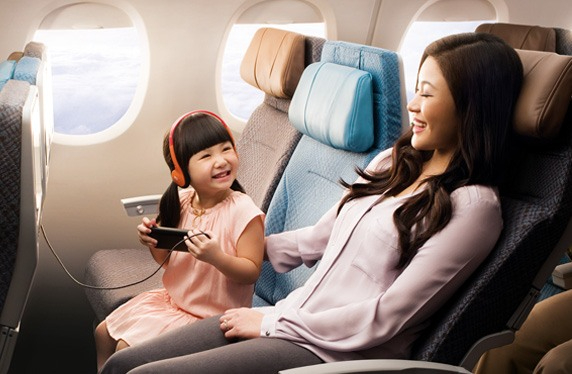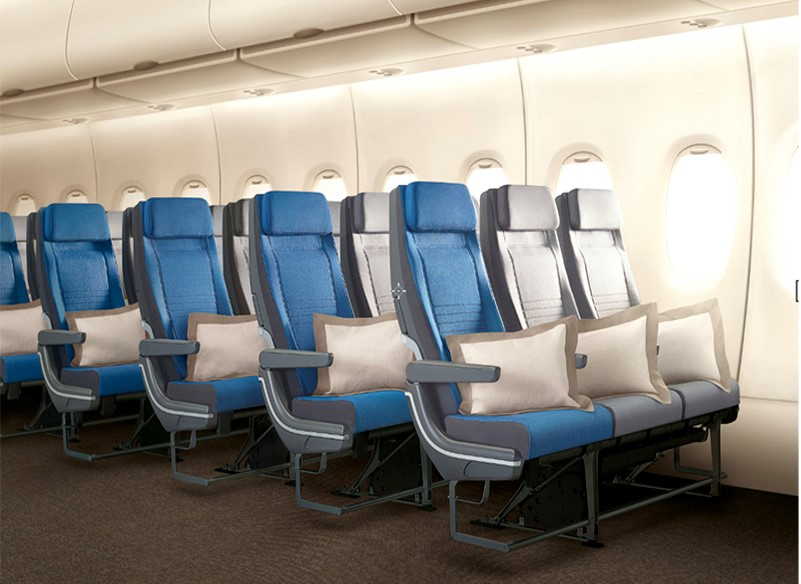 +1 more
In-Flight Entertainment
Singapore Airlines offers in-flight entertainment across all seating classes, with different options available across their fleet of A350, A380, 737, 777 and 787 craft.
In-Flight Entertainment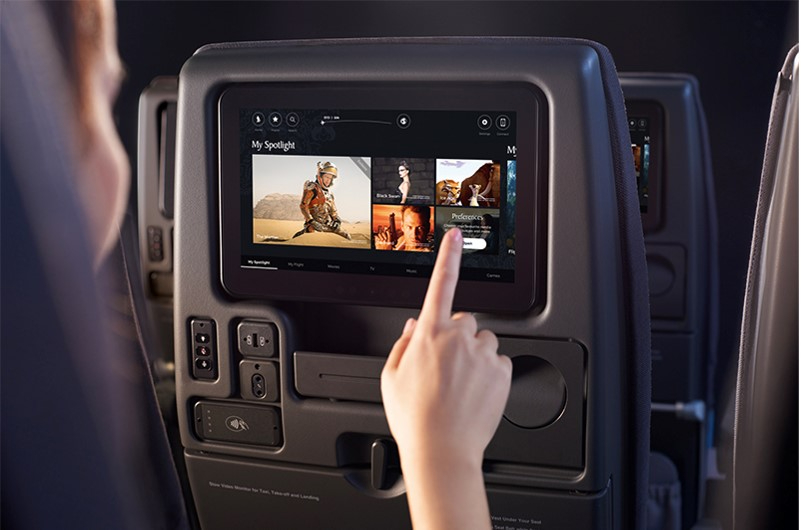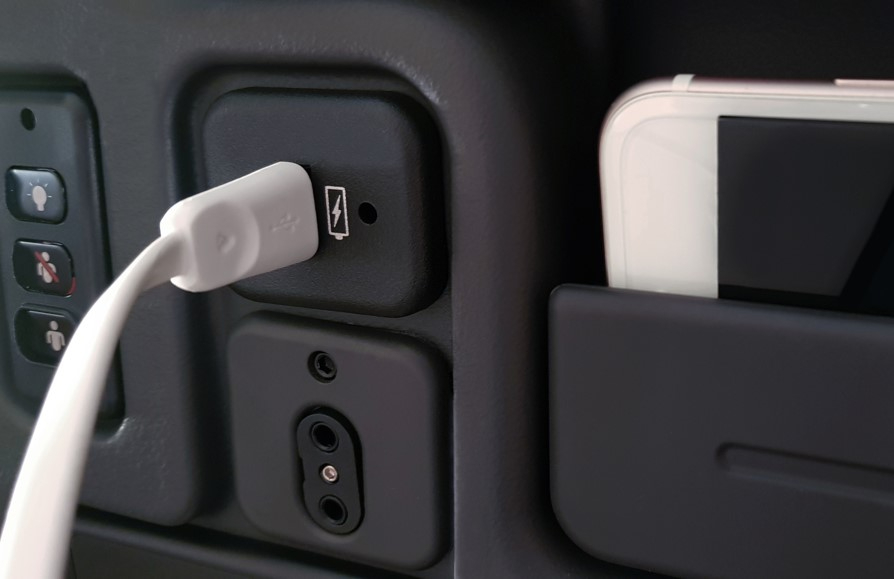 Business Class
Singapore Airlines offers Business Class seats across it's fleet of aircraft. They feature highly comfortable flat-lay seating, great dining options, and plenty of space for your items.
Business Class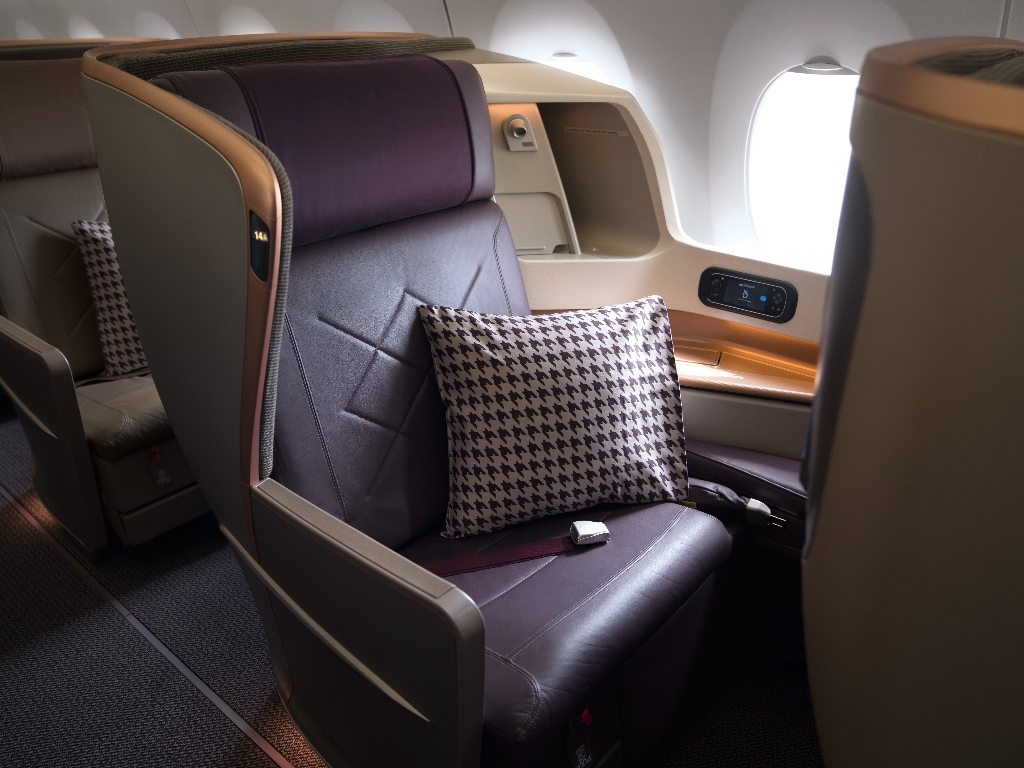 Economy Class
Singapore Airlines Economy Class has been designed to ensure travelers the maximum amount of personal space. For those who require extra legroom, there are Extra Legroom Seats available with wider pitches and located near exits.
Premium Economy Class
Designed with greater width seats, the Singapore Airlines Premium Economy Class experience is designed for enhanced comfort. With premium options such as the 'Book the Cook' experience available, flying Premium Economy lets passengers sit back, relax and smile.
First Class
Singapore Airlines First Class travel offers a range of features across their Boeing 777 aircrafts. With sculpted headrests, extra-wide, plush seats and extended curved partitions for added privacy, they ensure premium comfort. With all the KrisWorld in-flight entertainment and the 'Book the Cook' experience available, the First Class Singapore Airlines experience offers a premium experience.
Business Class
The Singapore Business Class experience strives to ensure everything goes to plan. Allowing customers to pre-book their meal with 'Book the Chef' and an uninterrupted sleep with a fully reclining bed, so passengers are refreshed and awake ready for business upon landing.
Suites
Singapore Airlines also has Suites available for travelers looking for added privacy. With rich, leather upholstery seats that are reclinable and swivel freely, double bed suites suited to those travelling with loved ones, sliding doors to create a private space and HD touchscreen monitors paired with noise-cancelling headphones for an enhanced KrisWorld experience. These gorgeous suites also have spacious lavatories to complete the experience, with a sit-down vanity counter and range of luxury toiletries.

Search Cheap flights on Webjet
Check out some of Webjet's most popular airlines.
Frequently Asked Questions