Founded in 1994, Qatar Airways is not only the Qatari national carrier but also one of the youngest international airlines to fly to all six inhabited continents. Home to one of the most innovative and modern fleets, Qatar Airways' spacious and comfortable seating, delectable cuisine, extensive entertainment options, and award-winning service help make a flight of any length a remarkable experience.
*Prices on this page are subject to change without notice, perform a search to view live pricing. Prices are inclusive of taxes and airline surcharges.
Webjet flight fees per booking:
Webjet Servicing Fee
: Domestic $21.95, NZ/Pacific $24.95, International $32.95.
Booking Price Guarantee
: Domestic $12.95, NZ/Pacific $14.95, International $21.95. Varying
payment fees
are included in the price breakdown on Webjet's checkout page, once your payment method has been selected.
< EMPTY POPULAR DESTINATIONS MODULE >
Qatar Airways' loyalty program is the Privilege Club. The program consists of four membership tiers: Burgundy, Silver, Gold, and Platinum. Privilege Club members move between the program's tiers by accumulating Qpoints, which are collected by flying with Qatar Airways or oneworld member airlines, staying at partner hotels, using partner credit cards, booking select hire cars and using other partner services. It's free to join the Privilege Club.
Benefits vary between membership tiers but may include perks such as priority seating, priority check-in, priority boarding, additional baggage allowances, flight class upgrades, lounge access and more.
In-flight entertainment
Qatar Airways' on-demand entertainment service, Oryx One, allows passengers to choose from thousands of entertainment options, including hundreds of movies in various languages, TV box sets, audio, games, and much more. For young travellers, a variety of popular children's content is available, including top television shows, video games and cartoons.
Dining
Qatar Airways' Economy Class dining offering features a menu of dishes designed to showcase the quality and freshness of the ingredients used. In addition, a selection of starters, mains and desserts are available. Digital menus may be viewed prior to departure.
Business Class passengers can access an on-demand a la carte menu featuring items such as soups, appetisers, mains curated by award-winning chefs, afternoon tea, cheese platters, desserts and more. Seats in Business Class feature a spacious dining area, allowing passengers to enjoy their meal in comfort.
Those travelling in First Class may also access an on-demand a la carte menu, allowing passengers to choose what to eat and when. The menu includes a caviar service, fresh-baked artisan bread, starters, mains, sweet treats and more.
Various beverages, including wine, spirits, mocktails, fruit juices, tea, coffee, and more, are available.
Special meals
Qatar Airways serves a selection of special meals, helping to meet the varied dietary needs of its passengers. All meals served by Qatar Airways are halal; however, meals to suit other cultural and religious dietary needs are available. Meals catering to the unique dietary requirements of some medical conditions, such as diabetes, gluten intolerance and lactose intolerance, may also be requested.
Special meals must be requested at least 24 hours prior to departure.

+1 more
In-flight Experience
Expect spacious and comfortable seating, delectable cuisine, extensive entertainment options, and and award-winning service.
In-flight Experience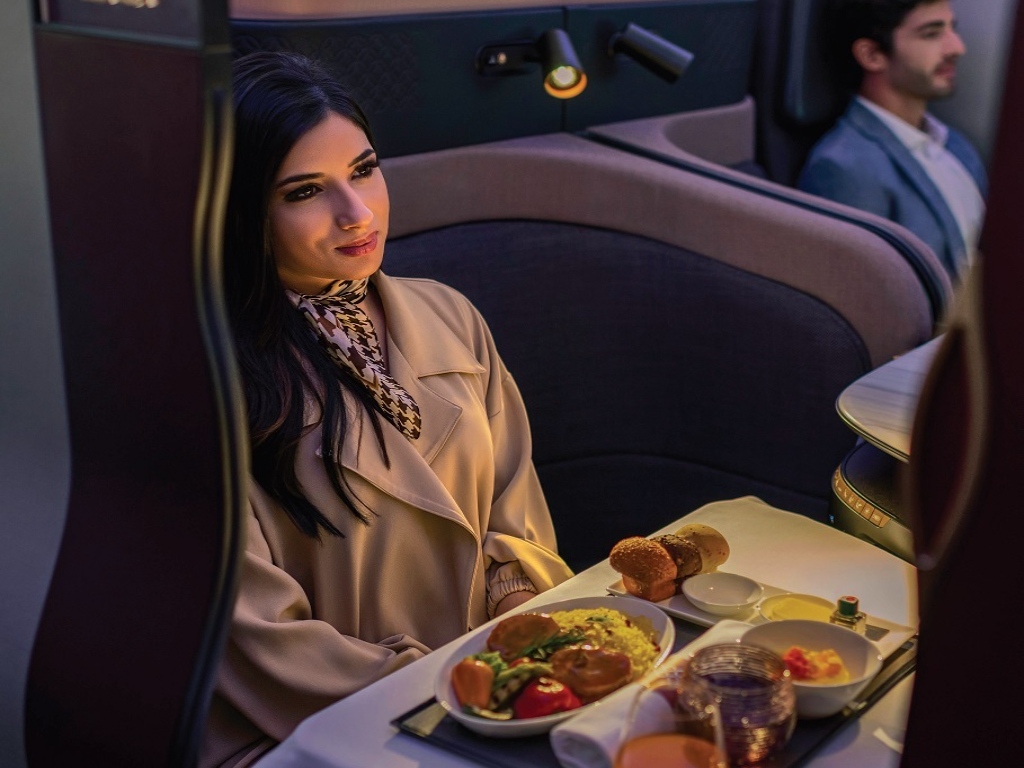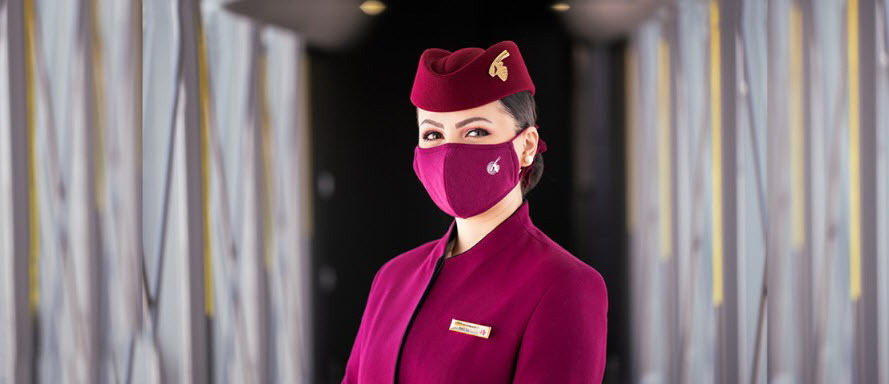 +1 more
Economy Class
QATAR offers a comfortable and enjoyable experience for those travelling in Economy Class.
Economy Class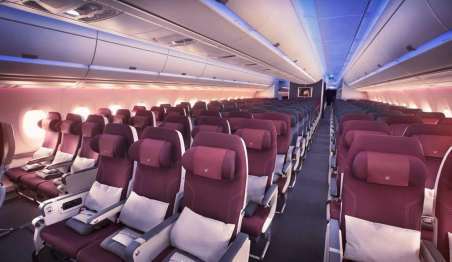 Economy Class
With some of the widest seats in the industry, Qatar Airways' Economy Class is designed to provide plenty of comfort and space. Whether you plan to sleep for the duration of your flight or simply take some time to stretch out and unwind, the spacious seating offers enough room for a comfortable trip. Economy Class passengers on long-haul flights can use the provided amenity kits to ensure they reach their destination refreshed, while exceptional service from Qatar Airways award-winning crew ensures all passenger needs are met, regardless of flight duration.
Business Class
Whether travelling for work or leisure, Qatar Airways' Business Class offers unrivalled comfort, making a flight of any duration an experience in itself. The flight class' unique seat configuration makes it easy for passengers to customise their level of privacy, with moveable panels allowing for easy social interaction or complete privacy. When it comes time to rest, fully lie-flat beds dressed with a quilted mattress, pillows and a plush duvet offer ample comfort, while ambient mood lighting sets the scene for relaxation. Sleepwear and slippers by The White Company are provided on long-haul services, while amenity kits from Bric's and Castello Monte Vibiano Vecchio make it easy to stay refreshed en route to the next destination. Passengers are also provided with generous storage and access to a power port, USB plug, and the airline's OnAir mobile service.
First Class
For unparalleled comfort, privacy and no shortage of exclusive offerings, Qatar Airways' First Class is the perfect pick. Passengers arrive at their destination well-rested thanks to the cabin class' ultra-comfortable lie-flat beds and soft bedding, while loungewear designed by The White Company and luxurious Bric's and Castello Monte Vibiano Vecchio amenity kits make for great in-flight accompaniments. Those who are travelling for business or simply want to stay connected while in the air can make use of laptop power, on-board WiFi and handy USB plugs. Ample storage is also provided.

Search Cheap flights on Webjet
Frequently Asked Questions