Qantas is not only the flag carrier for Australia, but it is also the third-oldest airline in the world, celebrating its 100th birthday in 2020. Known for the emblematic 'Flying Kangaroo' on its tail wing, Qantas now operates as Australia's largest domestic and international airline.
Domestic Airfare Specials
*Prices on this page are subject to change without notice, perform a search to view live pricing. Prices are inclusive of taxes and airline surcharges.
Webjet flight fees per booking:
Webjet Servicing Fee
: Domestic $21.95, NZ/Pacific $24.95, International $32.95.
Booking Price Guarantee
: Domestic $12.95, NZ/Pacific $14.95, International $21.95. Varying
payment fees
are included in the price breakdown on Webjet's checkout page, once your payment method has been selected.
< EMPTY POPULAR DESTINATIONS MODULE >
The Qantas Club is a membership program operated by Qantas. Members of the Qantas Club enjoy access to a wide network of domestic and international lounges and are entitled to a variety of membership benefits, from access to premium service desks, additional checked baggage allowances and priority waitlisting to discounted rates on meeting room hire.
All new members are required to pay a one-off joining fee of $399 or 70,000 Qantas points. One-, two- and four-year memberships are available, with fees determined by the member's country of residency. A one-year membership for Australian residents typically costs $540 or 78,000 points, while two years is $980 or 155,000 points, and four years comes in at $1,850 or 285,000 points. For each dollar spent when joining or renewing their membership by credit card or cash, Qantas Club members earn three Qantas Points. Becoming a member of the Qantas Club also makes joining the Qantas Frequent Flyer program easy, with a complimentary membership offered on sign up.

In-Flight Entertainment
Qantas' in-flight entertainment offering includes a variety of movies, TV shows, news and more. The selection of entertainment - covering latest-release films, classic episodes of TV favourites, and limited episodes of other series - is updated monthly.
Dining
Passengers travelling internationally in Economy Class are provided with a selection of generously portioned dishes, each crafted with international flavours and delicious Australian ingredients. A choice of non-alcoholic beverages, spirits and Australian wines is provided. Passengers can access a self-serve snack bar stocked with food and drinks throughout their flight.
Premium Economy passengers are welcomed with a glass of Australian sparkling wine and are served a contemporary dining menu on tableware designed by David Caon. Meals are accompanied by a premium drink selection. Beverages and snacks are available throughout the flight through a self-serve snack bar or the continuous refreshment service.
International business class passengers are served a menu of contemporary seasonal meals. Focusing on choice, a variety of options are available, including light dishes, full meals and more. Refreshments are available from the in-flight bar or are prepared by the cabin crew. Qantas' Sommeliers in the Sky also serve wine originating from across Australia, New Zealand and beyond.
Those travelling in First Class enjoy a dining menu designed by Neil Perry. Focusing on the use of seasonal and artisan produce, passengers have the choice of full meals, tasting menus and more throughout their flight. All meals are presented on tableware designed by David Caon, with a selection of local and international wines served by Qantas' Sommeliers in the Sky.

+5 more
Business Class
Qantas Business offers more space, a dedicated cabin, premium dining, lounge access and outstanding service for your trip.
Business Class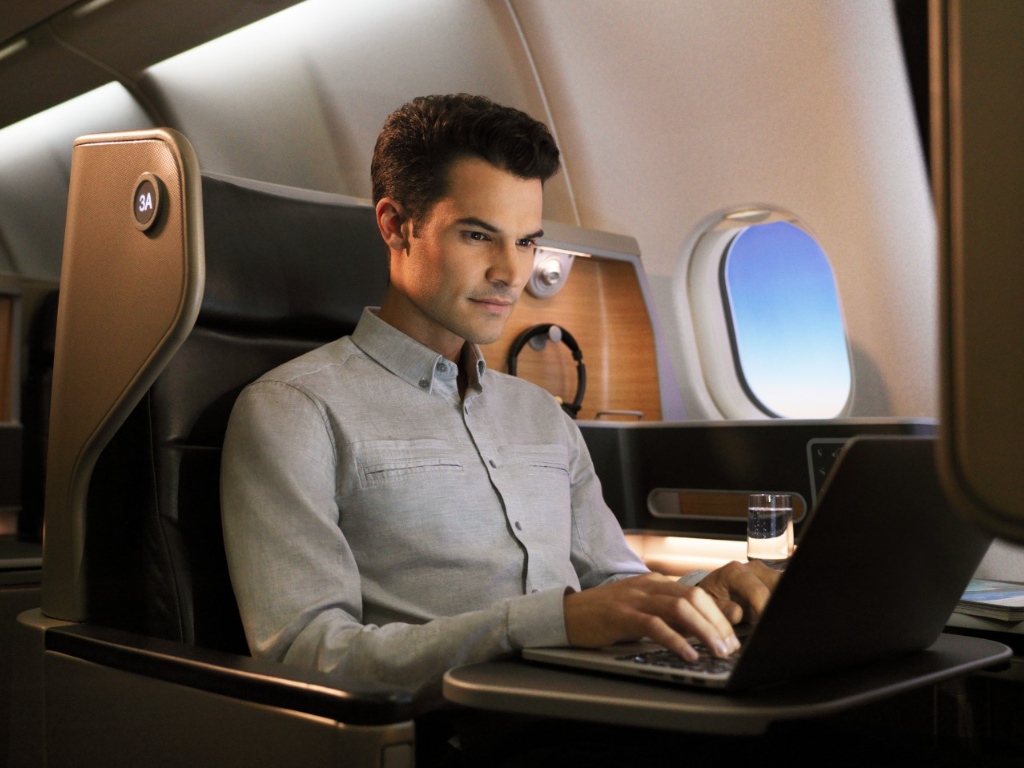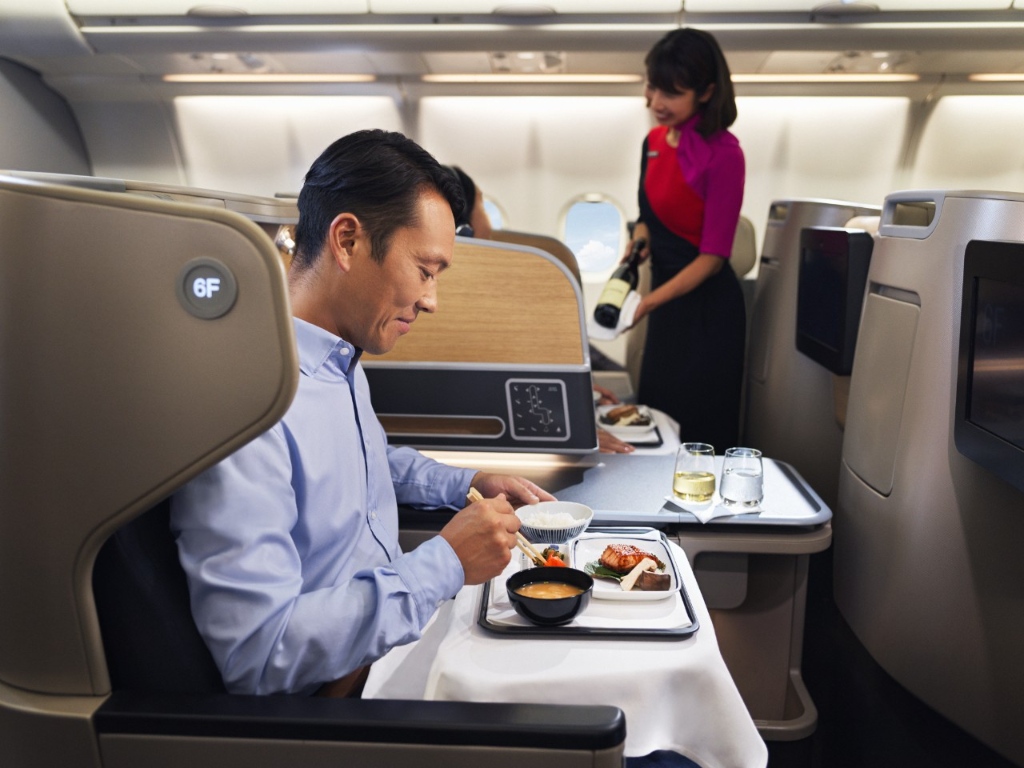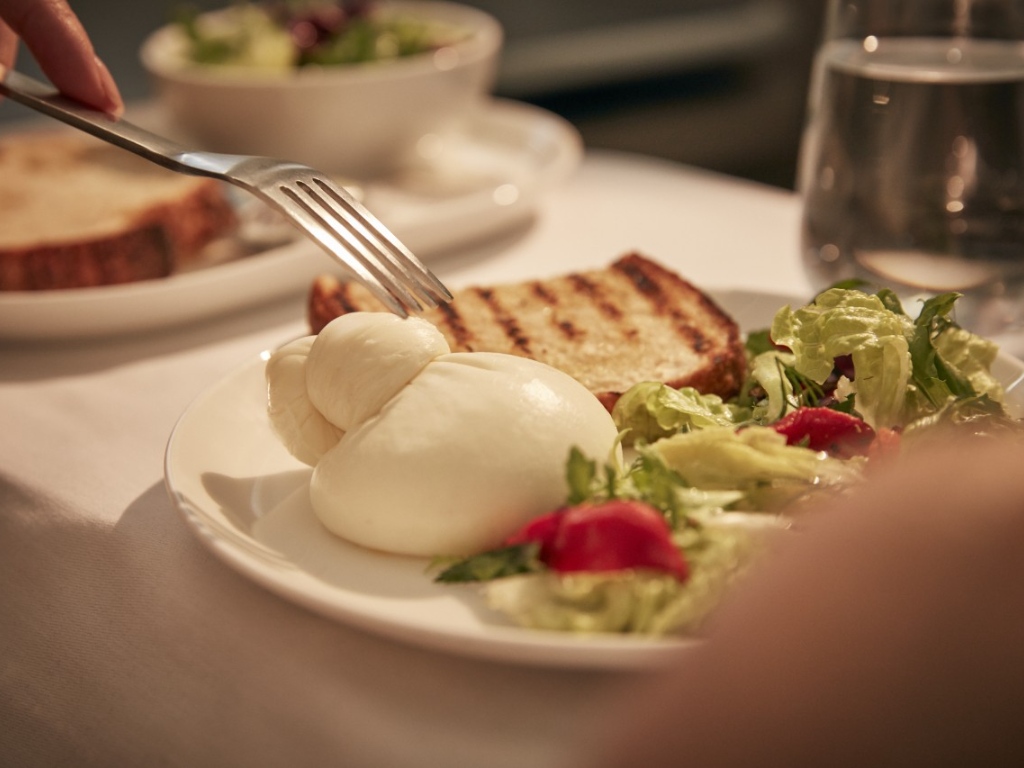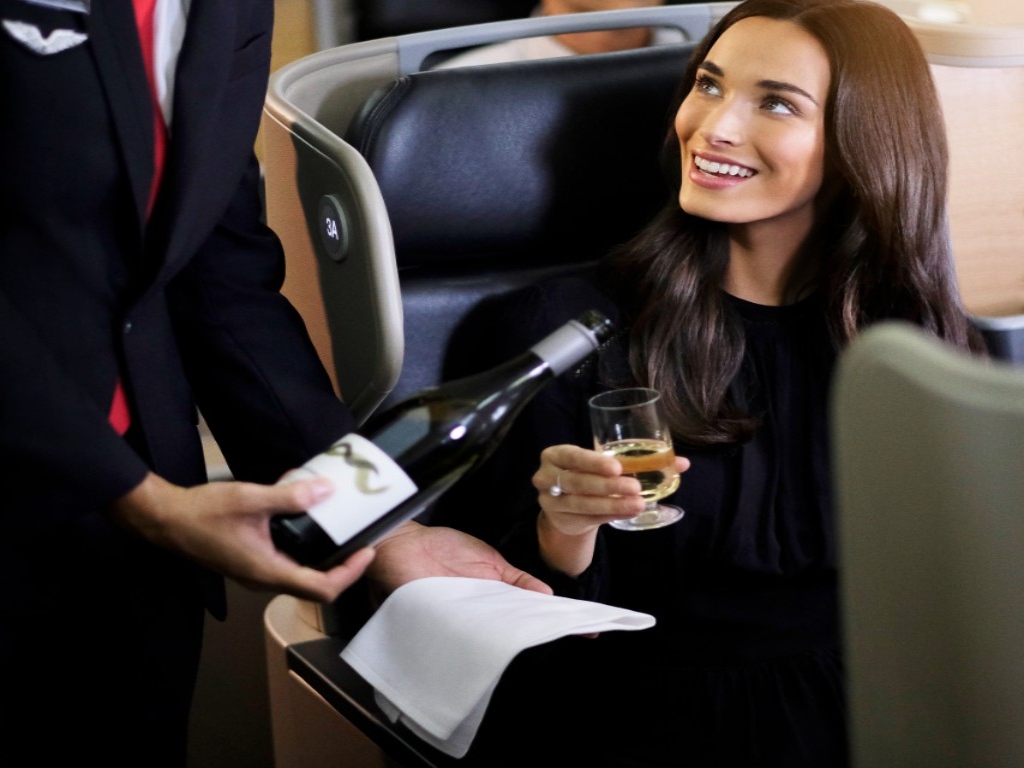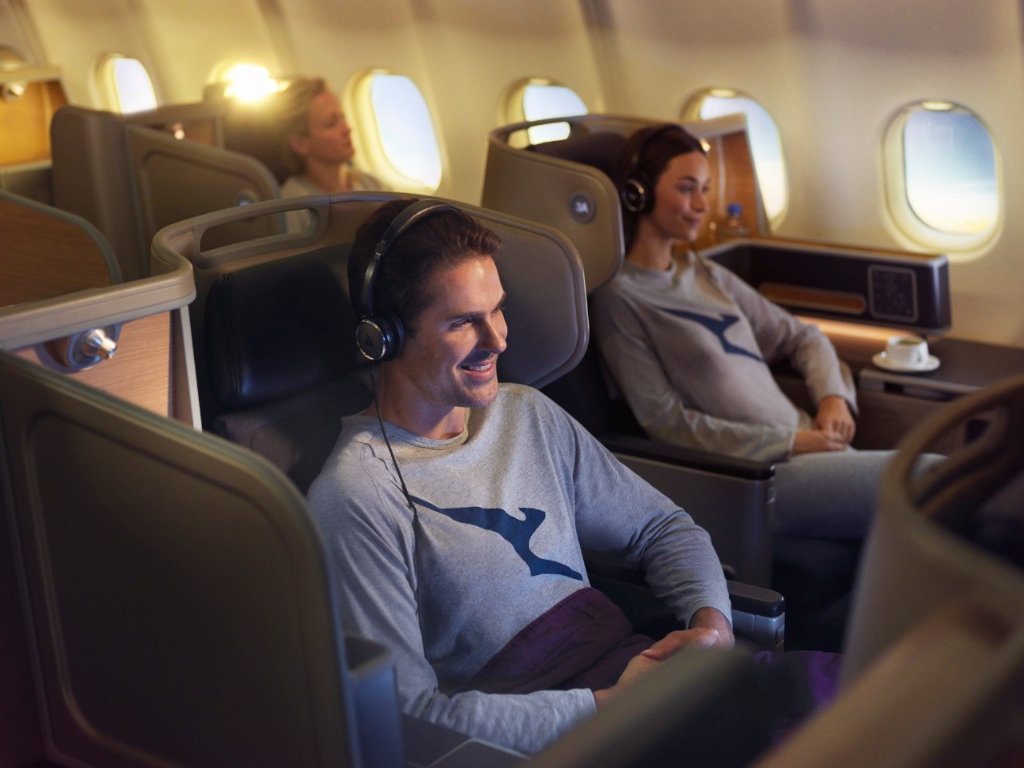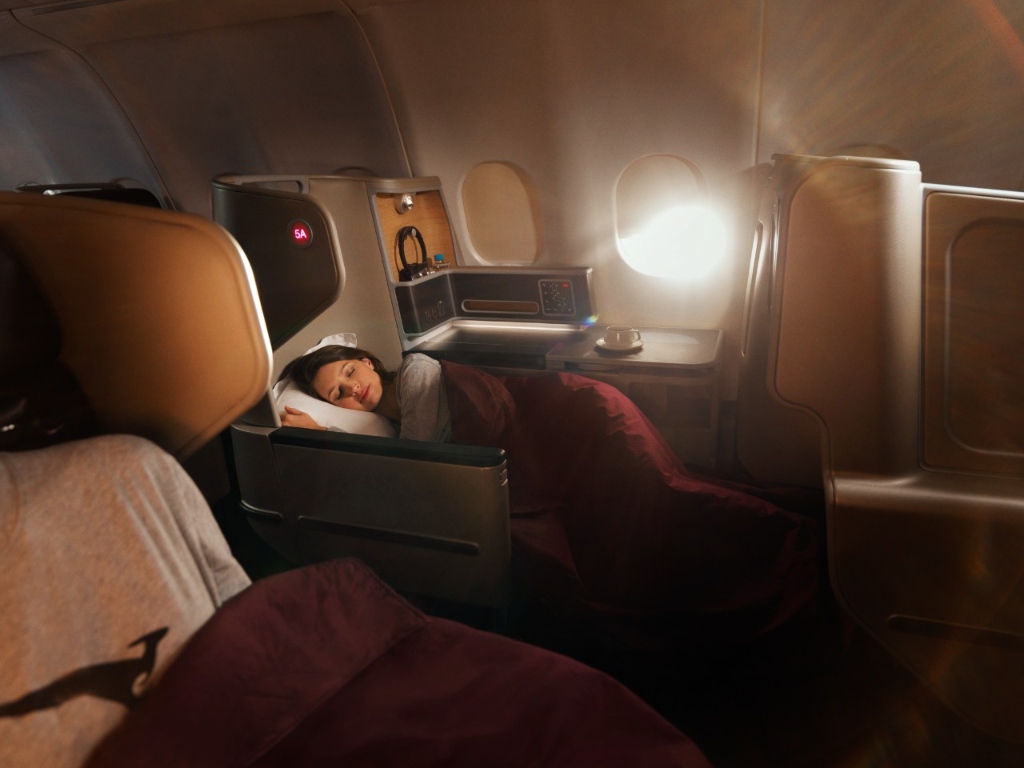 +6 more
Economy
Qantas Economy offers warm hospitality, premium dining and refreshments, reclining seats, and quality entertainment options.
Economy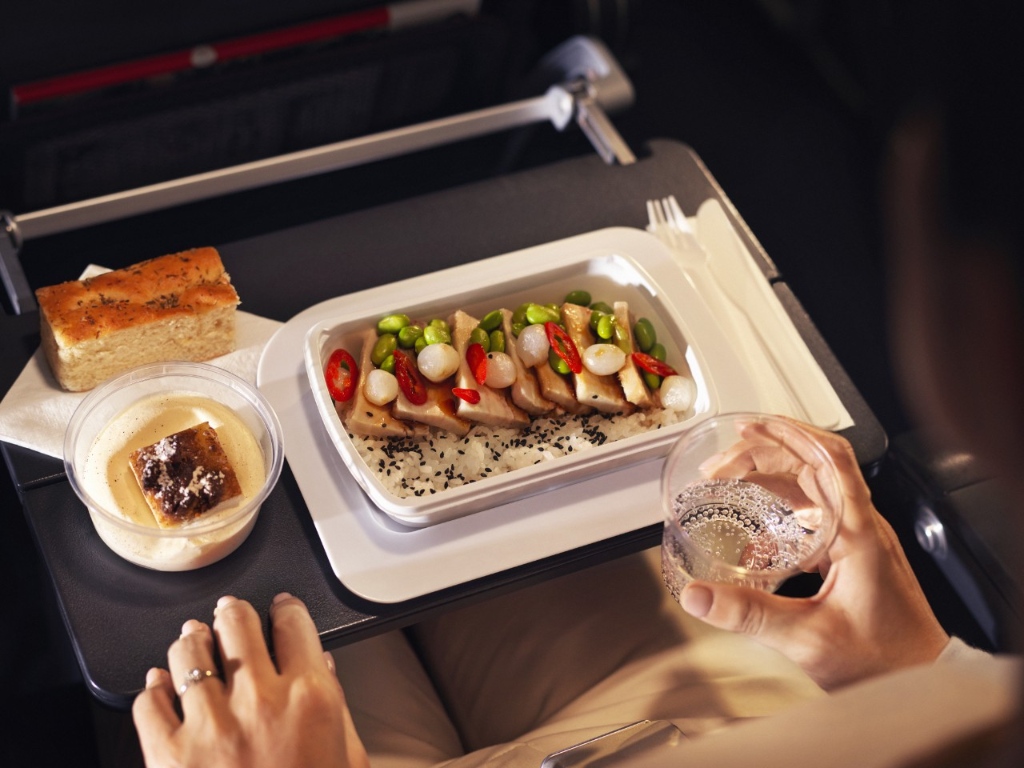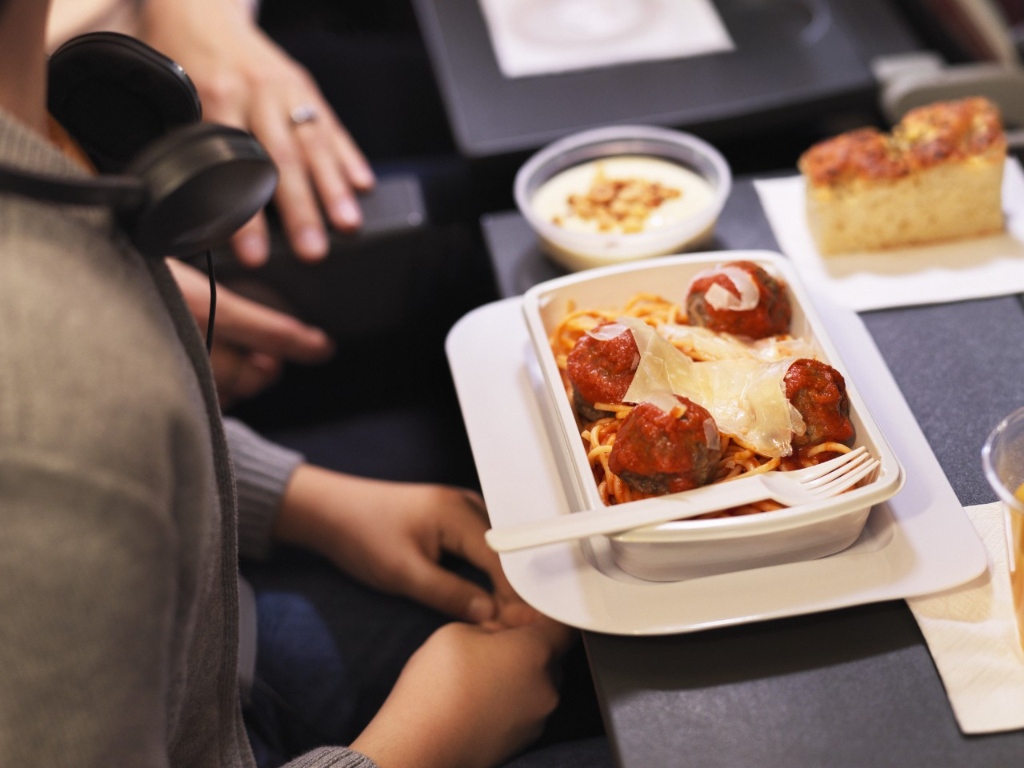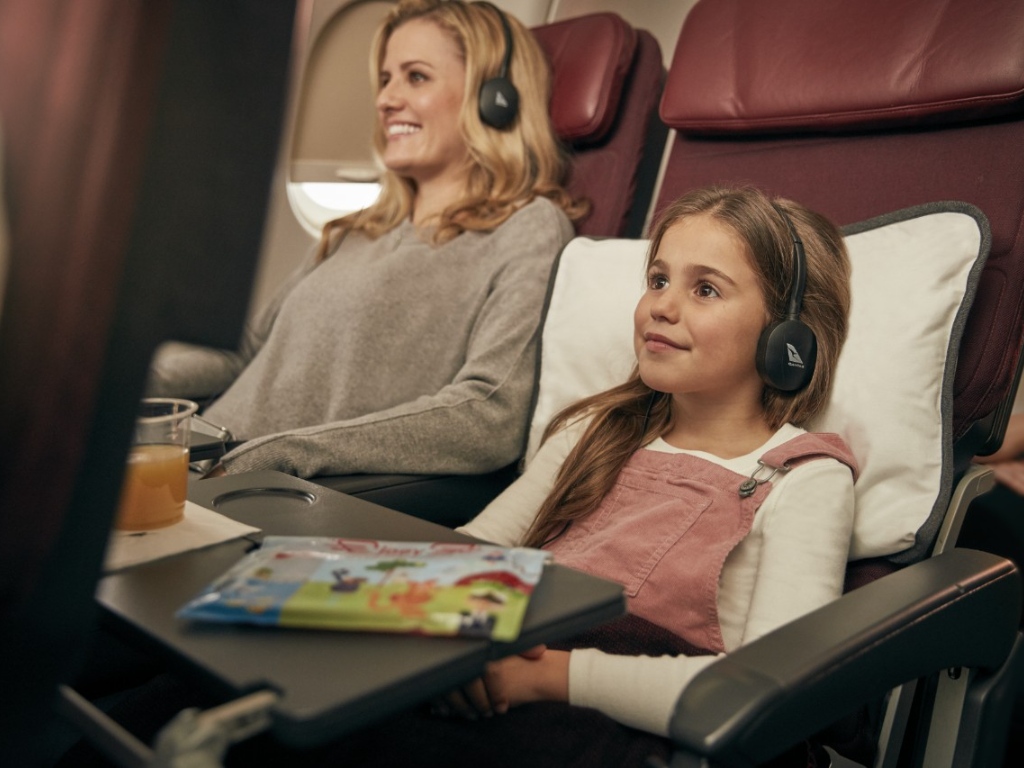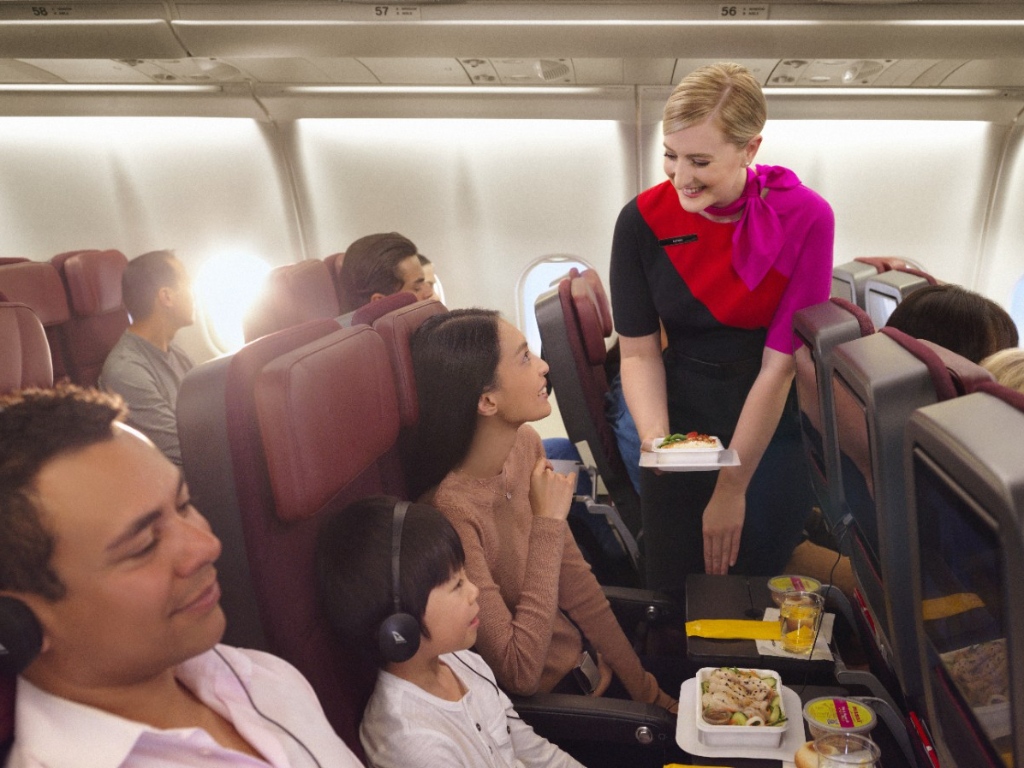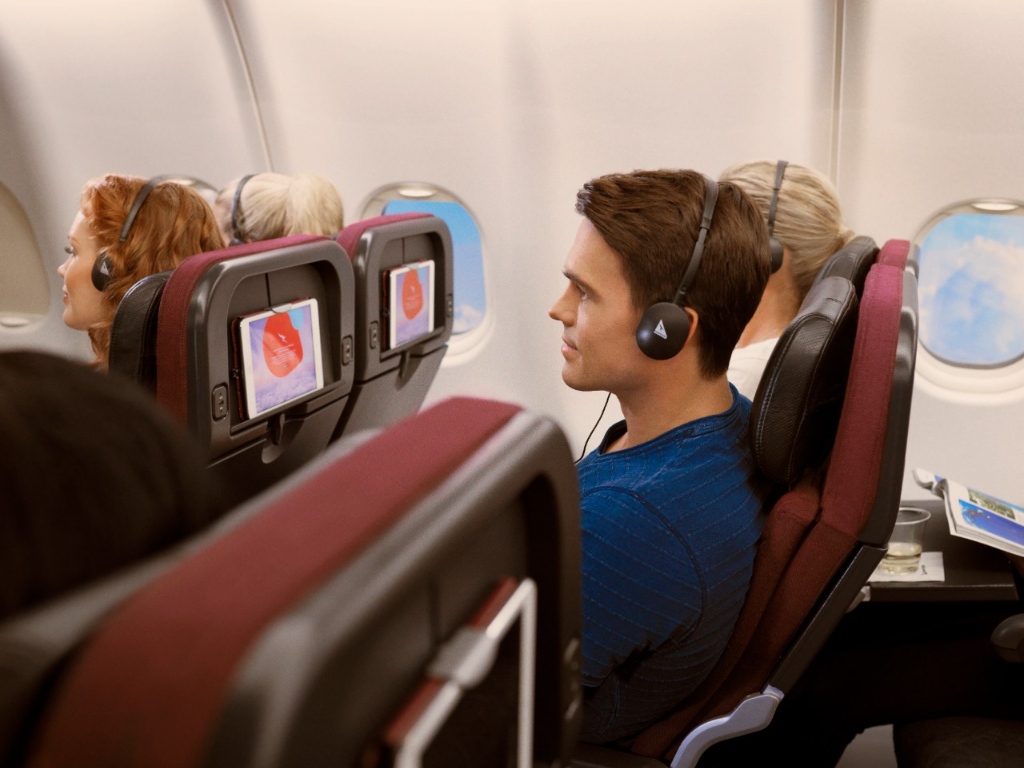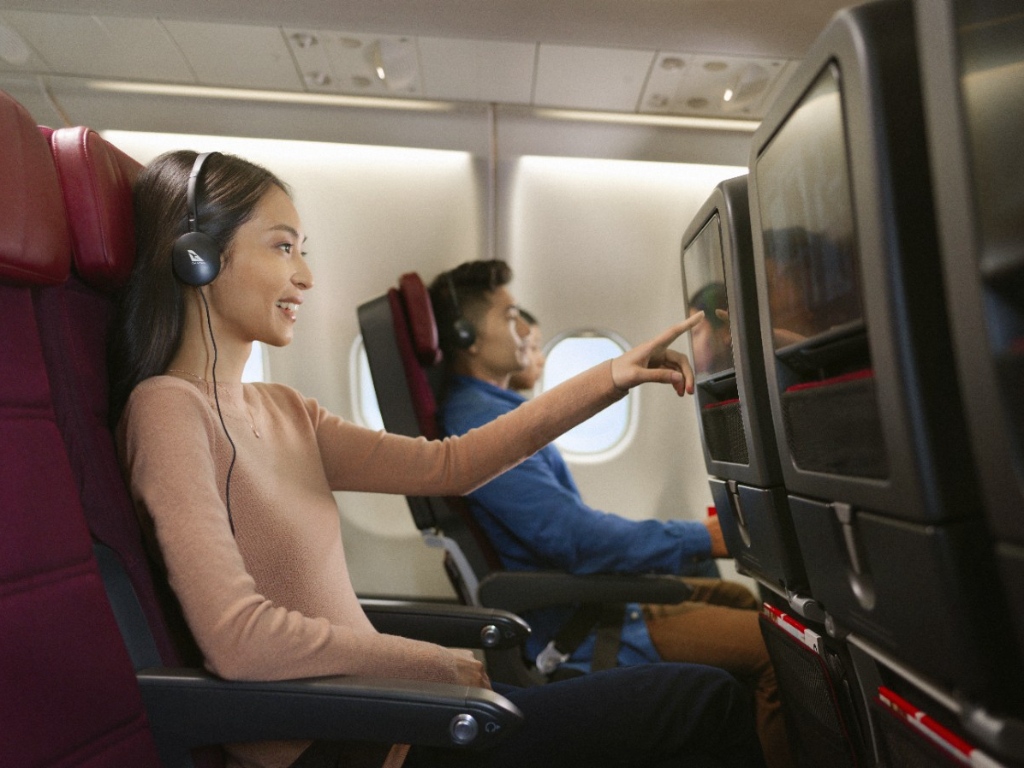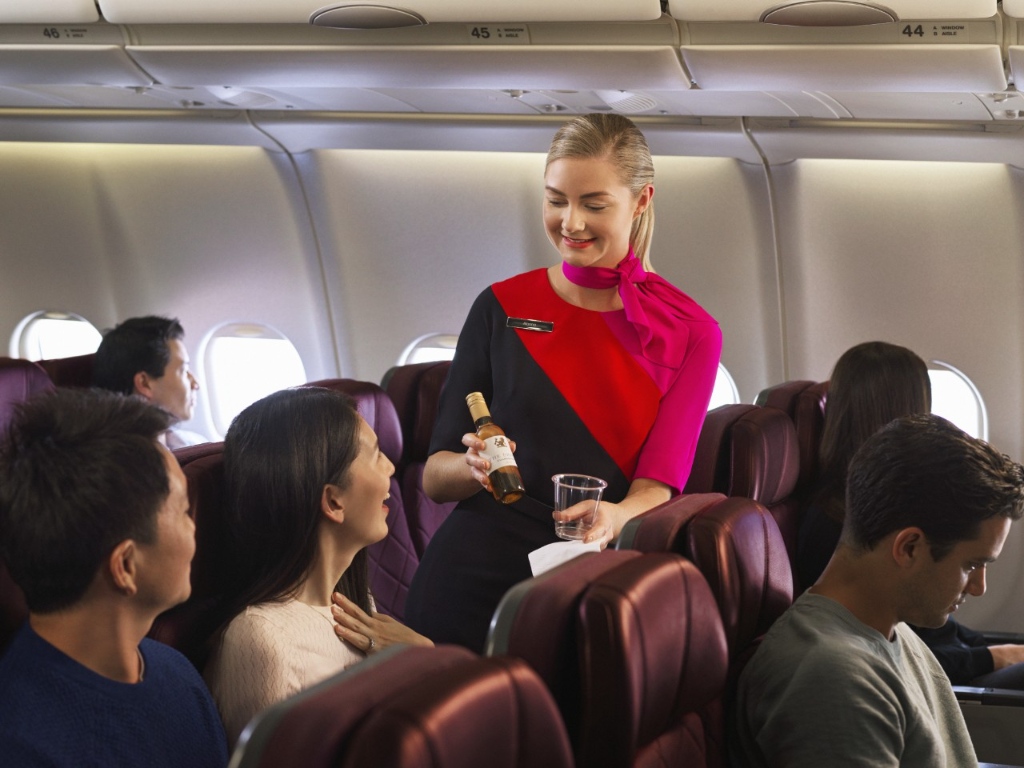 +4 more
Aircraft
Qantas operates with 5 main aircraft models, from large airliners like the 787 Dreamliner for long-haul flights, to small turboprop craft with QantasLink.
Aircraft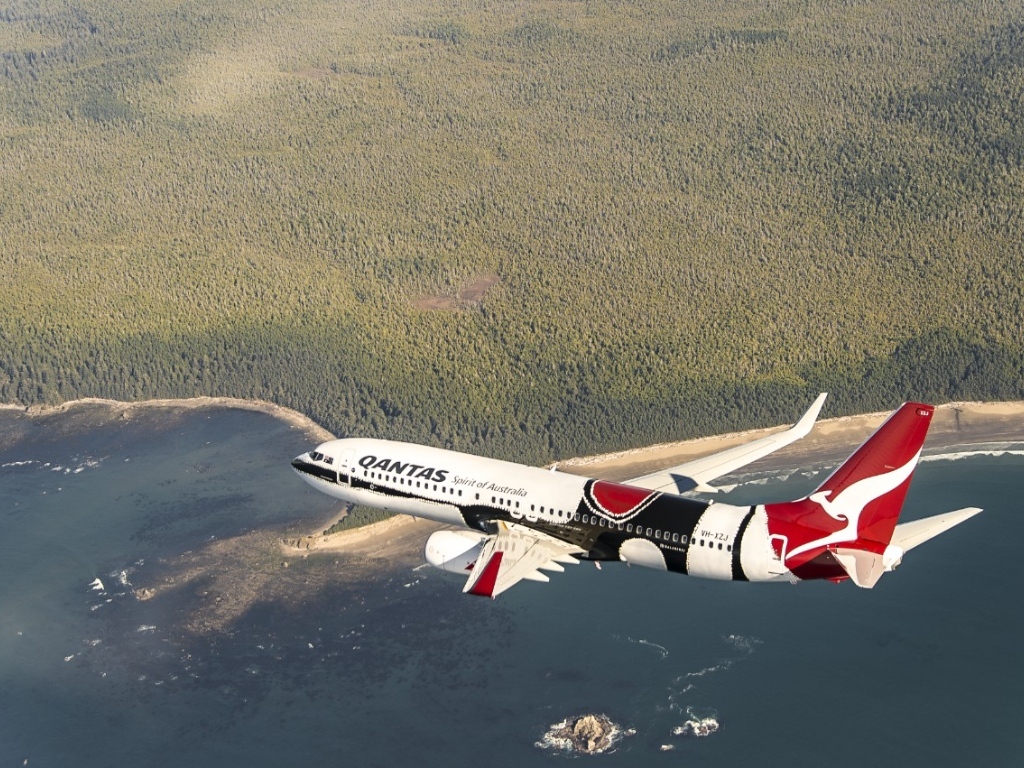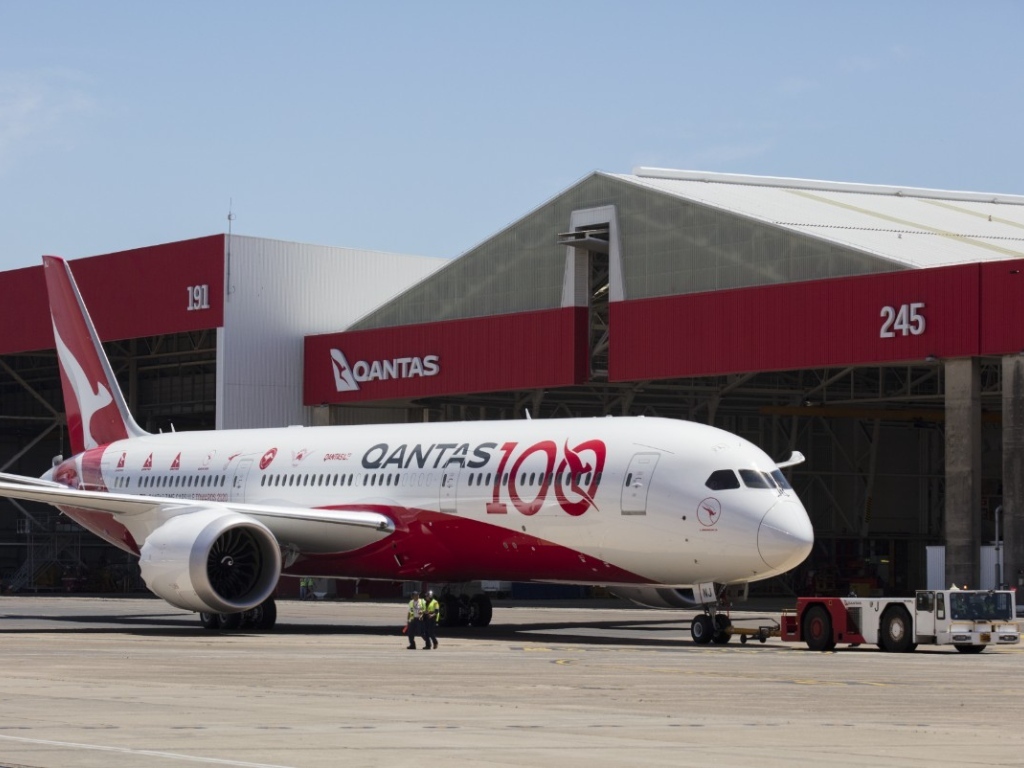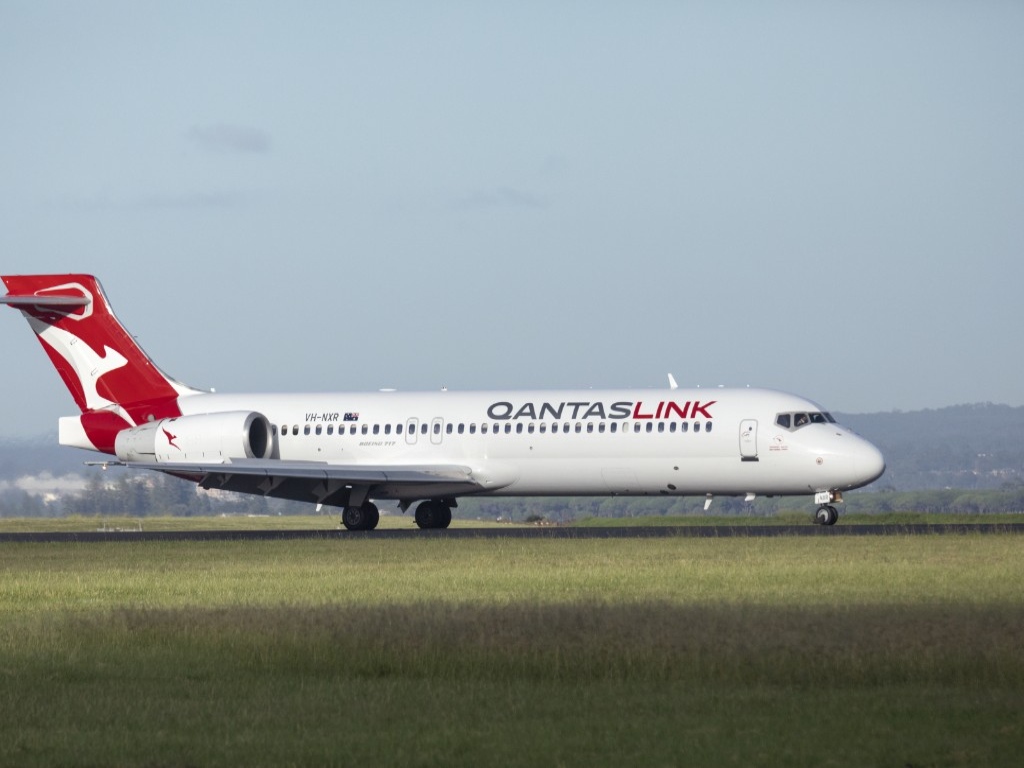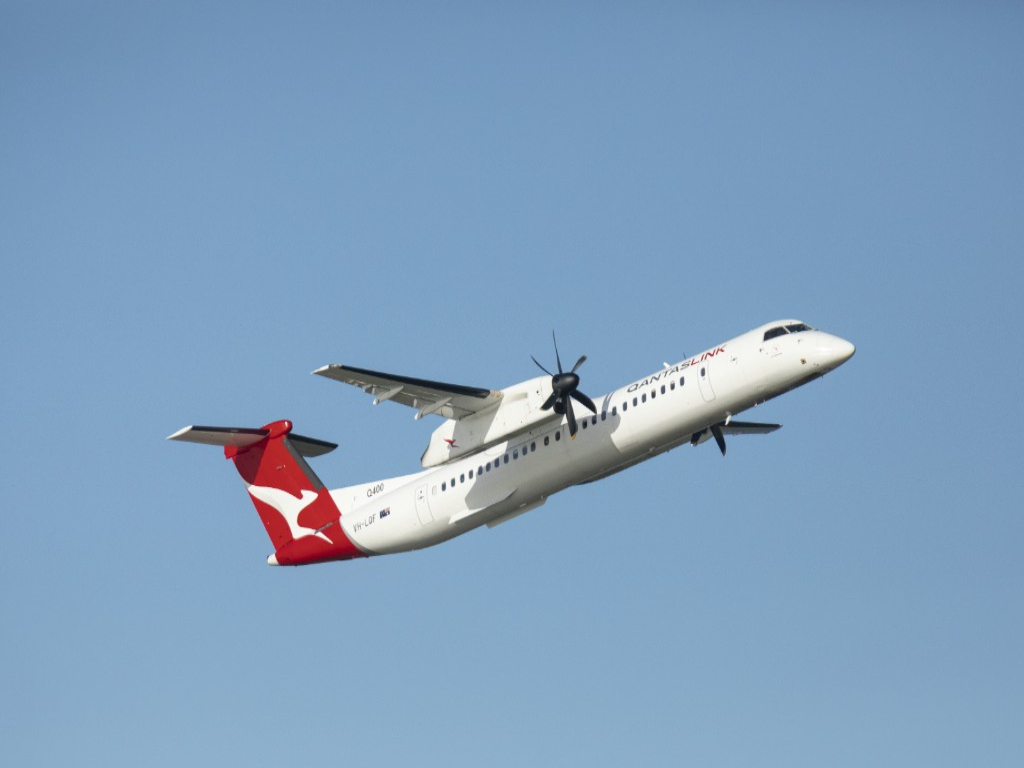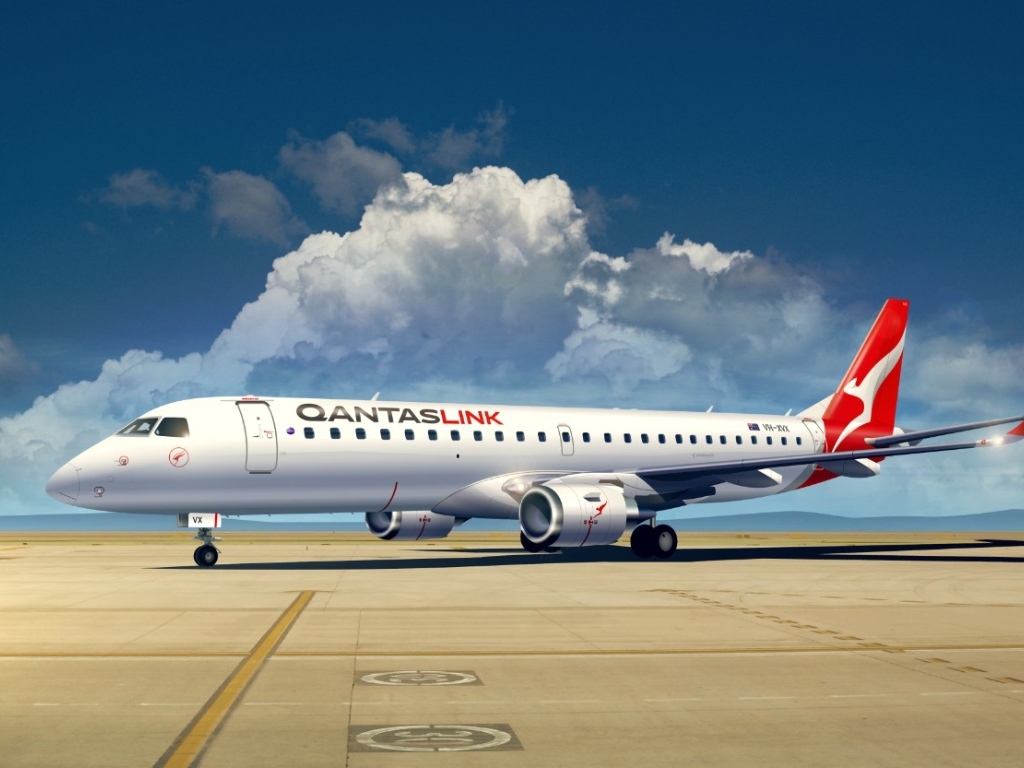 Economy Class
Qantas' baggage allowance for Economy Class passengers on domestic flights includes one piece, up to 23kg. Qantas Club members and Silver Qantas Frequent Flyers may check-in one piece weighing up to 32kg. Gold Qantas Frequent Flyers, Platinum, and Platinum One Qantas Frequent Flyers may travel with two pieces of checked baggage at up to 32kg each.
Qantas' B737 Economy Class cabins are fitted with modern interiors and provide passengers with generous legroom. A combination of cabin mood lighting, soft seat recline and leather headrests ensure a comfortable journey. Passengers flying on A330-200 aircraft enjoy a standard seat pitch and ergonomic cushioning, while leather headrests, PC power and USB port access are also standard inclusions. A blanket and a cotton pillow are available to all economy class passengers. Economy Class passengers also enjoy complimentary food and beverages.
Business Class
Qantas' domestic baggage allowance for Business Class passengers includes two pieces of checked baggage weighing up to 32kg each. Qantas Club members, Silver Qantas Frequent Flyers and Gold Qantas Frequent Flyers may also check-in two pieces weighing up to 32kg each. Platinum and Platinum One Qantas Frequent Flyers may travel with three pieces of checked baggage weighing up to 32kg each.
Qantas' Boeing 737-800 Business Class passengers are seated in ergonomic reclining seats upholstered in leather, with extendable leg rests and wide seat backs providing additional comfort. Flights operated on an Airbus 330 feature the Business Suite, which comes with the freedom to have a seat in recline during take-off and landing. These seats convert to flat-lie beds and, as the cabin is configured in a 1-2-1 layout, all passengers have direct aisle access. Other features of the Business Suite seats include multiple personal storage spaces and power access.
Search Cheap flights on Webjet
Check out some of Webjet's most popular airlines.
Frequently Asked Questions