Qantas
Make your own way in the world
Superior Selection
Easily find the best travel deals
24/7 Support
Customer service available
Anytime, Anywhere
Visit us on desktop, mobile or app
Discover the globe with Qantas
Qantas is not only the flag carrier for Australia, but it is also the third-oldest airline in the world, celebrating its 100th birthday in 2020. Known for the emblematic 'Flying Kangaroo' on its tail wing, Qantas now operates as Australia's largest domestic and international airline.
There are services to all of Australia's major cities, as well as regional centres such as Albury, Bundaberg, Tamworth, Wagga Wagga and more.
Qantas Online Check-in
You can now select seats and print your boarding pass. Qantas Online Check-in at Webjet. Save time at the airport.
*Prices on this page are subject to change without notice, perform a search to view live pricing. Prices are inclusive of taxes and airline surcharges.
Webjet flight fees per booking:
Webjet Servicing Fee
: Domestic $21.95, NZ/Pacific $24.95, International $32.95.
Booking Price Guarantee
: Domestic $12.95, NZ/Pacific $14.95, International $21.95. Varying
payment fees
are included in the price breakdown on Webjet's checkout page, once your payment method has been selected.
Qantas
Qantas Flights to New Zealand & Pacifc
Qantas Flights to NZ & Pacific Islands
As one of the world's most reputable airlines, consider flying with Qantas on your next trip to New Zealand or the Pacific. Qantas has daily flights to New Zealand from most Australian capital cities and tourist destinations, so you'll be sure to find a Qantas flight at the right price and convenient time.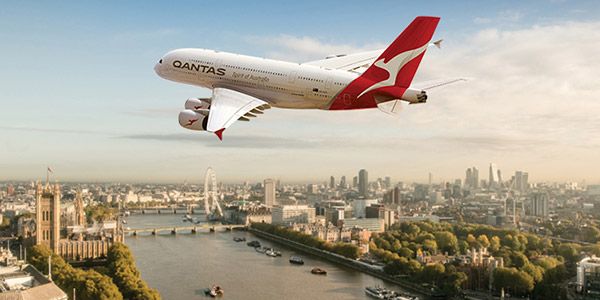 Pre-Flight Information
Check-In Information
Domestic Flights
Domestic QF400 and above
Qantas recommends checking-in at least 45 minutes prior to departure. Qantas' check-in counters close 30 minutes before a flight's scheduled departure.
Domestic codeshare services operated by Jetstar (QF5000-5999)
Qantas recommends checking-in 60 minutes before departure. The check-in counters close 30 minutes prior to a flight's scheduled departure time.
Domestic connecting to international travel (QF4000 and above)
Passengers on a domestic flight that are travelling onwards on an international service, for example Canberra to Sydney to Los Angeles, may check-in up to 45 minutes before their first flight's departure. Qantas recommends passengers check-in at least 60 minutes ahead of the scheduled departure time.
Domestic flights departing from an Australian international terminal (QF1-QF399)
The recommended check-in time is 2 hours before departure. Qantas' check-in counters close 60 minutes prior to scheduled departure.
Group check-in for domestic flights
Qantas' check-in counters close 60 minutes before departure for group check-in on domestic flights (QF400 and above) or flights departing from an Australian international terminal. The recommended amount of time between check-in and flight departure is at least 90 minutes.
Online Check-In
Qantas' online check-in service opens 24 hours prior and closes 30 minutes before scheduled departure, on all domestic flights. Passengers may print their boarding pass at home, or use a digital boarding pass to board their flight. The Qantas App may also be used to check-in, with easy access to digital boarding passes, and the ability to add a boarding pass to the Apple wallet (for Apple customers only).
Baggage
Cabin Baggage
Qantas' carry-on baggage allowance for all classes on Australian domestic flights (except Dash 8 services) is 14kg, with one piece weighing up to 10kg. Passengers may carry one 115cm bag weighing up to 10kg, two 105cm bags weighing up to 14kg total, or one 105cm bag and one 185cm non-rigid garment bag weighing up to a total of 14kg. Passengers in all classes travelling on Australian domestic Dash 8 services are permitted one piece of carry-on baggage, weighing up to 7kg.
Checked Baggage
Every Qantas and QantasLink domestic flight within Australia includes baggage allowance.
Economy Class
Qantas' baggage allowance for Economy Class passengers on domestic flights includes one piece, up to 23kg. Qantas Club members and Silver Qantas Frequent Flyers may check-in one piece weighing up to 32kg. Gold Qantas Frequent Flyers, Platinum, and Platinum One Qantas Frequent Flyers may travel with two pieces of checked baggage at up to 32kg each.
Business Class
Qantas' domestic baggage allowance for Business Class passengers includes two pieces of checked baggage weighing up to 32kg each. Qantas Club members, Silver Qantas Frequent Flyers and Gold Qantas Frequent Flyers may also check-in two pieces weighing up to 32kg each. Platinum and Platinum One Qantas Frequent Flyers may travel with three pieces of checked baggage weighing up to 32kg each.
Qantas Frequent Flyer
Qantas' loyalty program is the Qantas Frequent Flyer. Qantas Frequent Flyer members can earn and use accrued Qantas Points on every eligible flight operated by Qantas, Jetstar and more than 50 oneworld partner airlines and affiliates. The oneworld alliance includes other airlines such as Air New Zealand, British Airways, Cathay Pacific, Emirates, Japan Airlines and more. Qantas Frequent Flyers can also earn points by booking stays with featured hotels, or by making purchases with associated banks, retail outlets, insurance providers, and more.
Membership tiers and privileges are determined by the number of Status Credits earned. These privileges may include an extra checked baggage allowance, priority check-in, and global lounge privileges. There are five Qantas Frequent Flyer membership tiers: Bronze, Silver, Gold, Platinum, and Platinum One. The more passengers fly, the more Status Credits are earned, allowing passengers to progress to a higher tier. Please note that although Status Credits do differ from Qantas Points, they may be collected at the same time. As long as a member remains active, earning or redeeming Qantas Points or Status Credits at least once within 18 months, Qantas Points do not expire. Those wishing to become a member of the Qantas Frequent Flyer program must pay a joining fee of $99.50.
Qantas Club
The Qantas Club is a membership program operated by Qantas. Members of the Qantas Club enjoy access to a wide network of domestic and international lounges and are entitled to a variety of membership benefits, from access to premium service desks and priority waitlisting to discounted rates on meeting room hire. In Australia, members may access Qantas Club lounges, offering refreshments, WiFi, shower facilities, business facilities and more, as well as Qantas Regional Lounges located in select regional airports.
An upgraded checked baggage allowance of 32kg is provided to Qantas Club members travelling domestically within Economy Class on Qantas and QantasLink services. Increased checked baggage allowances are also available on select international services. Members flying domestically in any flight class are given the option to check-in online, using the Qantas App or, in select airports, at a kiosk. Parking discounts of up to 30% are also available when members book online with Secure Parking's Secure-a-Spot online booking service. Members may upgrade from Economy Class to Business Class on domestic services, where seats are available, using their Frequent Flyer points.
All new members are required to pay a one-off joining fee of $399 or 70,000 Qantas points. One-, two- and four-year memberships are available, with fees determined by the member's country of residency. A one-year membership for Australian residents typically costs $540 or 78,000 points, while two years is $980 or 155,000 points, and four years comes in at $1,850 or 285,000 points. For each dollar spent when joining or renewing their membership by credit card or cash, Qantas Club members earn three Qantas Points. Becoming a member of the Qantas Club also makes joining the Qantas Frequent Flyer program easy, with a complimentary membership offered on sign up.
Lounges
Domestic Lounges
Eligible passengers may access the Qantas Club and Qantas Domestic Business Lounge. These domestic lounges are fitted out with everything from meeting rooms, free WiFi, showers and workstations, to barista-manned coffee stations, buffet dining, and an open bar. Other features may range from specialty dining options - the Spice Bar in Melbourne, the Pizza Bar in Perth, and the Cantina in Brisbane. A passenger's eligibility for lounge access is determined by their travel class and lounge location. Passengers accessing the Qantas Club and Business Lounges in select locations, including Sydney, Melbourne, Brisbane, Canberra, Adelaide and Perth, must follow a smart casual dress code. Some clothing items, such as gym wear, sleepwear and beachwear are not permitted, as are revealing, torn and unclean items, and those with offensive slogans or images. Footwear, excluding thongs, must be worn. Entry may be refused if clothing and footwear are deemed to be inappropriate or too casual.
Qantas Club
Qantas Club lounges operate on a separate basis to other Qantas lounges. These lounges are available to Qantas Club members, as well as those who hold a Qantas Club Annual Guest Card, or those travelling on Qantas or Jetstar flights with Gold, Platinum or Platinum One Qantas Frequent Flyer status. Qantas passengers with a Gold, Platinum or Platinum One Qantas Frequent Flyer membership travelling on Emirates and oneworld affiliate airline flights may also access the Qantas Club lounge. When travelling within Australia, members may invite one guest to a Qantas lounge, while children up to three years of age are provided with complimentary access. Two children aged between four and 17 years are permitted to enter a Qantas lounge per member.
There are 24 Qantas Club domestic lounges located around Australia, including in Adelaide, Brisbane, Broome, Cairns, Darwin, Gold Coast, Hobart, Rockhampton and Townsville airports. Lounge features do vary from location to location, with most providing refreshments, a variety of beverages and bar services. Business facilities, including internet access, newspapers and magazines are also standard features of Qantas Club lounges. Lounges situated within Australia's larger airports, such as Adelaide, Brisbane, Canberra, Cairns, Darwin, Melbourne, Perth and Sydney airports, do provide additional amenities that may include barista-made coffee, family zones, showers and business meeting rooms. A smart casual dress code applies to Qantas Club lounges. Visitors must not be wearing clothing that is torn, dirty, revealing or depicting offensive slogans or images. Thongs, gym wear, sleepwear and beachwear are not permitted. Guests must be wearing shoes on entry. Entry may be declined if lounge staff consider clothing to be inappropriate.
Qantas Domestic Business Lounge
The Qantas Domestic Business Lounges may be accessed by passengers who hold Platinum One or Platinum Qantas Frequent Flyer status, if travelling with a Qantas, Emirates, Jetstar or oneworld flight number. There are five Qantas Domestic Business Lounges in Australia, located at Brisbane, Canberra, Melbourne, Perth and Sydney Airports. Opening and closing times vary by location.
In-Flight Experience
In-Flight Entertainment
Qantas' domestic in-flight entertainment offering includes a variety of movies, TV shows, news and more. The selection of entertainment - covering latest-release films, classic episodes of TV favourites, and limited episodes of other series - is updated monthly. Entertainment can also be accessed on a passenger's own device (when travelling on domestic aircraft) using the Qantas Entertainment app. Make sure to download the app onto your device before leaving for the airport. The Qantas Entertainment app streaming service is only available when passengers are on-board the aircraft, and cannot be used when that aircraft has seat-back screens.
Dining
Qantas passengers travelling in Economy Class receive in-flight meal service as part of their airfare. The meal boxes and snacks champion Australian-grown produce, and the service of free wine and beer commences at set times, depending on the flight route. Passengers may purchase wine and beer at additional cost when travelling outside of these times.
Those travelling in Business Class on Qantas domestic flights are treated to a dining experience that has been designed in collaboration with Neil Perry. Business Class passengers are able to select meals from a wider menu that includes small bites, entrees and mains. The Qantas Rockpool Sommelier is on hand to guided wine choices.
Cabin Class
For domestic flights within Australia, Qantas offers passengers the choice of Economy and Business Class seating.
Economy Class
Qantas' B737 Economy Class cabins are fitted with modern interiors and provide passengers with generous legroom. A combination of cabin mood lighting, soft seat recline and leather headrests ensure a comfortable journey. Passengers flying on A330-200 aircraft enjoy a standard seat pitch and ergonomic cushioning, while leather headrests, PC power and USB port access are also standard inclusions. A blanket and a cotton pillow are available to all economy class passengers. Economy Class passengers also enjoy complimentary food and beverages.
Business Class
Qantas' Boeing 737-800 Business Class passengers are seated in ergonomic reclining seats upholstered in leather, with extendable leg rests and wide seat backs providing additional comfort. Flights operated on an Airbus 330 feature the Business Suite, which comes with the freedom to have a seat in recline during take-off and landing. These seats convert to flat-lie beds and, as the cabin is configured in a 1-2-1 layout, all passengers have direct aisle access. Other features of the Business Suite seats include multiple personal storage spaces and power access.
Frequently Asked Questions
Do you get food on Qantas domestic?
Economy and Business Class passengers receive complimentary meals and beverages on Qantas' domestic flights.
Do you get free drinks on Qantas domestic flights?
Complimentary wine and beer are served in Qantas' Economy Class cabins at varying times, depending on the chosen flight routes. Business Class passengers also receive complimentary wine and beer.
Cheap Flights on Webjet
Webjet Top Airlines
*Prices are subject to availability, include taxes and airline surcharges. All prices on this page are subject to change without notice. Whilst Webjet makes every effort to provide you with accurate and up-to-date information, in the event a product is listed at an incorrect price, whether due to typographical, photographic, or otherwise, Webjet may refuse or cancel any orders placed for a product listed at the incorrect price.