Qantas Domestic
Make your own way in the world
Superior Selection
Easily find the best travel deals
24/7 Support
Customer service available
Anytime, Anywhere
Visit us on desktop, mobile or app
Discover the globe with Qantas
Qantas Online Check-in
You can now select seats and print your boarding pass. Qantas Online Check-in at Webjet. Save time at the airport.
*Prices on this page are subject to change without notice, perform a search to view live pricing. Prices are inclusive of taxes and airline surcharges. Webjet fees per flight booking: Webjet Servicing Fee: Domestic $21.95, NZ/Pacific $24.95, International $32.95. Booking Price Guarantee: Domestic $12.95, NZ/Pacific $14.95, International $21.95. Varying payment fees are included in the price breakdown on Webjet's checkout page, once your payment method has been selected.
Qantas Domestic Flights in Australia
Qantas Domestic city flyer routes have flights available almost every hour, sometimes even more frequent, on major domestic flights around Australia. For shorter domestic flights that connect cities with regional destinations, there's QantasLink. Major Australian routes serviced by Qantas domestic include: Sydney to Melbourne, Brisbane, Canberra, Adelaide, Perth, Cairns, the Gold Coast, and Darwin.
Click the destination below to see cheap Qantas domestic fares for the Month with Webjet Deal Finder.
Qantas Flights to New Zealand & Pacifc
Qantas Flights to NZ & Pacific Islands
As one of the world's most reputable airlines, consider flying with Qantas on your next trip to New Zealand or the Pacific. Qantas has daily flights to New Zealand from most Australian capital cities and tourist destinations, so you'll be sure to find a Qantas flight at the right price and convenient time.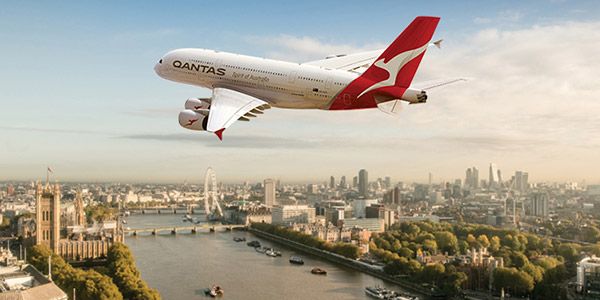 Classes of Travel
First
In QANTAS First Class passengers can step into their own private space and enjoy a peaceful rest onboard, with sleeper beds that can be completely reclined. Rockpool and QANTAS have taken inflight dining to new heights with unique restaurant style meals prepared onboard and snacks or light meals available at anytime during the flight. Passengers can sit back and be entertained in QANTAS First class with a 21cm touch screen and on-demand control, noise cancelling headsets, personal telephone and power outlets. International Business
QANTAS International Business cabins are all about comfort and flexibility with the latest technological devices. Skybeds are available on all QANTAS A330-300 and B747 aircraft with extensive seat adjustment controls to ensure maximum comfort. Passengers can enjoy meals designed by Neil Perry in full restaurant-style and help themselves to drinks from the inflight bar. Passengers can also sit back and be entertained in QANTAS International Business Class with 26cm touch screens and on-demand control, noise cancelling headsets, personal telephone and power outlets.
International Premium Economy
International Premium Economy will be progressively introduced on selected QANTAS B747-400 flights from Sydney and Melbourne to London, Bangkok, Singapore, Hong Kong and Johannesburg for travel from April 2008. QANTAS Premium Economy will focus on enhanced personal space and comfort. Passengers can enjoy a menu inspired by Neil Perry and complimented by Australian wines. In QANTAS International Premium Economy, passengers can sit back and be entertained with 21cm touch screens and on-demand control, noise cancelling headsets, personal telephone and power outlets.
International Economy
QANTAS International Economy Class cabins are ergonomically designed featuring adjustable headrest and built in lumbar support for comfort. The QANTAS International Economy menu is better than ever and inflight entertainment includes a 16cm screen, on-demand control and personal headsets and telephones.
Domestic Business
On QANTAS Domestic Business Class, passengers can enjoy an extra-wide millennium seat with adjustable headrests and lumbar support. Inflight cuisine features a selection of high quality Rockpool influenced meals.
Domestic Economy
QANTAS Domestic Economy Class has slimline seats and manually adjustable headrests. The inflight menu has been created to cater for the time of day and night that people travel and the length of the flight.
In-flight Entertainment
All of Qantas' Boeing 747-400 aircraft and Airbus A330-300 aircraft are fitted with a state-of-the-art on demand entertainment system. This puts the control in the passengers hands and allows them to choose to start, pause, fast forward and stop any of 400 audio and video programs. On QANTAS passengers can choose from 600 movies, 200 TV programs including destination guides, 20 Q Radio Channels, 150 CDs, Moving Map and 10 games. They can also create their own play list with Qantas' new audio jukebox.

Cheap Flights on Webjet
Webjet Top Airlines
*Prices are subject to availability, include taxes and airline surcharges. All prices on this page are subject to change without notice. Whilst Webjet makes every effort to provide you with accurate and up-to-date information, in the event a product is listed at an incorrect price, whether due to typographical, photographic, or otherwise, Webjet may refuse or cancel any orders placed for a product listed at the incorrect price.