Philippine Airlines
Make your own way in the world
Superior Selection
Easily find the best travel deals
24/7 Support
Customer service available
Anytime, Anywhere
Visit us on desktop, mobile or app
Cheap Flights With Philippine Airlines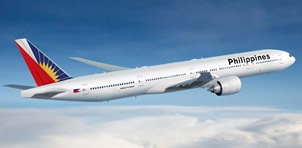 Philippine Airlines is the oldest airline in Asia. Philippine Airlines, or its subsiduary PAL Express, flies to 24 domestic destinations and 31 international destinations including Asia, Australia, Canada and the USA. Easily book Flights to Manila with Webjet & Philippine Airlines online now.
Book cheap flights to Manilla with Philippine Airlines & Webjet
Philippine Airlines Fleet
Aircraft used on flights to and from Australia is dependant on the route. Philippine Airlines 5 Boeing 777 aircraft, Airbus A330 and Airbus A320 will see the relatively new fleet for Philippine airline flights departing Australia.
Philippine Airlines Flights to Manila
Click the destination below to see the cheap Philippine Airlines airfares for the Month with Webjet Deal Finder.
Fly with Philippine Airlines
In 2011 Philippine Airline celebrates 70 years in the sky. Philippine airlines was founded on February 26, 1941 by a group of businessmen. The airline's first flight took place on March 15, 1941 with a single Beechcraft aeroplane on daily services between Manila and Baguio.To build on their early success, Philippine Airlines, later in 1941 acquired the Philippine Aerial Taxi Company. Philippine airlines have had a fair share of good and bad times but with a stable reputation of quality in-flight service, means Philippine Airlines has fast become a popular choice on flights to Manila and other destinations in east Asia departing Australia.
Business Class on Philippine Airlines
Each seat on Philippine Airlines business class flights has moveable reading lights, laptop charging point and USB port that connects to your personal 15.4in seat-back mounted entertainment system to listen to mp3 music, view photos or read PDF files. The business class seat in business class have also been updated now supporting a variety of adjustable positions including a full flat recline with a 15 degree angle. Of course Philippine Airlines premium service and meals in business class stands up to compete against the worst best airlines.

Book your cheap flights early with Webjet and save on your next flight with Philippine Airlines.
*Prices on this page are subject to change without notice, perform a search to view live pricing. Prices are inclusive of taxes and airline surcharges.
Additional Webjet fees per booking:
Webjet Servicing Fee
: Domestic $21.95, NZ $24.95, International $32.95.
Booking Price Guarantee
: Domestic $12.95, NZ $14.95, International $21.95. Varying
payment fees
are included in the price breakdown on Webjet's checkout page, once your payment method has been selected.
Cheap Flights on Webjet
Webjet Top Airlines