Bula and welcome on board! When you travel with Fiji Airways, you are not just a seat number, you become a part of their extended Fijian family. Fiji Airways strives to provide a caring and warm experience, similar to what you receive in the home of a loved one.
Based at Nadi Airport, Fiji Airways is Fiji's national airline, flying to 23 cities and 13 different countries, including Australia, New Zealand, United States, Singapore, Vanuatu and more. They offer travel in both Economy and Business Class' across a modern fleet of Boeing and Airbus aircrafts.
Fiji Airways pride themselves on their love of nature and the Fijian environment, undertaking a number of 'Wings of Hope' conservation programmes to reduce their carbon footprint and preserve the gorgeous Fijian environment for Fijians and visitors. Programs include 'A Tree for Every Take-Off', having planted over 36,500 trees in two years, the in-flight 'Cash for Kids' initiative and more.
Domestic Airfare Specials
*Prices on this page are subject to change without notice, perform a search to view live pricing. Prices are inclusive of taxes and airline surcharges.
Webjet flight fees per booking:
Webjet Servicing Fee
: Domestic $21.95, NZ/Pacific $24.95, International $32.95.
Booking Price Guarantee
: Domestic $12.95, NZ/Pacific $14.95, International $21.95. Varying
payment fees
are included in the price breakdown on Webjet's checkout page, once your payment method has been selected.
< EMPTY POPULAR DESTINATIONS MODULE >
The Tabua Club is the unique reward program offered by Fiji Airways, making your experience with them even more enjoyable and personalised each time you fly. They offer members rewards, benefits, savings and VIP privileges.
Each tier of the Tabua Club can be achieved by earning Status Credits through Domestic & International Flights. Tabua Club Plus members will receive Priority Check-in and Priority Boarding and Lounge access on their oneworld connect partners American Airlines, British Airways, Cathay Pacific and Qantas Airways.
In-Flight Entertainment
Fiji Airways in-flight entertainment allows you to sit back, relax and enjoy Fiji time. They offer a range of award-winning movies, binge-worthy TV shows and hours of music.
The FijiTime In-flight magazine is complimentary to all guests onboard and offers up a range of destination suggestions for when you arrive.
Fiji Airways is proud to offer Wi-Fi onboard select aircrafts so travelers can stay in touch with family and friends or get some work done before landing.
Dining
Customers travelling in International Business Class are served with the best of Fiji's fresh cuisines, fusing international gastronomy with local Fijian flavours. Business class travellers are offered a 3-course meal, accompanied with fine wines, signature cocktails and liqueurs.
Those travelling in International Economy class can enjoy a selection of delicious options served with complimentary tea, coffee and cold beverages, including alcoholic drinks from the bar.
If travelling regionally, Business Class travelers are offered a mouth-watering selection of meals accompanied by a beverage service that includes hot, cold & alcoholic beverages.
Economy Class regional travellers are offered a simplified menu, served with complimentary tea, coffee and cold beverages.
+3 more
Economy
Fiji Airways Economy is designed to get you to your destination in comfort, feeling well rested and like your holiday has already begun.
Economy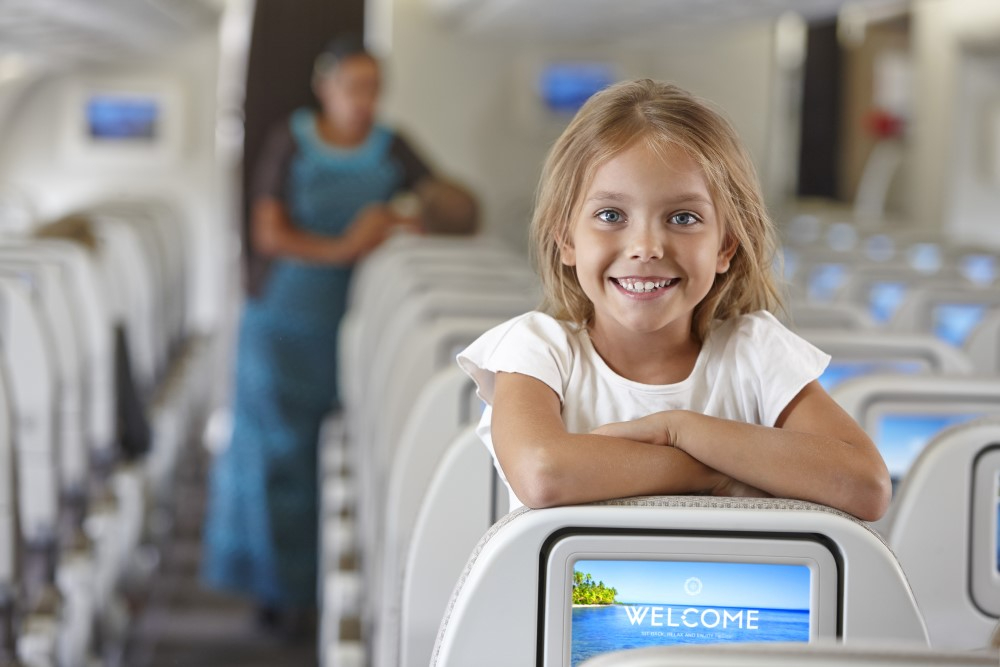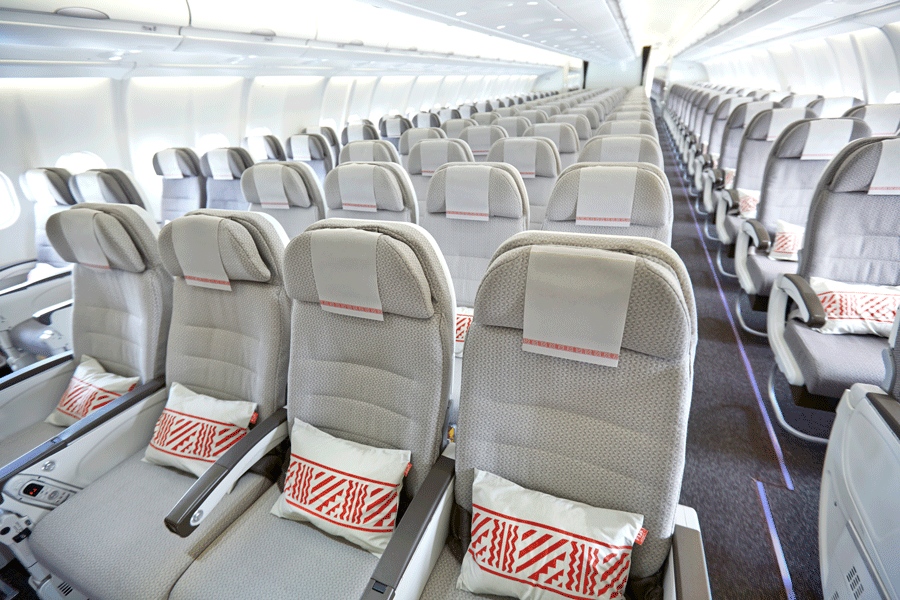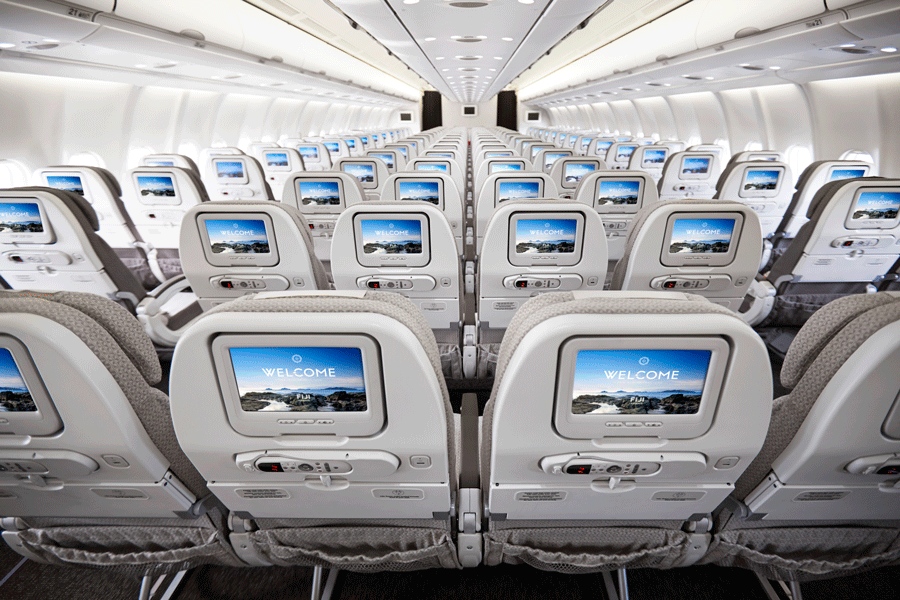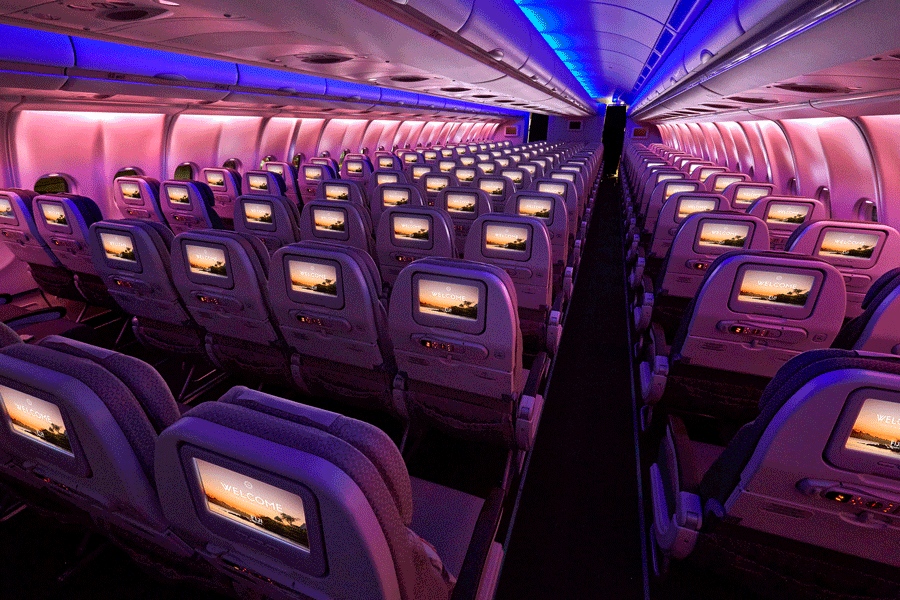 +2 more
Business Class
Fiji Airways offers travellers a compelling Business class of travel with more room, more baggage, express check-in, entertainment, and improved dining choices.
Business Class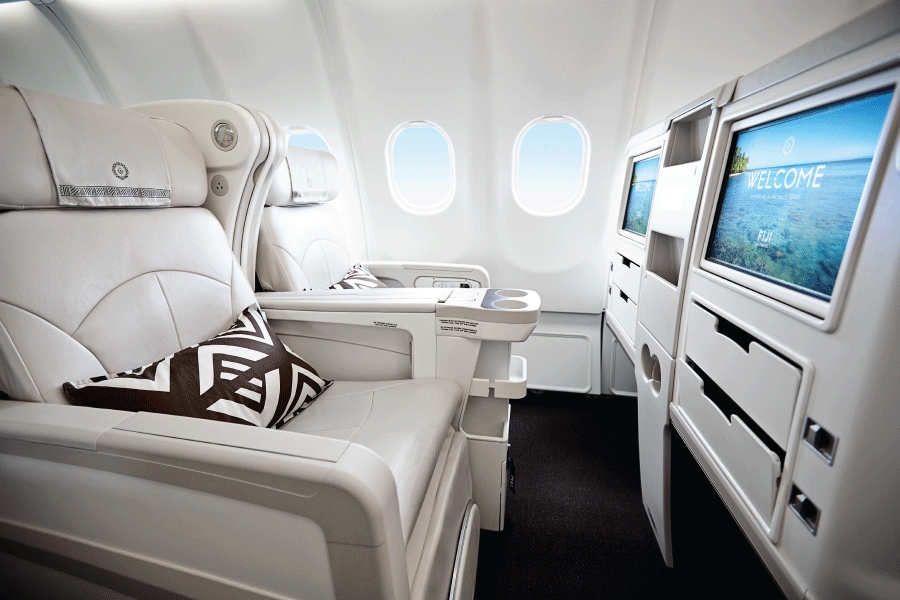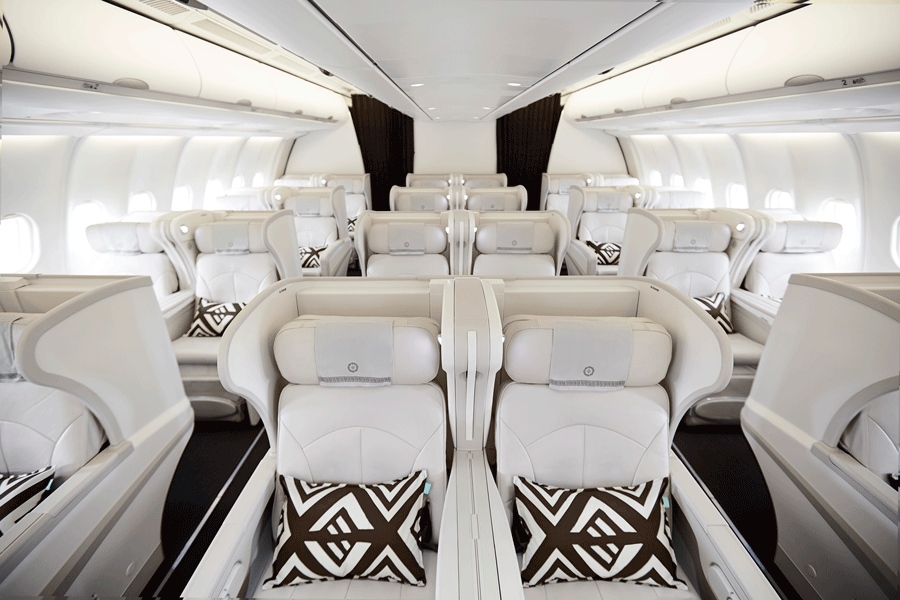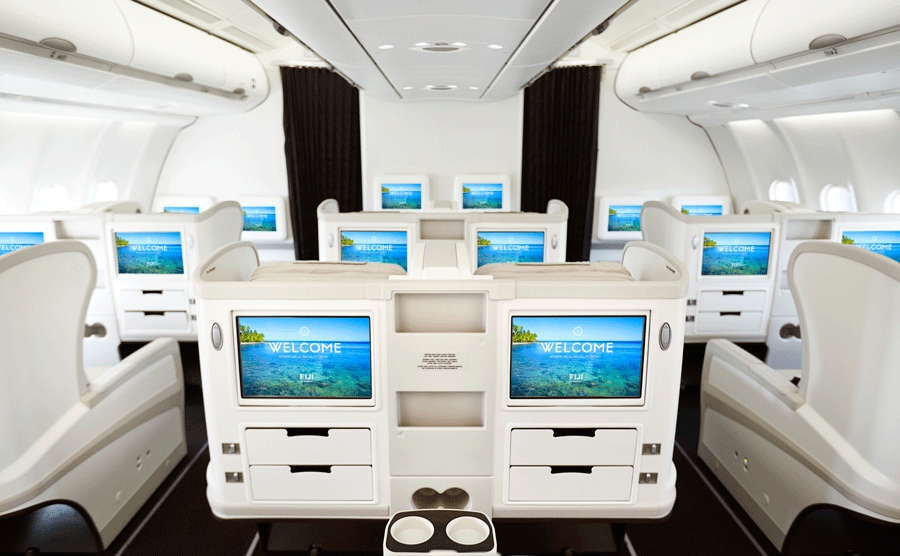 +2 more
Aircraft
Fiji Airways services a small, but carefully chosen, fleet of small to large aircraft. They have recently aquired several new craft with impressive interiors.
Aircraft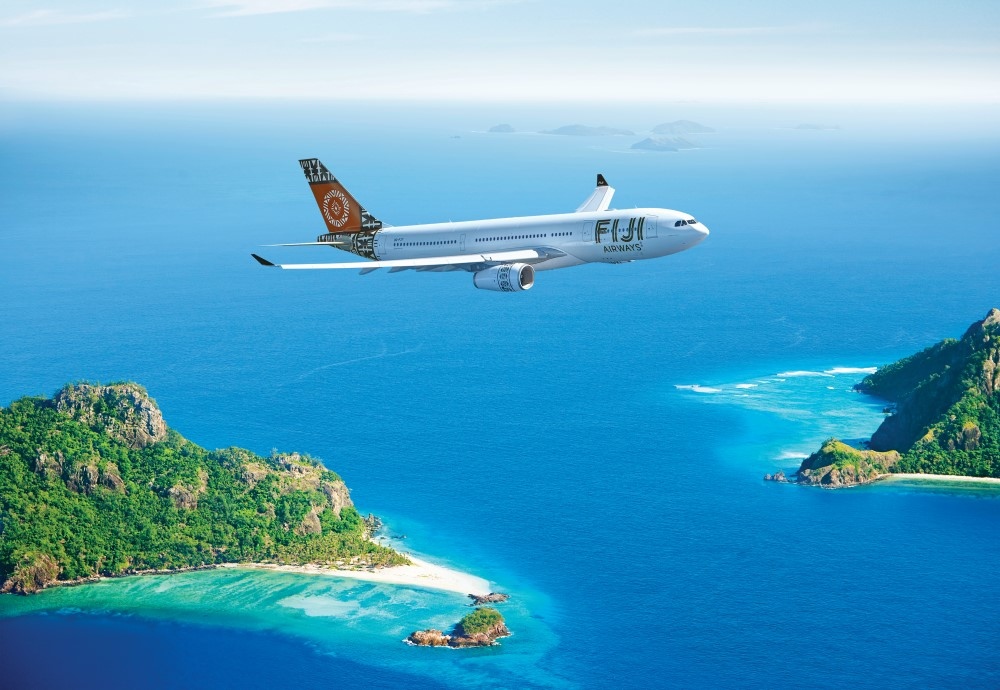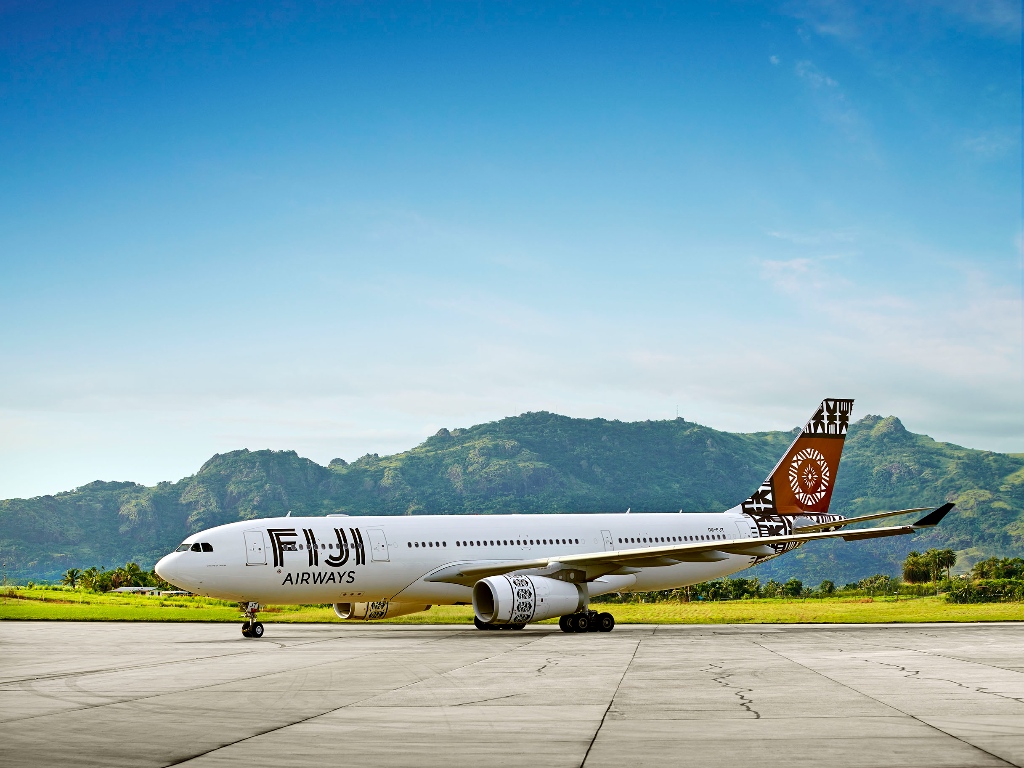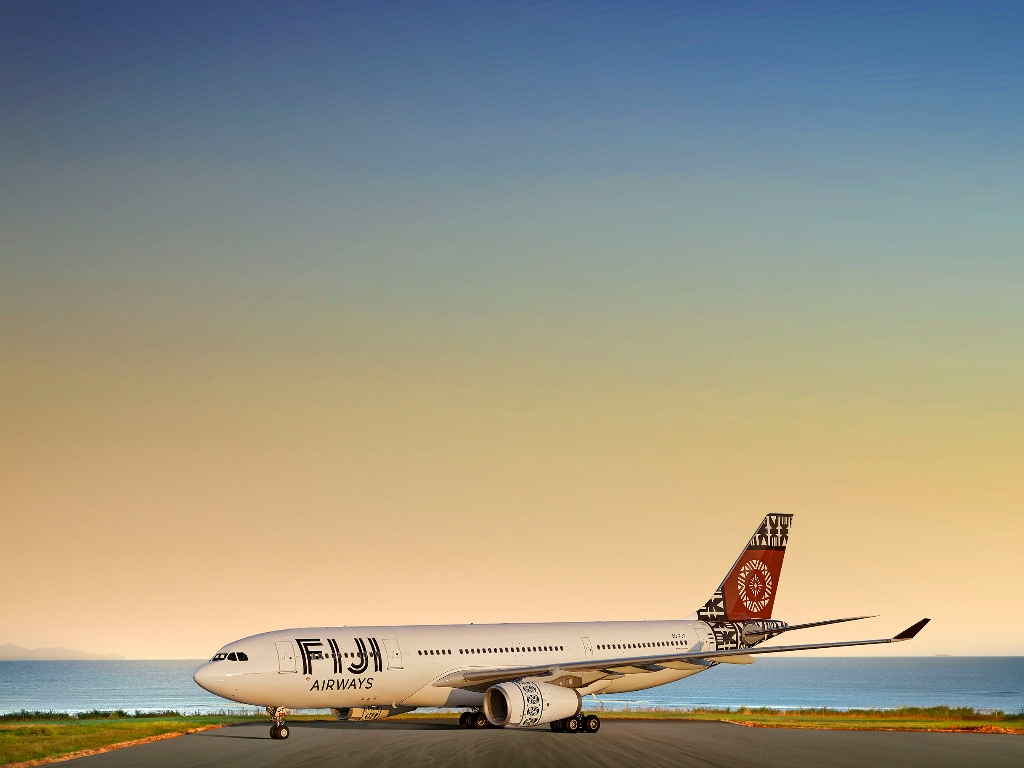 Economy Class
Headlined by their warm and friendly cabin crew, the Fijian Airways Economy Class offers an elegant and relaxed cabin to ensure your comfort. Offering 7 kilograms of carry-on baggage, a checked-in bag of up to 30 kilograms (Tabua Club members receive extra baggage allowance), an inflight meals and drinks, including alcoholic beverages and in-flight entertainment (varies between aircrafts).
The Fiji Airways Flagship Airbus A350, servicing Los Angeles, San Francisco, Sydney and Auckland, has a main cabin with a 3-3-3 configuration and gives you more space to stretch out with a 34 inch seat pitch and 6 degree recline. In-flight entertainment is offered through 12 inch in-seat video monitors, with USB ports, in-seat power and entertainment on demand.
Their Airbus A330 covers Australia, New Zealand, Hong Kong, Singapore, Narita, Los Angeles and San Francisco, with a 2-4-2 main cabin configuration and seats with a 31 to 32 inch pitch, 7.5 inch recline and 10.6 inch in-seat video monitors offering in-flight entertainment and USB power.
Business Class
The Fiji Airways Business Class experience is unique and exclusive for discerning travelers. Before take-off, customers enjoy dedicated check-in, increased baggage allowance, an express airport experience and access to lounge facilities at selected airports.
Once in the air, Business Class travelers are offered wider seats and generous legroom, three course dining experiences, a selection of fine wines, spirits, liqueurs and cheese. With individual screens, Business Class travellers have access to the array of inflight entertainment Fiji Airways has to offer.
The Fiji Airways Flagship Airbus A350, servicing Los Angeles, San Francisco, Sydney and Auckland, offers premium comfort with fully reclinable, luxurious leather, Collins Aerospace Super Diamond seats. The main cabin is arranged as a 1-2-1 configuration, with 17 inch personal entertainment screens, USB ports, in-seat power and plenty of storage.
Their Airbus A330 covers Australia, New Zealand, Hong Kong, Singapore, Narita, Los Angeles and San Francisco. This aircraft offersing leather angled, lie-flat seats with a 2-2-2 main cabin configuration and a 15.4 inch in-seat screen, with USB ports and generous storage.
Search Cheap flights on Webjet
Frequently Asked Questions