First taking to the skies in 1940 as Tasman Empire Airways Limited, Air New Zealand has grown and evolved over the last eight decades to become one of the world's leading airlines. Discover the pleasure of flying with Air New Zealand and its award-winning service as they provide the kind of food, service and in-flight comfort that could convert you to this airline for a lifetime. Be prepared to forget everything you know about flying with the New Zealand-based airline's unrivalled long-haul travel experience.
*Prices on this page are subject to change without notice, perform a search to view live pricing. Prices are inclusive of taxes and airline surcharges.
Webjet flight fees per booking:
Webjet Servicing Fee
: Domestic $21.95, NZ/Pacific $24.95, International $32.95.
Booking Price Guarantee
: Domestic $12.95, NZ/Pacific $14.95, International $21.95. Varying
payment fees
are included in the price breakdown on Webjet's checkout page, once your payment method has been selected.
< EMPTY POPULAR DESTINATIONS MODULE >
Air New Zealand operates the Airpoints loyalty program. Airpoints members collect Airpoints Dollars across all flight bookings made with Air New Zealand, partner carriers and Star Alliance members, and through the use of Airpoints partner credit cards. Bookings made with partner hotels and car hire providers also earn Airpoints Dollars. Each Airpoints Dollar equates to NZD $1 and may be redeemed for rewards such as flights and flight class upgrades, in-flight purchases and car hire. There are no costs associated with joining the Airpoints program.
In-flight entertainment
Air New Zealand's in-flight entertainment offering provides hours of on-demand films, TV shows, music, audiobooks, radio shows, games, and more, to discover. Each seat back features a personal entertainment screen, with passengers able to enjoy the content of their choosing from boarding through to the time they land. A selection of children's entertainment is also available.
Dining
Economy and Premium Economy passengers are served a selection of delicious meals and fine local wines designed to offer an authentic taste of New Zealand. Economy class travellers can expect a starter and main, such as orzo pasta salad and chicken tikka masala, for dinner, while Premium Economy enjoys a 3-course meal complete with a starter, main and dessert. Both travel classes are offered the choice of a hot or continental breakfast.
Passengers flying with Air New Zealand on Australian and Pacific routes enjoy complimentary water, tea and coffee. Theworks and Worksdeluxe fare holders are provided with a free meal and beverages, while Seat and Seat+Bag passengers may purchase snacks and beverages. Theworks and Workdeluxe fare holders enjoy meals similar to those served to Economy class passengers on longer-haul flights.
Special meals
A variety of special meals catering to specific cultural and dietary needs are available to pre-order by most fare holders on Air New Zealand's long haul international flights. Those travelling with a Seat or Seat+Bag fare, however, are not provided food as part of their fare.
The full range of special meals is not available on international flights between New Zealand and Australia or the Pacific Islands, with only gluten-free, non-dairy vegetarian and children's meal options provided. These options may be pre-ordered by those travelling on all fare types including meals.
All special meals must be pre-ordered at least 24 hours prior to the scheduled departure time to ensure availability. Requests can be made online or by phoning Air New Zealand directly.

+1 more
Economy Class
Air New Zealand ensures a comfortable flight for all in their Economy class, with slim-line seats and sculptured upholstery.
Economy Class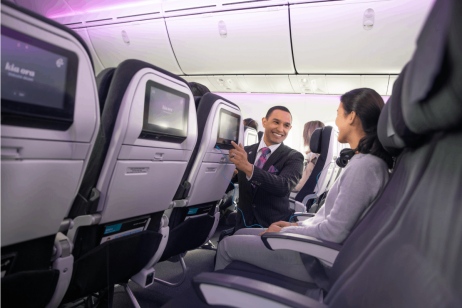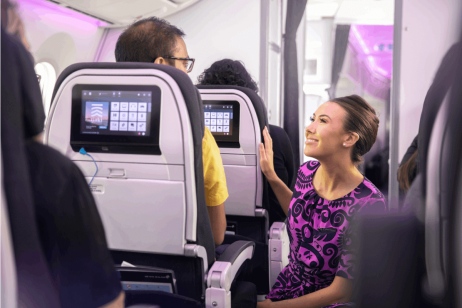 +1 more
Business Premier Class
Available on select Air New Zealand flights, Business Premier Class features a premium meal service, as well as soft leather upholstered seats.
Business Premier Class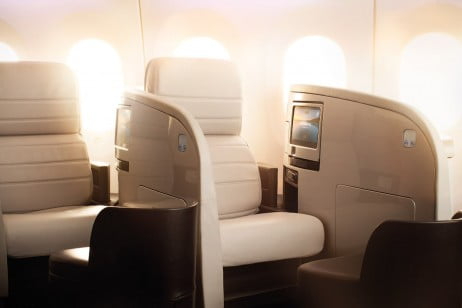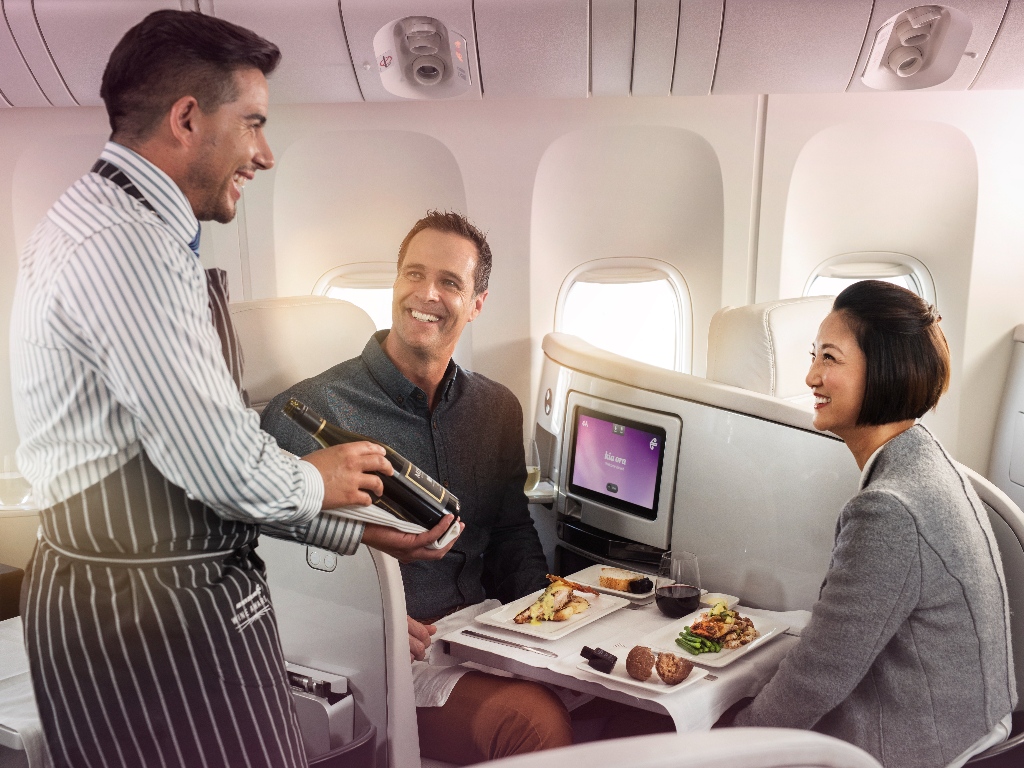 +1 more
In-flight Experience
Air New Zealand offers a range of in-fight entertainment options as well and a delicious selection of meals and fine local wines.
In-flight Experience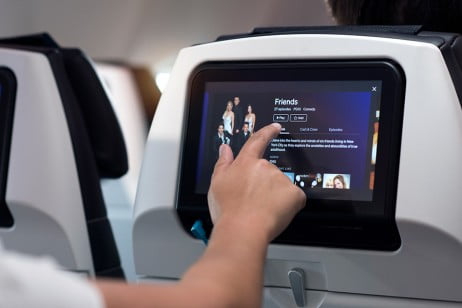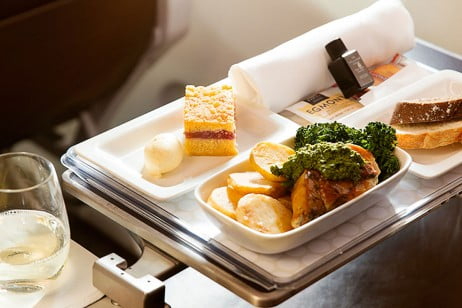 Economy class
Complete with a 9-inch HD touchscreen, in-seat power connections and USB sockets, Air New Zealand's Economy class offers all the essentials needed for a comfortable international flight. Seats average at 17.2 inches wide and provide a 5-inch recline, making settling in and enjoying the journey easy. Passengers travelling on select flights may also have the option to upgrade to a Skycouch seat. Skycouch seats transform an entire row of seats into a bed or couch-style seating, offering extra comfort and space.
Premium Economy class
Providing more legroom and 50% more recline than Economy, Air New Zealand's Premium Economy class offers additional personal space, perfect for long flights. Upholstered in ink-coloured leather, the seats in this flight class also come complete with a leg rest, comfortable armrests and extendable foot support. Passengers flying in Premium Economy class enjoy complimentary meals and beverages. Amenity kits are also provided on long haul services.
Business Premier class
Upholstered in soft leather, Air New Zealand's Business Premier class seats are not only comfortable when in the upright position but can also be converted into a lie-flat bed, complete with a memory foam mattress, full-size pillows and bedding. Passengers are provided with complimentary meals and beverages from Air New Zealand's Business Premier menu and enjoy additional perks, such as premium check-in, priority baggage and courtesy lounge access. All Business Premier passengers also receive an amenity kit containing deluxe toiletries.

Search Cheap flights on Webjet
Frequently Asked Questions